---
---
Contents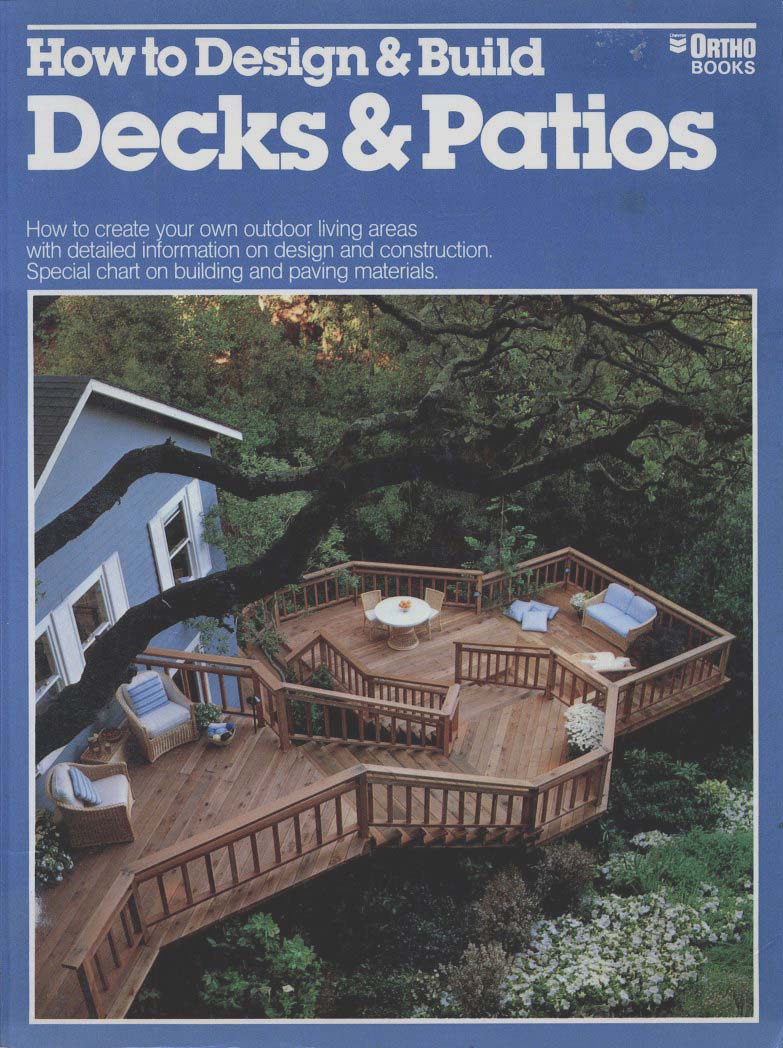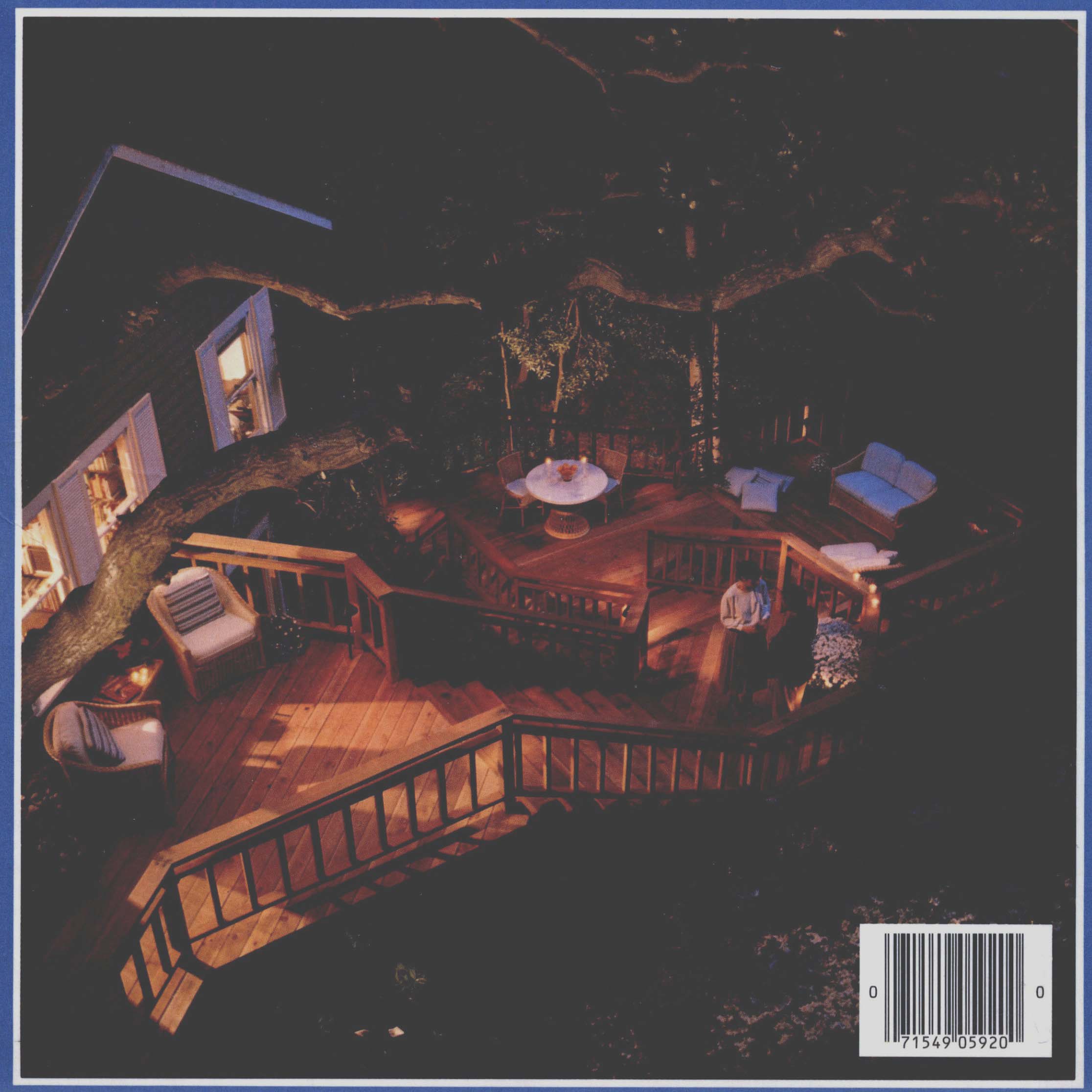 How to Design & Build Decks & Patios
Decks and patios, whether separate or combined, become outdoor living rooms that greatly expand and enhance your home. Here is a guide full of details on how to design and build according to your own needs.
Ortho/Chevron Chemical Company
575 Market Street
San Francisco CA 94105, USA
Created and designed by the editorial staff of ORTHO BOOKS
Design chapters written by Lin Cotton, A.S.LA
Construction chapters written by T. Jeff Williams Art Direction by James Stockton
Designed by Craig Bergquist
Illustrations by Ron Hildebrand
Front & back cover photography by Fred Lyon
Major photography by Michael Landis
Ortho Books:
Manager, Ortho Books Robert L. lacopi Editorial Director Min S. Yee Editor Anne Coolman Horticultural Editor Michael D. Smith Administrative Assistant Judith C. Pillon Copy Editing by Shirley Manning Editorial Consultant James K. McNair Additional photography by Ann Ashley Dennis Bettencourt John Blaustein Lin Cotton
'Fred Kaplan Michael McKinley James K. McNair Tom Tracy T. Jeff Williams Plan
Drawings by Lin Cotton- Life Designs, San Francisco
Proofreading by Editcetera, Berkeley, CA
Indexing by Baxter & Stimson Typography by Terry Robinson & Co.
San Francisco, CA
Color Separations by Color Tech Corp.
Redwood City, CA
Address all inquiries to: Ortho Books Chevron Chemical Company Consumer Products Division 575 Market Street San Francisco, CA 94105, USA
Copyright © 1979 Chevron Chemical Company All rights reserved under International and Pan-America Copyright Conventions No portion of this book may be reproduced without written permission from the publisher We are not responsible for unsolicited manuscripts, photographs, or illustrations. 2 3 4 5 6 7 8 9 10. ISBN 0-917102-78-9. Library of Congress Catalog Card Number 79-52994
Acknowledgements Sam Adler, Jr.
Basil Callori , A.I.A., Life Design, San Francisco Douglas Chism, A.S.L.A .. Atlanta, GA Claire Cooper-Marcus, Univ. of Calif., Dept. of Landscape Architecture Mrs. George Cutler Garrett Eckbo, A.S.LA Green Bros. Landscaping, Atlanta, GA Burton Litton, A.S.LA Stephen Marcus, U.C. Grass Co., San Francisco Pierre Merle, New York, NY Geraldine Knight Scott, A.S.LA California Redwood Association San Francisco, CA for photographic assistance Western Wood Products Association Portland, OR for photographic assistance and for material assistance on Landis deck shown on pages 1, 47, 56,57, 58, 67.
Cover styling by Sara Slavin Cover photography plants loaned by Egger & Sons Nurseries Mill Valley and Kentfield, CA Ross Valley Gardens Larkspur, CA American Garden - Perry's Inc.
Fremont , CA Malibu Lights on cover courtesy of Intermatic, Inc., Spring Grove, IL Deck furniture loaned by The McGuire Company San Francisco, CA Photo research by Carousel- Winfrey.
Page 12: Acropolis / J. Foxx- Woodfin Camp; Hanging Gardens and Agora / Culver Pictures; Garden of Eden/ Granger Collection.
Page 13: Persian rug and Egyptian garden plan/ Metropolitan Museum of Art.
Page 14: Chinese landscape/ Metropolitan Museum of Art and Newsweek Books.
Page 15: Village/ New York Public Library; Villa d'Este/ Photo researchers.
Page 16: L'Orangerie / Carousel- Winfrey; Versailles/ Musees Nationaux- Newsweek Books.
Page 17: Kew Gardens / Photo researchers.
Page 19: Alhambra / Adam Woolfitt- Woodfin Camp.
Page 20: Katsura Palace / Sekai Bunka.
Page 25: Betsy Church Deck and patio design credits: Lin Cotton: pages 4-5, 24, 28 (bottom left ), 100, 105; Goldberg & Rodier Landscaping 27 (top)
71 (bottom) , 91 (bottom), 95 (bottom) , Rudi Harbauer, Atlantic Nurseries: 23 (top right), 27 (bottom), 85 (top center), 88, 106 (bottom), 107 (top left and right ); Russell Ireland Landscaping: 8, 22 (center). 26, 28 (top right ), 64 (bottom right), 87, 97 (top right). 107 (bottom) .
---
Also see: Quick, Cost-Effective Home Upgrades [Ortho series]