---
---
Fixing up the basement is the easiest and most cost-effective way to create more space in your home. The basement can be transformed into a recreation area, rental suite, or home office. However, beware of a wet basement! If you can't afford to completely remedy basement moisture problems, don't attempt to renovate this area. The finish materials will simply rot and cause odor and health problems. However, we will discuss how to remedy moisture issues and build a healthy, comfortable, efficient basement environment from foundation to ceiling.
Job Site and Landscaping
The most common problem in basements is moisture. Some water problems can be fixed simply by addressing the house site. For example, you can extend outside gutter drainage pipes farther away from the house, add gravel-filled drains to deflect water away from the house at the bottom of the drainage pipe, incorporate a rooftop water catchment system with gutters, or slope the ground away from the house so that water does not run into the basement. More serious problems will require professional help to excavate around the house. Don't get duped into thinking you can paint the basement walls with "water proof" paint to fix the problems. Professionals will provide a back hoe for digging and mechanisms to move water away from the house.
As you design the interior, try to incorporate storage space in corners, under stairs, or in odd spaces. For example, an unused corner could become a walk-in closet or storage room. Create multipurpose rooms: a playroom today might make a great den or exercise room in the future. Save yourself anticipated costs by planning ahead!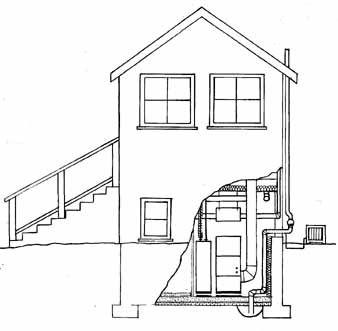 Green basement installation options, remodeled for efficient use of space could include:
• FSC-certified wood
• increased natural daylighting
• increased insulation thickness
• relocation of plumbing from exterior walls and insulated pipes
• exposed concrete as a finished floor
• radon mitigation
• HEPA filter
• ductwork installed or relocated within conditioned space and sealed with duct mastic instead of duct tape
Foundation
One clear sign of moisture is a crack in the foundation wall or floor. Some can be easily repaired with mortar or special hydraulic cement. More subtle water migration through walls can be sealed; water condensation can be remedied by making the wall warmer or the air drier. Serious moisture problems can cause not only larger cracks and structural damage, but also mold. You need to eliminate mold carefully, because exposure to some molds can be debilitating or even fatal. Call a professional or use a full-face respirator for severe mold issues.
To get rid of mold, first wet the area with bleach for 15 minutes. Second, wash the moldy area with one part bleach, four parts water, and a bit of non-ammonia detergent. Lastly, rinse the surface and dry it quickly. This should remove the mold and retard its growth so that you can then focus on fixing the source of dampness that caused the mold. You may have to repeat the cleaning process.
Another foundation issue is radon gas. It seeps into your home from soil deposits and can cause serious health problems, including lung cancer. Radon test Kits are typically available in hardware stores, online, or through mail order. Sealing cracks and seams in the floors and walls, as well as electrical and plumbing pipes will help keep radon out. You can also seal the foundation with a vapor barrier and install a gas trap to prevent air from entering your home through a floor drain or sump. If the problem is not fixed by these measures, get professional help to install vents that exhaust gases from your home (see "Radon" in Section 5).
FYI: Is the basement dampness caused by water migration or by water condensation?
Caulk a film of polyethylene to a dry section of the basement wall for one to two days Water on the bottom of the sheet indicates moisture; water on the top indicates condensation.
Structural Framing
There are several framing obstacles that may come up as you renovate the basement, including steel posts, furnaces, or laundry tubs. You can try to make the post part of a dividing wall or storage unit. Furnaces are more difficult because they are big and connect to a network of ducts and pipes. You can either replace the furnace with a smaller, more efficient unit, or you could get a technician to rewire and re-duct the distribution system. Laundry tubs you can move if they are connected to the main drain. However, you may have to work around floor drain tubs because floor drains should not be covered up in case of floods.
Using the basement may include fixing the staircase. Making it wider and less steep with a hand railing is a safe improvement that makes it more accessible. A stair exit to the outdoors is a more costly improvement, but will significantly improve the area if you plan to rent it out; it may be necessary in order to comply with building code requirements for fire exits. To make sure you provide adequate drainage and foundation support, seek professional advice.
Plumbing
Plumbing fixtures can be installed in a basement, but the feasibility of this varies from house to house. The main waste drain typically goes through the basement, so you can break up the concrete around it in order to get a new waste line to attach below grade. Water supplies are often overhead but may not be in the same location as the waste line. You can easily run hot and cold water lines to new sinks and toilets — just make sure each fixture is vented by joining it to a pipe that allows air to escape to the outside. However, if the main drain is above the fixtures, you may need a professional to help you run connections downhill to the drain or to create a special system to pump waste up to the drain.
Since most basements (and hence, bathrooms in basements) are small, compact fixtures such as corner showers and round-fronted toilets will save space. Toilets and faucets should be low-flow models to save water. For safer drinking water, consider installing carbon filters or a whole house filtration system. Investigate the types of pollutants in your water before purchasing a filtration system, because each filter cleans different pollutants from the water.
Always insulate hot water pipes to save energy If you are opening up walls, this may be a good time to move pipes to interior walls, where they will lose less energy to the outdoors.
Electrical
If your basement renovation is fairly complex, and includes, say, a kitchen, an electrician will need to upgrade your service. Avoid putting all the lights on one circuit, so that the basement will not go completely dark if you blow a fuse. In wet areas, like bathrooms, you will need what is called a "ground fault interrupter circuit breaker" to prevent the user from getting a shock if a short circuit occurs.
Good lighting is essential in the basement because it's typically a dark area. IC-recessed lighting with compact fluorescent bulbs is an efficient lighting option that saves ceiling space. Fluorescent tubes and halogen lights provide flattering light that's significantly less expensive to operate and maintain than incandescent lights, despite initially higher costs. Pay extra attention to dark stairways, and include switches at the top and bottom of the staircase for added safety and convenience.
Insulation
If you repair the foundation from the outside, consider insulating the foundation wall with a closed-cell rigid foam insulation, such as extruded poly-styrene. Rigid foam insulates well and can be reused if it's ever removed. Install the insulation over a low-toxic damproofing layer. Extend the insulation above where the floor hits the foundation to minimize air leakage, and add a drainage mat over the insulation so that water drains away. Add flashings, or flat sheets of metal, to protect the top edge of the insulation from water penetration. Interior wall insulation is easier and cheaper to install, if you don't have to excavate outside, but it reduces your living space, it won't protect the concrete wall waterproofing membrane, and it may become saturated with moisture if there is a failure.
Soundproofing may be a good idea to keep noise from your rowdy downstairs tenants or ping-pong fanatic kids from disrupting your peace of mind upstairs (or vice versa). To minimize noise transmission between floors, seal cracks and holes around pipes and ducts where they penetrate the ceiling. Also make sure the basement door is airtight. Then, install recycled-content cellulose between ceiling joists. Next, install drywall or tile using resilient channels that effectively minimize contact between the joists and ceiling materials, or lay recycled-content insulation blankets on top of a suspended ceiling. Lastly, look for ceiling panels or tiles with a high noise-reduction rating.
Solar Energy
You can get more natural light in your basement by upgrading your windows. First, enlarge the well around the windows. You can put light-colored rocks at the bottom and paint the sides of the well white to reflect more light into the basement. If you'd like even more light, enlarge the window itself; it's easiest to extend the window downward — just make sure there are no pipes or ducts in the wall. You can also cut new windows into the walls if necessary. Awnings can increase the energy efficiency of windows, and greenhouse windows project forward to bring in more light from all sides of the window. Keep in mind that fire codes require that at least one window on each floor must act as a fire escape — so this window should be large and easy to open for someone to get out in case of emergency Check your local codes for exact requirements. It is important to purchase the most energy-efficient windows you can afford to replace the typical metal-cased, single-glazed windows that are typical in foundation walls. The old windows will be a constant source of cold and drafts. Use low-e windows with low-conductivity frames to maximize comfort and minimize energy bills.
There are also newer technologies on the market, including solar tubes and fiber optic lighting that can bring natural light in from several floors above the basement. With solar tubes, light passes through reflective pipes that are incredibly energy-efficient and effective at lighting large areas despite their small size. A chase can be run through rooms above, such as a closet, to get the light to the basement. With fiber optic lighting, light passes through glass fiber into a mechanism where it's then distributed anywhere in the house, including the basement.
Heating, Ventilation, and Air Conditioning (HVAC)
Heating a basement is generally easy, since it's usually a small area; one heating duct or spot heater is often sufficient. Larger areas may require a small system with outlets or vents to circulate the heat throughout the basement rooms. Make sure that you install the new ductwork in conditioned spaces (i.e., not on the exterior walls), and use duct mastic on duct joints to effectively seal them.
New basement kitchens or bathrooms will require ventilation systems that exhaust air to the outside of the house. For the basement in general, you will also need ventilation. You can run a duct with a small fan up the wall to pull air from the floor above into an air register low on the basement wall. The warm air will then rise through the room and shouldn't affect household airflow.
Interior Materials/Finishes
You determine how healthy your basement will be by how you finish it. Many materials emit toxins into your indoor air that can lead to serious medical conditions. Wallpaper is a popular wall covering, but its vinyl coating causes irritating odors. Additionally, moisture can get behind the paper, where mold enjoys feasting on the gluten-based paste. Your best option is to use a low-VOC, formaldehyde-free paint over drywall, or a low-VOC finish over FSC-certified, reclaimed, or solid wood paneling. Conventional wood or simulated wood paneling should be avoided because it offgasses formaldehyde (see "Formaldehyde" in Section 5).
Particleboard or medium-density fiberboard (MDF) cabinetry will release formaldehyde into your air. You can seal these materials with a couple of coats of a water-based acrylic sealer to minimize emissions.
The most economical and resourceful flooring option is to leave the concrete slab unfinished It can be stained to give it color and polished to give it a finished look Other flooring may be necessary however to make the room more comfortable. If you are going to build a new floor, include a moisture barrier layer underneath the framing sleepers (like floor joists laid on the concrete that serve as a nail base for the new subfloor), as well as rigid insulation panels between the sleepers and beneath the exterior grade plywood subfloor and your finished surface.
For finished surfaces, choose natural linoleum over vinyl; the vinyl offgasses harmful chemical, whereas natural linoleum is usually less irritating. Healthier, more durable options include ceramic tiles and well-sealed FSC-certified wood floors. Use low-toxic, water-based adhesives rather than unhealthy solvent-based products. Recycled-content carpet is acceptable in areas that are free of moisture, but in general they provide a warm and cozy home for mold spores, dirt, and pesticides tracked in from your neighbor's yard.
Changing the world one room at a time means thinking about every choice you make. As you can see, the environmental consequences are endless. Taking the time to consider your options is beneficial to you, your children, and the planet. In the next section, we give you more detailed information on particular green features to guide you through these choices at each stage of the remodeling process.
FYI: Be on the look out for asbestos! Asbestos is particularly dangerous on surfaces where it's loose or disintegrating. It should be removed by a professional unless it's already sealed or in solid form.
Basement Green-Remodeling Checklist
Job Site and Landscaping
Remodel for efficient use of space.
Use rooftop water catchment systems.
Consider gravel-filled "Dutch drains."
Foundation
Incorporate radon mitigation.
Structural Framing
Use reclaimed lumber.
Use engineered lumber.
Plumbing
Insulate pipes.
Install low-flush toilets.
Install low-flow faucets.
Investigate your water supply.
Install a whole-house water filtration system.
Install activated carbon filters.
Remove plumbing from outside walls and insulate pipes.
Electrical
Install compact fluorescent light (CFL) bulbs.
Install halogen lighting.
Install sealed or airtight recessed lighting.
Insulation
Use cellulose insulation.
Caulk, seal, and weather-strip.
Increase insulation thickness.
Solar Energy
Install low-e windows.
Install low-conductivity frames.
Incorporate natural light.
Consider fiber optic or solar tube daylighting.
Heating, Ventilation, and Air Conditioning (HVAC)
Use duct mastic or Aeroseal instead of duct tape.
Install ductwork within the conditioned space.
Indoor Air Quality/Finishes (See Section 19)
Use formaldehyde-free materials.
Seal all exposed particleboard or MDF.
Install recycled-content carpet and underlay.
Use recycled-content tile.
Replace vinyl flooring with natural linoleum.
Use exposed concrete as the finish floor.
Use low- or no-VOC and formaldehyde-free paint.
Use low-VOC, water-based wood finishes.
Use solvent-free adhesive.