Egress Window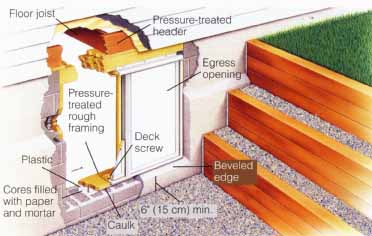 An egress window must have a clear opening of at least 5.7 sq. ft. and be at least 20 inches wide and 24 in. high. This size is large enough to allow a firefighter, with equipment, to enter the home through the window. In addition, the bottom of the opening can be no more than 44 in. from the floor. Check with your building code official prior to tackling this project. Note: In Canada, clear openings must not be less than .35 sq. m, with no dimension less than 380 mm.
1. Use tape to outline the proposed window size and location. Erect a temporary 2x4 support wall if joists are perpendicular to the wall you're cutting. Fit studs tightly and align each under a floor joist.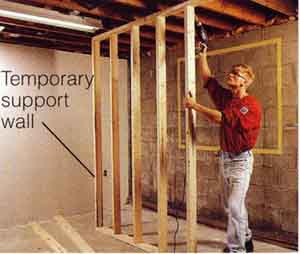 2. Mark cutline for opening using a black marker. Drill level holes through the wall at corners to locate your exterior cutline. Cut concrete wall from both sides using a concrete saw by making a shallow pass first, then cutting through. Use a wet blade to reduce dust and heat.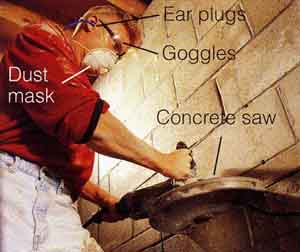 3. Build the frame from treated wood. In concrete block, fill cores with newspaper and mortar, drive deck screws in the bottom of the frame sill and , while mortar is wet, set sill in place. Make the frame tight fitting and attach it to the concrete.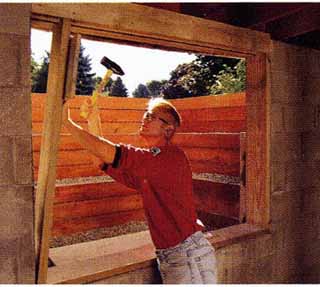 4. On the outer wall, seal gaps between the rough frame and concrete. Center the frame in the window and level it with shims. Nail shims in place and remove window. Caulk outer frame beneath the window's nailing flange and install window.