Compared to building above ground, remodeling a basement is an affordable option to increase your living space. But before finishing your basement, answer these three questions to determine the project's scope:
1. Will the finished headroom meet code requirements? Most codes dictate 7 ft. 6 in. (2.3 m) as a minimum height for a certain percentage of the space. Soffits that cover ventilation arid other systems may be as low as 7 ft. (2 m). Consult a local building inspector for a ruling.
2. Will you meet egress requirements? Most basement bedrooms and , in some cases, basements in general must have a legally sized egress window or outer door for occupants to escape through in case of fire.
3. Have all moisture problems been resolved? If not, you'll be throwing money away by finishing your basement.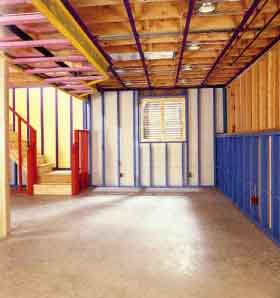 Above: Basements often have heat ducts, pipes, wiring and exposed concrete walls and floors that need to be dealt with to create a comfortable living space.