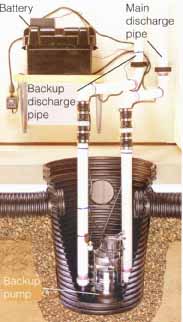 If your basement is prone to flooding, you may need to install a sump pit to collect the water and a sump pump to pump it out. Perforated pipes around your foundation perimeter and underneath the basement floor direct water into the pit. When water in the sump pit reaches a certain level, a float-operated switch turns on the pump, which discharges water, bringing the water level back down until the pump switches off.
A check valve between the pump and the discharge pipe keeps the water in the pipe from flowing back into the pit. Do not use the flexible corrugated pipe that comes with many sump pumps for discharging water; instead, use 1-1/2-in, rigid plastic pipe for long-term reliability.
Inspect and test the pump at least four times a year and any time you plan to be away for an extended period. To test it, fill the sump pit with water and make sure the pump operates correctly. If the pump works slowly or makes labored noises, clean the inlet screen underneath the pump.
Battery-powered backup sump pumps automatically start pumping if the regular unit loses its power source. Some models can be retro fitted to supplement an existing AC-powered pump, but many new AC-powered pumps have the battery backup pump built into the unit. Most backup sump pumps have an automatic charger and can run 6 to 8 hours on a fully charged battery. A car battery can be substituted in an emergency.
Order complete sump-pump systems, individual sump pums and accessories.