Don't think about the place you and your family live as a "house" or "home"... but, as a home system.
There are many ways in which you can improve your home structurally and decoratively. However, there are many other home-improvement methods you can use it to boost the performance of your home and make more efficient in terms of energy use, aspects of safety and security, and storage. Let's identify the areas of a home that may be improved in these ways.
DETERMINING YOUR PRIORITIES
When determining your home's performance, you need to be able to prioritize the tasks at hand. Generally, matters of safety and security need to be placed at the top of your list, while other issues, such as improving storage space, can be tackled at your own pace. Not all issues and measures shown here will be relevant to every home. However, the aim of this section is to cover as many improvements in safety, security, storage, and energy efficiency as possible, some of which may be applicable to your home and lifestyle. Many of the technologies discussed in this section are new, as options constantly develop and evolve. It pays to be aware of developments in all these areas, so that you can take advantage of the latest techniques for home improvement.
Step-by-step, you can turn your dwelling into a safe, energy-efficient home system. CLICK HERE, or the image below, for an interactive, full-sized model of a modern home system.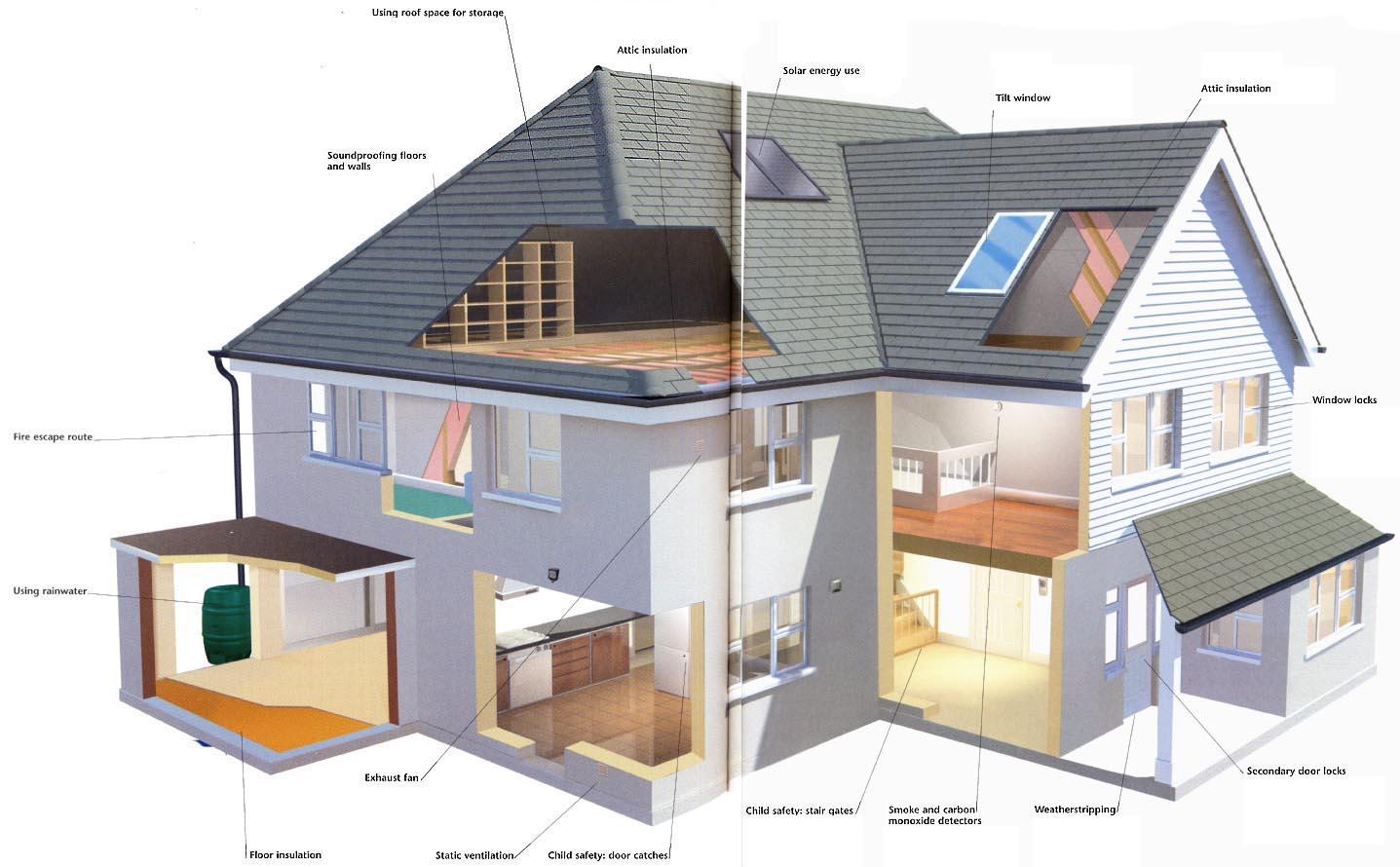 A list of priorities, as shown in the above model:
Using roof space for storage: Use shelving to act as storage platforms in this otherwise unused area of the home.
Soundproofing floors and walls: Noise between floors or adjacent rooms can be drastically reduced by modern soundproofing techniques.
Attic insulation: A well-insulated attic is essential for saving energy. This is both environmentally friendly and cost-effective.
Fire escape route: All homes must have suitable fire escape procedures. In many cases an escape ladder can be installed. Escape windows should also open wide enough to ensure easy passage through them in the event of an emergency.
Solar energy use: The use of solar panels is an increasingly viable option for saving energy and helping to protect the environment.
Tilt window: As well as providing daylight for an attic room, the window can be opened for extra ventilation when necessary.
Attic insulation: Insulation is essential at roof level when the attic is used as a living space.
Window locks: Burglars often use windows as points of entry. Therefore, ensuring that windows can be locked and secured is an important aspect of home security.
Floor insulation: Insulated floors not only save energy and household heating costs but also feel more comfortable underfoot.
Exhaust fan: Make sure that exhaust fans are used to take moist air out of the house where necessary.
Static ventilation: Make sure you have adequate ventilation for fuel-burning appliances.
Child Safety: door catches! Use door locks to prevent children from gaining unsupervised access to your refrigerator and cabinets.
Child safety, stair gates: Prevent child accidents on stairs by positioning gates at both the top and bottom of a staircase.
Smoke and carbon monoxide detectors: These are among the most essential of all installations in your home. If your house does not have smoke and carbon monoxide detectors installed, install alarms on every floor.
Weather-stripping: Doors and windows can be a major source of heat loss. You can make large energy and financial savings by installing double glazing and draft excluders.
Secondary door locks: Entry doors are generally installed with some form of mortise lock and/or cylinder lock. Additional locks can further increase this security.
Using rainwater: Consider collecting and recycling rainwater. One can use it to water the garden or even channel it directly into your home plumbing system.
RECYCLING WATER: As well as recycling rainwater, it is now possible to install systems in your home that can recycle gray water (from sinks, tubs, and washing machines), and black water (from toilets). Both systems can have significant startup costs, but once installed they are both environmentally friendly and cost-effective. Take time to research your options and pick a system appropriate to your needs.