TOOLS AND MATERIALS CHECKLIST:
Geothermal heating systems harness the energy in the earth to power and generate heat inside your home. It works much like the heat-pump system discussed opposite, but the geothermal system has a few modifications, and requires more land around your home to install. Geothermal heating includes cables buried in the ground, at a specific distance from the house. Below is a diagram that shows the basics for how one type of geothermal system works, and more information about the process.
In some areas of the world, such as Iceland, there is a lot of geothermal activity. This means that the ground can be very warm and heat can easily be drawn from it to heat homes and businesses. In areas such as Iceland, with high geothermal activity, this system is very efficient.
In most of the United States there is not so much natural heat produced by activity below ground.
This means that normally the systems that are available use technology similar to heat pump units, but draw the heat from underground instead of the outside air (see opposite). These systems can be very efficient, especially in areas with milder winters. But they often need supplemental heat sources in cooler climates, just like a heat pump will.
Unfortunately this type of system is also very expensive. A large area of the surrounding ground must be excavated for the heat-gathering tubing. It must be placed at a depth that will insure the tubing's safety from puncture due to digging in the ground above it. And if there is a leak in the system, it can be very expensive to repair.
FURTHER INFORMATION
These systems are not very common and can only be used in more rural areas where the homeowner owns a large enough parcel of land to accommodate the system. This effectively rules out use in any urban area and in most suburban areas. And the cost of the system rules out all but the most affluent homeowners.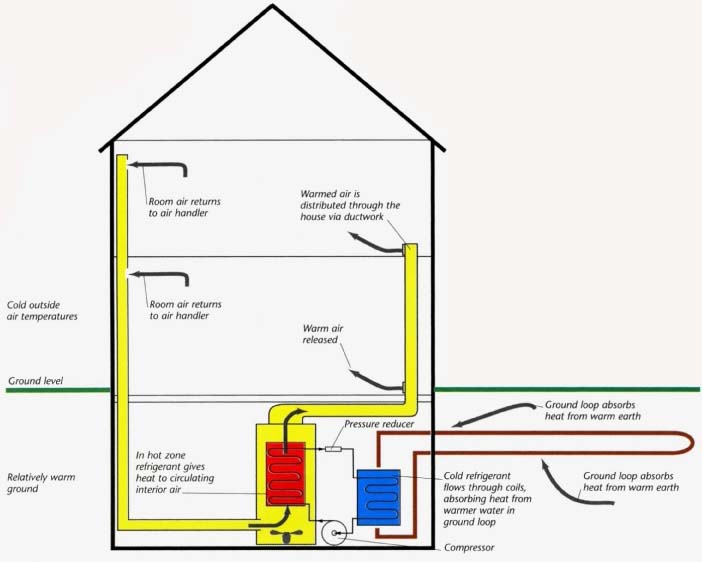 Above: Residential geoexchange system: In this system warmth is drawn from the ground through refrigerant lines and is deposited in the home heating unit much like in a heat pump system. Click here or image above for larger diagram.
Components of the diagram above: Cold outside air temperatures; Ground level; Relatively warm ground; Room air returns to air handler; Room air returns to air handler; In hot zone refrigerant gives heat to circulating interior air; Warmed air is distributed through the house via ductwork; Warm air released; Pressure reducer; Ground loop absorbs heat from warm earth; Cold refrigerant flows through coils, absorbing heat from warmer water in ground loop; Ground loop absorbs eat from warm earth; Compressor.
FURTHER INFORMATION
Geothermal exchange systems can be used in a forced air heating system and also in other systems such as hydronic radiant heat systems. The cost of these types of systems is usually prohibitive and it could take most of a lifetime of savings to recoup the monetary outlay. Also it is a system not well suited to offering air-cooling, just heating. There would have to be another system or provisions for air conditioning in addition to this heating system.
Previous: Heat Pumps | Next: Air Cond.