---
---
Layout
Lay out your project on a fresh piece of graph or tracing paper. Draw as many views as you need to visualize the size of each part and its relationship to the whole component. Make your sketches large, simple, and clear. Take the time to erase and re-sketch — correcting a mistake on a sketch is easy, inexpensive, and painless; correcting a mistake on your component is not. Your layout is complete when you've determined and recorded on it:
the type of material you'll use for each part: lumber, plywood, particle board or hardboard, and its stock thickness.
the size of each part: its width and length.
how it connects to other parts: will it butt, or rabbet, or dado into them, for example?
how all the parts work together to form the whole: which parts overlap others, and which parts fit between others.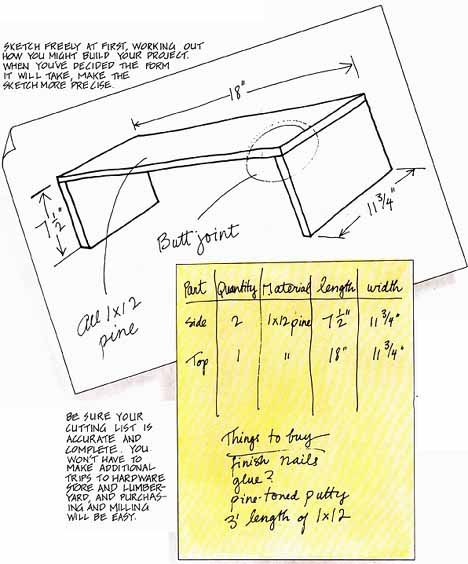 Cutting List
Use your layout sketch to make up cutting list. From that list figure the amount of material you need to purchase. Mistakes do happen, so purchase a little more of each type than you think you'll need. Add to your shopping list hardware and any other supplies (such as putty, dowels, and sandpaper) that you may need for your project. If you'll need any new tools, jot them down, too.
Previous: Sizing Up Your Space

Next: Cuts and Joints
ALL ARTICLES in this Guide:
DIY and Custom-Made Storage Solutions: Components You Can Build for Home, Office ... as a Hobby or for Sale (Profit, earn Income)