The more you sew, the more you will become aware of the world of sewing tools that's avail able. Treat yourself to a new gadget from time to time, and add to your collection as the need arises. The following tools and equipment are things you may want to consider adding to your tool kit.
Rotary cutters
A rotary cutter is a fast, sharp tool for cutting. It is too fast and too sharp if you are just beginning to sew. Once you find yourself sewing a lot or if you are a quilter, you may want to use one. This pizza cutter for fabric has to be used in conjunction with a special mat or it will cut and mar the surface underneath the fabric.

I consider a 1-yd.-long mat to be the minimum length you'll need for garment cutting.
Using a rotary cutter is the best way to cut slinky, slippery, and silky fabrics. When you are ready to sew these fabrics, you may be ready to give this tool (and mat) a try.
More pressing tools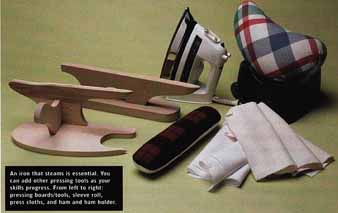 Besides irons, there are all sorts of pressing tools available to the home sewer. My list includes a clapper, a sleeve board, a June Tailor board, a ham, and ham holder (see image above).
A clapper is a 3-in, by 8-in, piece of hard- board with curved edges that's used for flattening edges. A sleeve board allows you to press long seams easily, but a rolled-up towel can work just as well.
A June Tailor board is a wooden pressing device used for pressing collars and facings. There are several other wooden pressing tools available that serve this function.
A ham is actually a ham-shaped form that prevents curves in a garment (such as darts) from being pressed flat. The ham holder is the device that keeps the ham from rolling off the ironing board.
Above the basic level are advanced pressing devices: presses, which come in several varieties, and professional gravity-feed irons. Presses feature two heated plates that are lowered to meet each other and press fabric between them. Also available are steam table- type presses, which consist of ironing board tables that create steam in conjunction with a hot iron that flattens fabrics. Some of the best pressing can be done with professional irons, with gravity-fed water providing lots of steam. You can spend anywhere from $90 to $170 on a good basic iron, but the advanced devices will demand several hundred dollars.
== Wiki Sewing ==
FABRICS: Selvedge
All fabric has a selvedge. The selvedge is the bound area of the fabric on the uncut edges. If you find fabric that's cut on all edges, chances are that it's a remnant and was originally from a fabric bolt or tube. Not every selvedge is the same; some are plain and some offer information.
Print repeat marks can be found on the selvedge (a). These will allow you to calculate how much extra fabric you'll need if you're matching a repeated pattern in the fabric.
Color dots or blocks on the selvedge show you each color that's in the print of the fabric, making it easier to pick out and match a single color from a print (b).
The manufacturer's name may be found on the selvedge but you will not find as much information on the selvedge as you will on the bolt end.
TIP Cut It Off! Always cut the selvedge off the fabric before you begin your project. It may be tempting to use that extra little bit of fabric, but the selvedge tends to launder and shrink differently than the rest of the fabric.
---
Sewing Basics -- A Quick-start Guide
Before you begin sewing, know about ...
---