Fabric is wonderful. It comes in a gazillion colors and prints. Fabric drapes, it flows, it's soft or silky or velvety or... I could go on but you get the idea. But if you are beginning to sew, you might not know that some fabrics are easier to work with than others. A few fabrics are less wonderful because they are difficult to cut, handle, sew, and press. Some basic information can help.
Types of fabrics
Fabric is either knit or woven (see image below). If you have ever knit or crocheted, you know that yarn is looped in the process of making a stitch.

The same is true for knit fabric. It is the looping of the yarn that allows the garment to stretch. T-shirts and swimsuits are examples of garments constructed with fabrics that are knit. The stretch in knit fabrics makes them especially suitable for action-wear in particular and sportswear in general. Sewing with knit fabric requires you to consider the stretch before you choose the garment style. You will have to choose a sewing-machine stitch that accommodates the stretch, too, and maybe even change the needle type and size.
Woven fabric is fabric that's constructed with two sets of yarn that are perpendicular to each other: the warp and the weft.

If you have ever seen a weaver work, you will recall that there is a loom with fixed threads (the warp) and a shuttle that weaves the horizontal (weft or woof) thread to create the fabric. This fabric is stable and not meant to stretch. Woven fabric can have interesting surface textures, like velvet, silk, and damask. Wovens dominate the fabric used by home sewers. The variety of woven fabric available is vast. There are light weight, sheer, and delicate wovens, as well as dense, heavy wovens.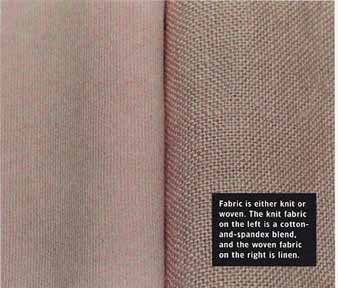 Fabric is either knit or woven. Knit shown here (left) is cotton-and-spandex blend; woven fabric (right) is linen.
Beyond the choices of knit or woven, there is another aspect to consider: Is the fabric a natural fiber or a man-made fiber? Natural fibers include cotton, linen, wool, and silk. Rayon, which is made from wood pulp, can be considered a natural fiber, too. Acrylic, polyester, nylon, Lycra, polyfleece, spandex, and triacetate are man-made. Microfibers, which often include natural-fiber components, frequently have to be handled in the same manner as man-made fibers.
The easiest fabrics to work with are the ones that are made of natural fibers, some knit and some woven. My easy—fabric list includes cot ton, cotton knit, cotton flannel, silk noil, light weight wool and wool crepe, wool jersey and double-knit, most rayons except sueded rayons and very drapey ones, and light- to middle weight linen (see image above). Linen blended with rayon or cotton is all right, but avoid linen blended with polyester. Fleece is on the list, too, as well as man—made stretchy fabrics such as velour and spandex blended with wool or cotton but not with acrylic or polyester.
It is important to avoid fabric that requires extra handling when you are learning to sew Some wools like gabardine require extra attention to detail when pressing; silks and slinky fabrics are more difficult to cut and handle while sewing; and polyester fabrics, while easy to care for, are not always easy to manipulate. When you are new to sewing, stay with the list of easy fabrics. Until you gain confidence about your sewing skills, let yourself be challenged by the garment style, not by the fabric.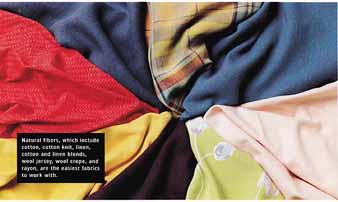 Natural fibers, like cotton, cotton knit, linen, cotton and linen blends, wool jersey, wool crepe, and rayon, are the easiest fabrics to work with.
TIP: Look for fabric that's not too stiff or bulky and that drapes well. This is a general rule for clothing construction. Bulky fabrics make the body look.., well, bulky. You won't like the way you look in garments made with these fabrics.
TIP: To prepare a fabric by steaming it, press it with an iron set on the steam setting and in the temperature range for your fabric. Press the entire piece of fabric two or three times, shooting lots of steam into the fabric as you go. Watch out for drips, which can mar some fabrics like rayon, and for steam marks that result from using too high a temperature setting. You can get a bit more steam if you hold the iron about ½-inch above the surface of the fabric, but it will take you longer to prepare it this way. This is, however, a great way to steam wool.
== Wiki Sewing ==
Fabric
Strolling through a fabric store is an adventure in imagination. The array of fabric colors and textures are a smorgasbord of raw material ready to be made into anything you can imagine. If you enter a fabric store with a specific project in mind, it's best to know how that the fabric will sew and appear in your finished product before you make your purchase and invest your time.
Topics:
Choose Your Fabric (see below)
How to Buy Fabric
Bolt End Information
Selvedge
Fabric Grain
Straighten the Grain
Woven versus Knit
Fabric Nap and One-Way Designs
Lace and Sheer Fabrics
Preshrink Fabric and Notions
Choose Your Fabric
Choosing a piece of fabric isn't as simple as finding a fabric that you love at first sight. The fabric needs to be suitable for your particular project. The type of fabric you use can affect how a finished item will hang or drape.
Most quilting stores and fabric stores carry 100% cotton in a wide variety of colors and prints. This type of fabric tends to stay in place when it lies against itself, making it one of the easiest fabrics to sew.
Aside from 100% cotton, other blends of woven fabric are a good choice for beginner sewers. Woven fabrics are available in a variety of weights from fine sheer fabric to heavy upholstery and canvas fabric.
Polar fleece is a great fabric to experiment with. It doesn't fray, so seam finishes are not necessary. It's available in a wide variety of weights, colors, and patterns as shown in the photo on the right.
Slippery fabrics, such as satins, sheers, and Lycra, as well as super-stretchy fabrics, require a bit of experience to achieve desirable results.
Fabric is sold in precut flats or off a bolt by the yard (or by the meter in some countries).
Buying a fraction of a yard is perfectly acceptable so you can buy only the amount of fabric you need.
How to Buy Fabric
Before you buy fabric, you'll need to know how much fabric your pattern requires, and you may need extra fabric if you're adding length or width to the pat tern. You'll also need to allow for enough fabric in case the fabric shrinks.
Use this handy chart when you need to buy less than a yard of fabric.
Yards | Inches
1/8 yd. 4 1/2" 1/4 yd. 9" 1/3 yd. 12" 1/2 yd. 18"
Yards | Inches
5/8 yd. 22 1/2" 2/3 yd. 24" 3/4 yd. 27" 1 yd. 36"
TIP---Fat Quarters: Many stores have precut fat quarters and fat eighths. These pieces are 1/4 or 1/8 of a yard but are not cut in the conventional method. A 1/2 or 1/4 yard is cut from a full width of the fabric and then that piece is cut in half. This leaves two pieces of fabric, which are sold individually as a fat. Although this cutting method was developed for quilters, these fat cuts are an excellent way to have a stash of many colorful pieces of fabric to experiment with different sewing techniques such as appliqué.
Preparing the fabric
Once you have chosen a fabric for your project, it's necessary to prepare it for sewing. For the most part, this means to wash it or steam it with an iron, depending on whether or not it's washable. Then you need to press out any wrinkles.
But even this simple instruction invokes a few questions: How do you know if the fabric is washable? Will it shrink? How much? Here are some easy answers: When you buy fabric, look at the end of the bolt for washing instructions, or ask the salesperson if the fabric is washable and if it shrinks (see image below).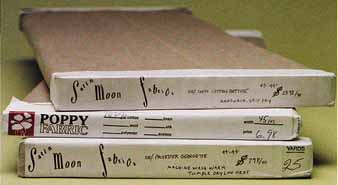 Look on the end of a fabric bolt for fabric content and care instructions.
COTTON--Cotton is a washable fabric that some times shrinks and sometimes doesn't. To be on the safe side, whenever the fabric is cotton, a cotton blend, or even a cotton knit, buy a bit more to allow for shrinkage. Wash it in the washing machine and dry it in the dryer, using the temperatures you would use for the finished garment you are going to make.
LINEN--With a few exceptions, wash linen in the washing machine and dry it in the dryer before sewing. Don't wash black linen because it will get grayer, and don't mix bright colors with other laundry since the dye may bleed out.
RAYON--Some rayons are washable and some are not. Pay attention to the instructions at the end of the bolt. If the fabric isn't washable, steam the entire length of the fabric.
WOOL--Wool also needs to be steamed, which you can do at home or you can bring the fabric to your dry cleaner and ask if they will do it for you. You don't need to dry-clean the fabric unless it's white. White wool tends to shrink even after the garment is made because neither the fibers nor the fabric have been exposed to the heat that they would have had they been dyed.
WHEN YOU ARE NOT SURE--If you are in doubt whether to prewash the fabric or not, purchase an extra 1/8 yd., cut it off, and measure it for length and width. Wash it in the washing ma chine and dry it in the dryer, press it, then mea sure it again. Is it still 4½ in. long and as wide as the piece you bought? Did it fade or did the bright color bleed into the lighter part of the print? Is the surface duller than the unwashed piece or is the surface scuffed in any way? If you like the results, wash the rest of the fabric with the peace of mind that you won't ruin your investment. If you don't like the results, prepare the fabric by steaming it, then dry-clean the finished garment (see image below).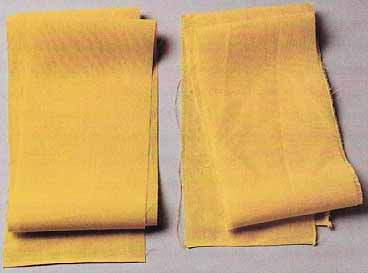 When you are not sure if a fabric is washable, test-wash ½-yard to see if it shrinks, ravels, or fades.
Fabric characteristics
Once you have prepared the fabric for sewing, it's time to take a closer look at it.
SELVAGES--Fabric has selvage edges. These are the hard or stiff edges of the fabric that define the fabric's width. Sometimes there are little holes where the fabric was attached to the loom and sometimes there is a woven or printed logo along the selvage edges (see the bottom illustration above).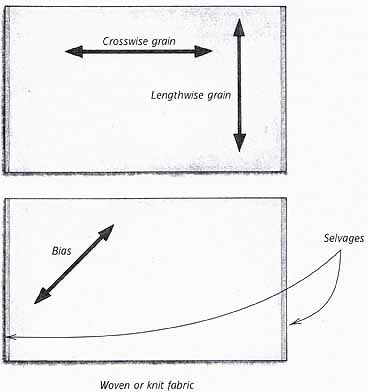 FABRIC CHARACTERISTICS: Crosswise grain vs. Lengthwise grain; Bias vs. Selvages; Woven or knit fabric
GRAIN--Fabric has directional grain. The length wise grain is parallel to the selvage edge, while the crosswise grain runs from selvage edge to selvage edge (see the top illustration above). In a knit fabric, both the lengthwise grain and the crosswise grain stretch, although the crosswise grain is stretchier. In a woven fabric, both the lengthwise grain and the crosswise grain are stable, but there may be some give in the cross wise grain.
Between the two grainlines is the bias, which isn't a grain but a direction. Even in a woven fabric the bias is stretchy, which is good when we want to use the stretch and not so good if we don't. In a knit fabric, the lengthwise grain and the crosswise grain are both stretchy, but the lengthwise grain tends to be less so. Bias is used less often in knits.
NAP--Fabric can have nap, which is a raised surface that's sometimes textured. Think of corduroy or velvet. Run your hand over the fabric along the lengthwise grain, parallel to the selvages, moving one way, then the other. Note that there is a smoother direction, much like there is a smoother direction when you pet a cat. On a garment, it's desirable to have the smooth direction run from the bottom to the top. All of the "up" ends of the pattern pieces (the neck edges, the top of the sleeves, the waist edge) need to be positioned on the fabric the same way so that the smoothness of the nap runs from the bottom of the piece to the top. The fabric will look richer and , when you sit, the nap won't be crushed.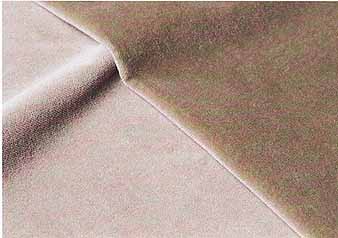 Shown above is a single piece of napped fabric. The left part is turned with the smooth end up and the right is turned with the smooth end down.
PRINTS--Fabric prints are sometimes directional (see the illustrations below). Imagine a fabric with flowers on stems. The flowers might be scattered on the fabric, some up and some down; there is no correct up or down on this fabric. But the flowers might have their blossoms in the same direction, making this a directional print. Just as with a napped fabric, you need to place all of the top edges of the pattern pieces in the same way so that the print is going in the right direction on every piece— you don't want the flowers upside down on one side and sideways on the sleeve.
Border prints are examples of fabrics that are directional on the crossgrain. Stripes that run from selvage to selvage are directional, too. With these fabrics, pattern pieces need to be laid out on the crossgrain, with the tops of the pattern pieces facing up along one of the selvage edges.
Some directional prints or stripes run diagonally on the fabric. Simple garments can often accommodate these and , in fact, look terrific. Look for fabric suggestions on the back of the pattern envelope, though. "Not suitable for diagonal prints" may be the pattern company's advice for some styles.
Additional yardage is often needed when you are working with napped fabric, directional prints, and striped (or plaid) fabric. The back of the pattern envelope is the place to check for information about what kind and how much fabric you need for your project. If you are looking for an easy project, however, you might want to avoid the hassle of working with these types of fabric.


DIRECTIONAL FABRICS: Striped fabric can be directional. Directional prints. Border prints.
---
Sewing Basics -- A Quick-start Guide
Before you begin sewing, know about ...
---