---
---
The elements that will contribute to the appeal of your basement include finished surfaces, trim, lighting, storage, and special features. These add drama or interest, even though they may not solve any particular design problems.
Good design is the successful integration of all components—structural, functional, and decorative—not just the addition of a few special features.
Finishing the floor
A concrete floor can be carpeted, tiled, covered with wood or resilient flooring, or just painted. If there is a slight moisture problem, tile, resilient flooring, or nonorganic carpet materials will not be harmed by a small amount of moisture wicking up through the concrete.
Carpet is a good choice for basements because it's soft, resilient, quiet, and warm. If also hides surface irregularities well.
Tile and resilient sheet materials are good choices for rooms where maintenance and durability are primary concerns. Tile is cool to the touch, which may be an advantage in hot climates. Resilient materials are softer and are offered in a great variety of colors and patterns.
Wood floors can be installed directly over concrete or, for more resilience, on a wooden subfloor. But wood will be damaged if there is a moisture problem. Consult with a flooring specialist before choosing a wood floor for a basement.
Install flooring materials directly over the concrete or over a wood subfloor for a more resilient surface.
Finishing the walls
In some cases the original foundation walls may be adequate for finish walls, particularly if they are brick or stone. If they are dry and you are not installing insulation, you can just paint them. If they are concrete or concrete block, you can dress them up with stone or brick veneer.
A more common treatment for walls is to finish them with wallboard. This makes it possible to add insulation and makes basement space look more like conventional rooms. Wall board can be painted, paneled, or covered with wallcoverings.
Wall treatments add to the comfort of a basement. Paneling has long been a favorite material for warming up a space, although it can also make it feel dark and cramped if overdone. If you do install paneling, first apply wallboard over the insulation for fire protection. Always be sure moisture problems are corrected before you finish any walls.
Finishing a low ceiling
Basement ceilings are a challenge to finish because they are low and often interrupted by ducts and pipes. If there is at least 90 inches of head room, conceal all the ducts with a continuous suspended ceiling. If not, box them in (as long as there is at least 80 inches of clearance) or leave them exposed and paint them.
To overcome an oppressive feeling, make the ceiling lower where it abuts the walls. This stepped-down section will make the center part of the ceiling appear higher than it's . Applying coving all around the edges will give a similar effect.
Light colors tend to heighten a ceiling; dark colors lower it. The safest approach is white paint. An alter native is to use the same hue in graduating intensities. Start with the darkest shades around the edges and proceed with lighter tints toward the center, carefully blending them together. The result is exciting and dramatic, but like all illusions it must be handled skillfully.
Another dramatic effect is to paint the ceiling flat black and nail on wood lattice, stained or painted a light color. This gives the appearance of a canopy, rather than a low ceiling.
Rather than trying to disguise the cave-like atmosphere, you can exploit it by creating a cozy getaway where windows and high ceilings will never be missed. Darken the ceiling, cover the walls with brick or stone veneer, install a fireplace, cover the floor with soft carpeting, and add built-in seating platforms.
Techniques for enlarging space
Even if a basement has ample floor area, the following techniques will make a low ceiling appear higher.
- Use small-scale, light-colored furnishings clustered in groups rather than scattered around. A clean, well- organized space dispels uneasiness caused by a low ceiling.
- Install wall-mounted or ceiling fixtures instead of floor lamps.
- Lay continuous floor covering in a light, neutral color instead of scatter rugs to unify and simplify the space.
- Cover a wall with large mirrors, especially a long wall in a narrow space. It will make the room feel wider and will divert attention away from the low ceiling.
- Install curved walls rather than right-angled corners. This will create the illusion of more open space and will make room dimensions, including height, less predictable.
- Accentuate vertical lines to make walls appear taller. Stopping paneling short of the ceiling will also make the ceiling seem higher.
- Build room dividers instead of walls where noise or privacy are not important. Seeing over the tops of dividers will make the ceiling feel higher.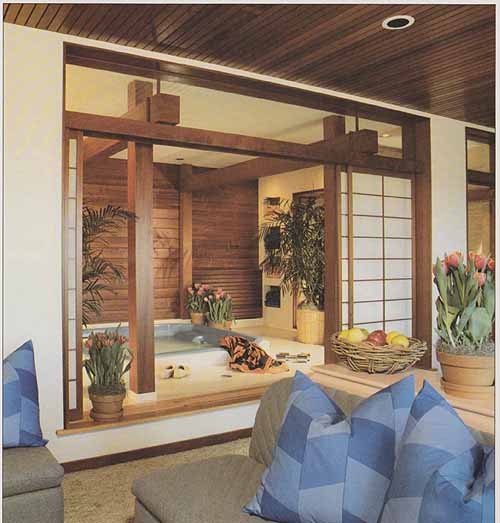 Eastern touches blended with Western furnishings result in a sophisticated basement spa. Shoji screens can be pulled across to separate the large soaking tub from the conversation area.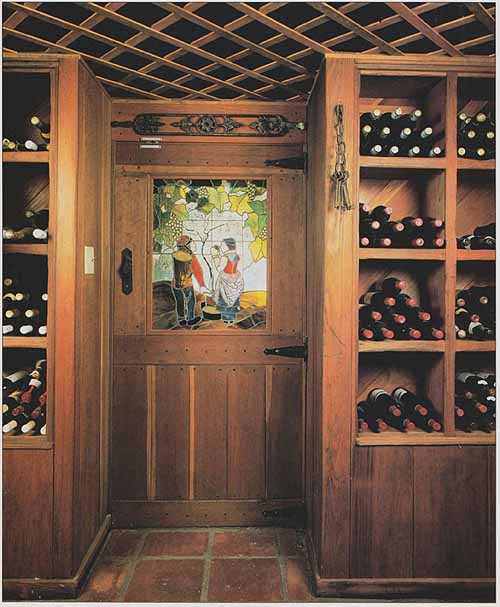 Eyesores such as pipes and ducts become almost invisible when painted a dark color and covered by a suspended lattice ceiling. In this basement, redwood built-ins provide ample storage space for a serious wine cellar.
Choosing finish details
The final design will include specifications for trim materials, moldings, doors, lighting fixtures, hardware items, window coverings, plumbing fixtures, and other finish details.
It is easy to put off these decisions until the space is actually under construction, and many people do. Often the architect specifies "furnished by owner" for some of the details in the plans, or an allowance is included in the contractor's bid package for items not specified. This approach is valid, but you should try to finalize all these details during the design phase, even if you make changes later on.
For one thing, these features represent a significant part of the budget. Considering them in the early planning stages minimizes the chances of overlooking expensive items, and gives you time to research and evaluate available options. Some choices may affect other design issues. You will also have the benefit of professional advice when the plans are still being formed and your architect and designer are thinking most critically about the details. Finally, knowing that every detail of the plan is settled before the bidding and construction begin frees you to focus on—even anticipate—problems and issues rather than having the project languish because a decision has not been made or a key item procured.
Choosing fixtures for a basement is no different from choosing them for other rooms. Decisions will depend on functional needs, cost, suitability, and individual preference.
Planning lighting
A good lighting system enhances any room, but in a basement it's a particularly important part of the design. Use lighting to accent desirable features and downplay drawbacks.
As with any lighting design, basement lighting should include general illumination for safety and convenience. You can best achieve this with indirect fixtures that cast a warm glow over large areas, such as a globe, or directional fixtures such as sconces that wash a wall with light.
Task lighting is needed for specific work or reading areas. It is usually focused on counters, desks, reading areas, or work tables, by using table lamps or suspended ceiling fixtures.
Accent lighting provides the deco ration. It is usually aimed at specific objects or architectural features, by means of spotlights, wall sconces, or recessed canisters.
Use the following techniques to make a basement ceiling appear higher and the effect more exciting.
- Place lights on the floor and direct them upward against a wall (up-lighting) to heighten it.
- Use wall sconces to accentuate the walls instead of the low ceiling.
- Place valances near the ceiling, but direct the light downward to divert attention away from the ceiling.
- Use recessed ceiling lights to pro vide sufficient general illumination from a hidden source.
- Install dimmer switches for lights. Planning a lighting system is much more than choosing a fixture for the middle of your ceiling. It is the creation of a total environment. An interior designer, architect, or lighting specialist can help you design a lighting plan that may be the most exciting element of your new basement.
Planning storage
A good basement design includes plenty of storage, both for basement activities and for extra household goods. Chances are that your unfinished basement is already a prime storage area for your home, so you will want to set aside a certain amount of space for the same purpose. Consider these storage ideas.
- Plan a separate storage room.
- Put "dead" space to work for storage. The area under stairs, odd corners around furnace equipment, and shallow crawl space under other parts of the house are good possibilities. - Install floor-to-ceiling shelves or storage units wherever possible.
- Cover an entire wall with storage units. Wide cabinets on the bottom and open shelves on top make a long countertop possible.
- Use the space underneath windows set high on a wall.
- Fill the ceiling space above door ways, the area around fireplaces, and any other nooks and crannies with shelves and storage units.
- Organize closets with dividers and shelf units for maximum efficiency.
- Buy or build platform beds with built-in storage units.
- Build benches with storage below, instead of using chairs.
Adding built-in seating
Built-in benches or sofas (banquettes) offer many advantages. They can be built to fit room dimensions and , if wide enough, can double as beds for overnight guests. Having built-ins allows you to clear space in the center of the room for recreational purposes. They provide useful storage for items you don't want on view and make good use of awkward wall space under high basement windows.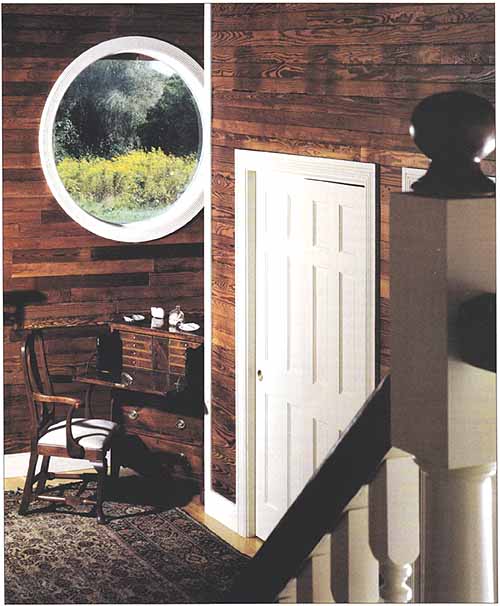 A porthole window and a secretary provide points of interest and make the area at the foot of the stairs a usable space. Wood-paneled waits add to the feeling that this is a functional room rather than merely a landing.
Adding an outside entrance
An outside entrance provides emergency egress and solves practical problems such as moving in large fixtures and appliances.
Although any entrance is better than none, try to plan one that admits as much natural light as possible. Use glass doors. (If security is a problem, this approach is not advisable.) Plan a well large enough to lay a small patio at the foot of the stairs. Slope or terrace the sides of the well so that more sky will be visible and to afford the opportunity to create a garden.
Try to provide an entrance with a transition between outdoors and in doors: Cover the opening with a porch or a prefabricated greenhouse.
Adding a bathroom
A bathroom will be essential if you plan to convert a basement into a separate apartment, a master bed room suite, or a guest room. But it's also a welcome convenience in any type of conversion. Even a tiny powder room is more convenient than trudging up and down stairs. And the cost and effort involved in squeezing a bathroom into your basement is normally offset by the increased value of your home.
Including a fireplace or wood stove
Nothing adds coziness and warmth to a space as much as a fireplace or wood-burning stove. It is especially effective in basements because an underground space can feel cold and uninviting, and because basements have plenty of wall space. A fireplace also creates a strong focal point, which basements often lack since they rarely have dramatic windows or other interesting features.
The most practical type of fireplace to install in an existing room is a zero-clearance model. This has an insulated metal enclosure and a chimney that can be boxed in with ordinary wood framing and wallboard. Many models have glass doors and other energy-saving features.
Wood-burning stoves are more energy efficient than fireplaces, take up less room, and may be simple to install if the concrete floor and masonry walls are exposed.
Chimneys. Finding a place to run the chimney for either a fireplace or a wood-burning stove may be the biggest design problem. The easiest method is to run an approved metal chimney up from the fireplace or stove, out through the top of the basement wall, and up the exterior wall of the house. It can then be boxed in to match the siding.
You may already have a brick or masonry chimney in the basement but, if it serves an upstairs fireplace or stove, it's illegal to hook another appliance to it. If the existing chimney is no longer used, you may be able to use it as long as the upstairs flue openings are sealed up. Check with your local building department for specific regulations, and hire a chimney sweep or fireplace specialist to do a thorough inspection before you consider hooking up a new appliance to an existing chimney.
Making stairs more attractive
Do not overlook the stairway when you consider ways to make your basement more appealing. A stairway can be the focal point of your whole design. For a dramatic design element, consider opening up the basement ceiling around the stairway. This will add space, daylight, and an interesting overlook from above. Or install a wide, curved stairway instead of a standard, straight-run design.
If these techniques are too bold for your tastes or too much for your budget, there are many ways to dress up a more conventional stairway.
- Cover the treads with either hard wood or carpeting.
- Replace the overhead light with several low lights.
- Use a tubular handrail in brightly colored plastic or metal.
- Add a bend in the stairway toward the bottom for interest and variety.
- Cut openings in one wall of the stairwell to admit light and to catch glimpses of the basement room as you descend.
- Replace the door at the top of the stairs with a French door.
- Dress up a bare wall at the end with a mirror, wall hanging, painting, sculpture, or plant display.