---
---
Introduction
Every year thousands of homes are built with unfinished basements. If you own such a home, you may have been using your basement as a storage area, a utility center or an informal game room. A basement is ideal for such uses: It is usually fairly big; it's out of the way; and the floor is solid.
If you have more ambitious plans for your basement and wish to convert it into pleasant living space, you will find that many features will create a challenge. The room is naturally dark; the ceiling is low and often has pipes and ducts hanging from it; the walls are rough and sometimes damp; the floor is hard (or does not exist); posts and utility equipment clutter the space; limited window area exaggerates the drab walls.
Many of these problems can be eliminated or concealed. Others may actually be blessings in disguise if you view them as design assets rather than as liabilities.
This section illustrates possibilities for your basement. They show how some of these drawbacks can be overcome and how problems can be turned into opportunities for adapting a basement to almost any use. With thoughtful design and careful attention to detail, your basement can be as inviting and attractive as any room in your home.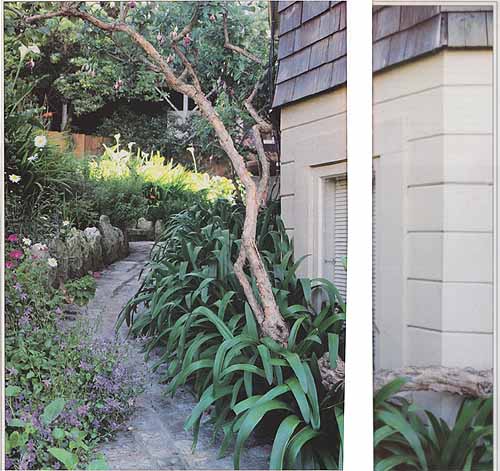 This basement retreat is surrounded by a quaint garden path, vibrant hanging fuchsias, and a border of agapanthuses. Well-placed windows can offer scenic ground-level views—added bonuses to basement living.
Exploring Possibilities
Most basements are large enough for more than one use; many can become several rooms. However you don't need a large, rambling basement to create more living space. All you need is a dry space with enough headroom.
If the space is limited and you have more than one use in mind, it may be possible to use the same room for several activities. When deciding what can go together in one room, try to combine opposites, such as an active use with a passive one, or a daytime use with a different nighttime one. An example of an active and passive use combination is a laundry combined with a place for reading or conversation. An example of different uses at different times of day would be to combine a daytime office with a bedroom. These examples may not work in your home, and it's unlikely that two activities can occur simultaneously, but you can create a space that will accommodate both.
When planning a room for multiple uses, make sure the scheme will serve each purpose well. When combining a laundry with a study, provide counter space on which to fold clothes as well as to spread out papers and books. Likewise, a space intended for both quiet reading and the pursuit of a hobby should have a tranquil and uncluttered feeling as well as plenty of storage and work surfaces. It may be necessary to divide a multipurpose room physically or to equip it with flexible furnishings in order to accommodate both uses.
Family rooms
Basements are often used as family rooms because they are remote, have abundant space, and can be arranged and adapted as the family grows. Very often they lie idle and neglected because the space is unappealing, or because it's not planned for a specific use. Your family room will be more successful if you plan it carefully, accounting for all possible uses. You may want to make a large, single room for a variety of uses, or separate rooms, each one devoted to a specific use such as a media center.
For a family room, consider:
- A cheery atmosphere with south- facing windows.
- Comfortable seating for eight or more people, arranged in a conversational grouping with no more than 8 feet between any two people
- Tables and counters for games, hobbies, and eating.
- A quiet corner for a study desk.
- A mini-kitchen, or facilities for pre paring light snacks including a sink, refrigerator, and a small counter.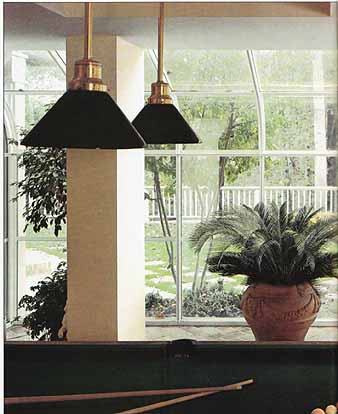 Solarium panels flood the basement with light and provide a view of the garden.
Media rooms
The remote location, limited window area, low ceilings, and comfortable year-round temperature make a basement ideal for a media room.
For a media room, consider:
- Comfortable seating for TV viewers at an angle of no more than 45 degrees to the screen, no farther away than 10 to 12 feet
- Shelving and storage flexible enough for various sizes of equipment; cabinets with doors to provide security and prevent dust gathering; a small fan to prevent overheating of equipment
- Plenty of electrical outlets, with surge protection against damage from lightning or other charges
- Wiring for special uses, such as speaker wires or cable hookups
- Sound insulation in the walls, ceiling, and door if you don't want to hear loud music upstairs
- Windows free of sunlight or glare
- Portable snack tables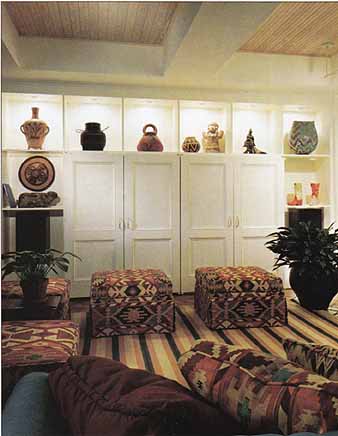 Well-lit display cases make this storage wall a point of interest in a family room.
Rooms for formal entertaining
If getting your home ready for guests is a major project, what you may need is a separate area that's always ready for entertaining. Consider your basement. Imagine it transformed into a dazzling showcase with curved walls, sculptured ceiling surfaces, dramatic lighting, a convenient serving center, a sweeping staircase, and designer furnishings. People don't generally consider putting basements to such a use, and it will require a sensitive design to be successful. But a basement does not have to be informal; it can have as much glam our and appeal as any other room.
For a formal entertaining room, consider:
- A wide, inviting stairway leading into the room and convenient to the front entry
- A formal serving area for food and drinks
- A dramatic focal point, such as a fireplace or picture window
- A large central area
- Alcoves for intimate seating and conversation
Playrooms
A playroom is an excellent use of basement space. The low ceiling, high windows, and intruding posts are hardly noticed by youngsters at play. The solid floor and walls can stand any abuse. A basement is not usually subject to drafts, and noise can be controlled.
For a playroom, consider:
- Spacious, uncluttered floors
- Carpeting that's soft but stain and wear resistant
- A clear view of the area from other rooms to facilitate supervision of children's play
- A flexible design so the room can be adapted to future needs
Offices
The isolation and privacy of a basement make it an ideal place for a quiet getaway, whether for disciplined work or for relaxation. Al though no basement living space should have moisture problems, it's especially important that an office or den be absolutely dry because books and documents are vulnerable to moisture damage.
Suggested space requirements are:
64 square feet of floor area for desk, chair, file cabinet, and typing table
30-inch-high desk
30-inch-deep desk
8- to 12-inch-deep shelves
26-inch-high typing/computer table
36-inch-high counters
42-inch space in front of file cabinets
36-inch space in front of bookcases
For an office, consider:
- An outside entrance or easy access for visitors
- Sound insulation to deaden noise from overhead as well as from a furnace, air conditioner, or laundry appliances
- Clean, uncluttered surfaces
- Comfortable seating for reading or conferences, with natural light
- Direct lighting over work areas
- A business or use permit from your city, if required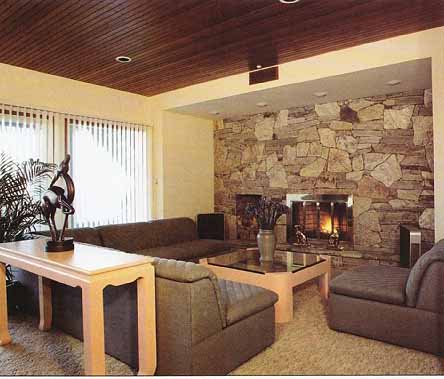 The way a place is furnished determines its use. Therefore, you can entertain formally even in a basement when it contains a wood ceiling, a stone-faced fireplace wall, and elegant upholstery.

Sheer exuberance of shape and color are what makes this space work. Rather than being obscured, the duct has been painted a bright green. Stamped tin ceiling tiles from the Victorian era combine unabashedly with modern art and cushions in Mondrianesque colors.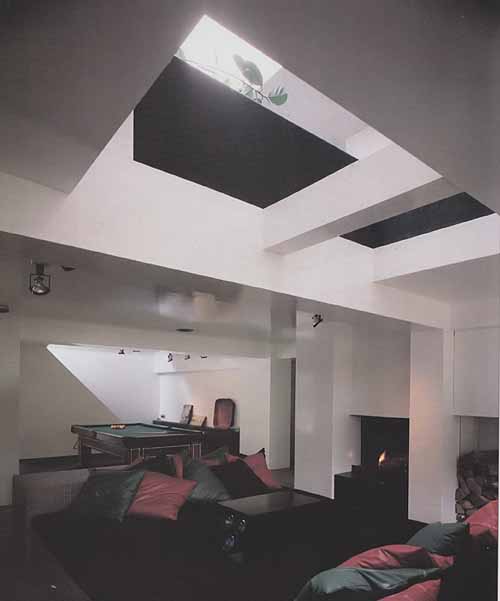 People upstairs can see who's playing pool as easily as those downstairs around the fire. This dramatic basement space is open to, as well as lit by, windows on the upper floor.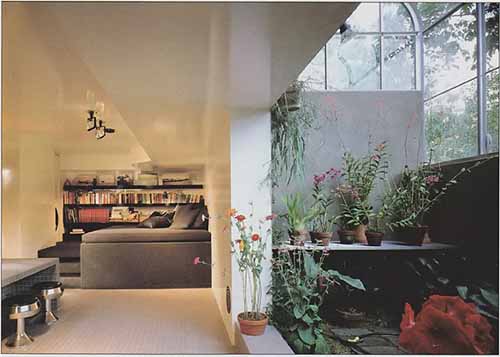 A solarium transforms a dark basement into a sunlit garden room in which to tend plants or stretch out on the mattressed platform with a good book.
Hobby rooms
A basement is particularly suited to creative hobbies that require an out- of-the-way location, durable surfaces, and space in which to work. A basement room can be furnished as an attractive place in which to display models that you have made or to practice a musical instrument.
For a hobby room, consider:
- Easy-to-clean floors and surfaces
- Enough ventilation to remove any noxious paint or glue fumes
- Humidity control and shading to protect artwork
- Cabinets with locks to keep dangerous materials out of reach
- A sink
- A separate entrance for delivery of large supplies
Recreation rooms
It is hard to imagine a space better suited for a recreation room than a basement. The remote location means that noise can be contained; the large size of most basements creates a flexible space for almost any activity; and it's certainly not difficult to create an informal atmosphere. A recreation room can easily be combined with a fitness center.
For a recreation room, consider:
- A space at least 12 feet by 16 feet
- Sound insulation in the ceiling and stairwell
- Zoned areas for quiet activities and noisy activities
- Built-in seating along one wall
Apartments
Local zoning and building laws vary widely, so check your own to see if secondary units are allowed and what regulations apply.
Permission for a separate apartment is often based on lot size, floor area, number of bedrooms, availability of separate utility meters, respect for neighbors' privacy, maximum number of occupants, and the installation of special fire precautions.
Workshops
The dream of every do-it-yourselfer is a complete workshop: a space in which to organize tools and work on projects that don't have to be cleared away whenever you are not working on them. A basement is the ideal location because it's easier to heat than a garage and humidity can be controlled. Noisy power tools will not disturb the rest of the family, and you don't have to share the space with cars and bicycles.
For a workshop, consider:
- Switches or circuit breakers with locks to control all equipment
- Locked storage for all hazardous materials
- Bright, even lighting
- Light-colored walls
- Fire extinguisher
- An area with openable windows for good ventilation
- A separate outside entrance for bringing in large materials
- Electrical outlets in the ceiling for plugging in stationary power tools
- Tool storage on walls, suspended from ceiling, and under benches
- A separate storeroom for lumber
- Workbenches on lockable casters
- Separate zones for workbenches, portable tools, and stationary ones
- A floor covering that's soft under foot, such as wood or heavy vinyl
- Weather stripping on the doors for noise and dust control
- A central vacuum system for cleaning up sawdust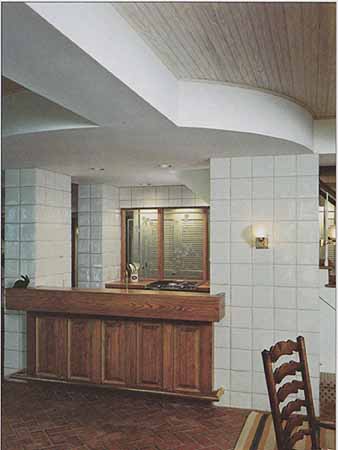 Strong, graphic lines in the rug, tiled wall, brick hearth, and slatted ceiling complement the architecture. This ceiling treatment could be used to hide heating and air-conditioning ducts that can't be moved.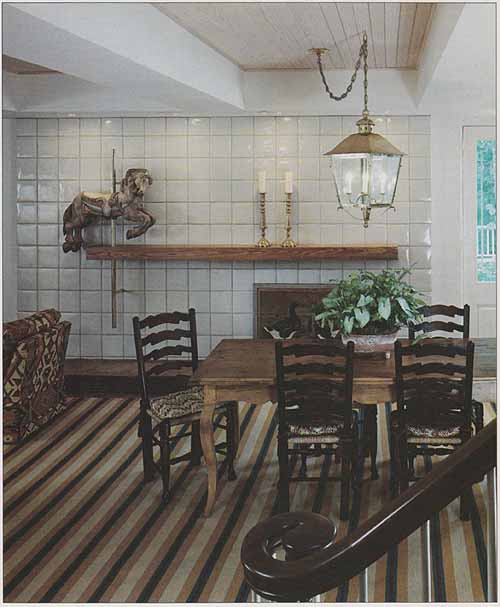 If a basement is to be used as an apartment or for entertaining, you will need a kitchen, even if it's small. Here the strong architectural features and the tiled walls make the food preparation area a dramatic focal point in an open space.
Wine and food cellars
Another practical use for basements is storing wine and homemade pre serves or food bought in bulk.
For a wine or food cellar, consider:
- Temperature control (60° to 65° F for wine)
- Insulated walls between cellar and heated basement spaces
- No direct sunlight
- A solid floor, free from vibrations
- Storage racks for organizing wine bottles and jars or cans of food
- Floor or shelf space for large cases of food or wine
- Plenty of counter space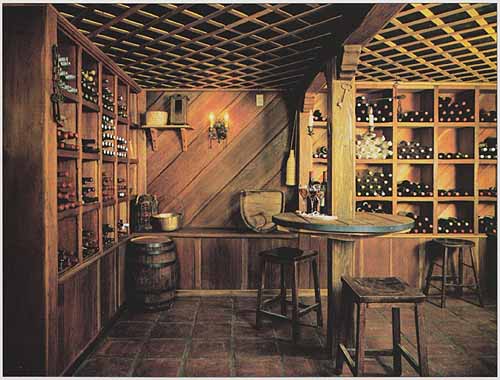 For the serious oenophile, here's a cellar to dream about: Plenty of bins for bottles, a table for tastings, and walls clad in redwood.
Bedrooms
A basement is not the easiest space to convert into a bedroom, but it does have some advantages over the more traditional upstairs location. In a hot climate, the basement is often the coolest place in the house. It may also be the only space large enough for a master suite or a combination of children's bedrooms and playroom. Plumbing for an extra bathroom is often easily accessible.
For a bedroom, consider:
- Direct egress to the outside through a door or a window
- A door or window that opens from the inside with an unobstructed opening of at least 5.7 square feet
- Meeting local code requirements for gas or kerosene appliances, including a water heater or furnace located elsewhere in the basement
- A smoke alarm outside each bed room door and over the stairs
- Sound insulation to deaden foot steps overhead as well as noise in a nearby stairwell or utility room
- Ventilation (usually an openable window area equal to one tenth of the bedroom floor area)
- Fences, walls, or plantings for privacy from neighbors
- Carpeting, if floor is concrete
- An outside entrance or a large picture window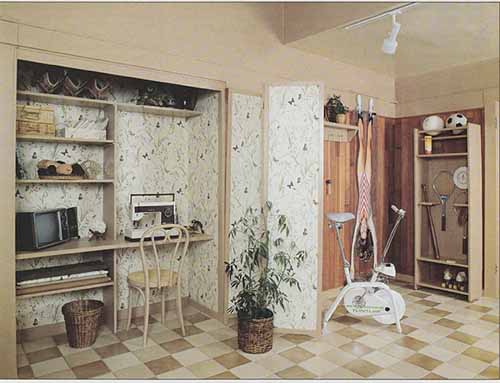 If members of the family have different uses for basement space, try to accommodate them all. A person sewing in the outfitted alcove can be separated by the panel screen from other family members who are working out.
Fitness centers
All the family will benefit from a physical fitness room.
For a fitness center, consider:
- Exercise space as large as possible
- A bathroom with a whirlpool bath
- A sauna or steam room
- Music system
- TV for playing exercise DVDs, videos
- Well-planned ventilation
For an exercise area, consider:
- Large mirrors
- Extensive lighting on dimmers
- A padded bench or two
- A ballet bar
- A weight-lifting machine, rowing machine, or stationary bicycle
Utility spaces
Many basements already have a laundry center, often just a washer and dryer shoved against a bare concrete wall. Even though it's not convenient to upstairs bedrooms and bathrooms, a basement offers ample space for a complete laundry center.
For a laundry center, consider:
- Convenient plumbing hookup
- Wall cabinets hung above the laundry appliances
- Base cabinets with countertops
- A large sink
- A sewing center
- A built-in ironing board
- A laundry chute connected to the upstairs bedroom area