---
---
Re-facing a fireplace, adding an entertainment center or replacing a full-height stairway wall with open stair rails are moderately-priced upgrades that dramatically enhance a living area and provide a good return on investment. Medium upgrades cost from $900 to $4,000 and take from two to six days to complete.
Installing a Wood-Burning Stove
One of the reasons that wood-burning stoves are so popular with cost-conscious homeowner is the ease with which these energy-efficient devices can be installed. Whereas the addition a fireplace requires the ser ices of a professional and is considered a large upgrade, a handy do-it-yourselfer can in-wall a wood-burning stove. This qualifies as a medium upgrade and offers a return on vestment of between 150 and 200 percent. Naturally, professional installation will diminish the percentage return.
A real bonus is that these units are also considerably more heat efficient than conventional masonry fireplaces. And, if the wood-burning stove placed in the center of a room, it will provide heat in all directions—a decided advantage over a fireplace.
A wood-burning stove requires a noncombustible finish, such as brick or stone, on the wall next to the stove as well as hearth constructed from the same material. Once the stove is set in place, a metal flue pipe connects it to a metal chimney flashing on the roof.
Before purchasing a wood- burning stove, it's wise to check local ordinances, especially in cities, to see what the standards for wood-burning stove emissions are in your area.
Adding an EntertainmentCenter
An entertainment center—a built-in cabinet for a television, DVD, compact disc player, sound system, and related electronics—is handy in a room where the family usually gathers to relax. This unit can save floor space and can group essential but non-decorative furnishings in attractive cabinetry. Many entertainment centers consist of space behind glass doors for electronics, a cabinet with wood doors for a TV, open shelving for books, and cabinet space for other essentials. This arrangement allows you to connect the television audio through the stereo sound system.
Due to the overwhelming popularity of home electronics and to the fact that most homes contain more than one type plus the associated essentials, an entertainment center offers a return of two to three times its cost.
Most built-in entertainment centers are custom made in a cabinet shop and can be de signed and constructed to your specifications. Be sure to mea sure the height, depth, and width of all the items you'll want in the cabinet, allowing space for records, cassettes, and so forth. Units that hold more than a television, DVD player, and home-theater system may cost more than $3,000, ranking them as large upgrades.
Since an entertainment center is a sizable piece of furniture, it should be carefully located in the room. In a long family room, for example, locating the center on a short end wall would be more appealing than visually extending the length of the room by locating the center on a long wall.
Installing a Storage Cabinet
A storage cabinet can be of tremendous value in a storage- intensive room. In the dining room, a floor-to-ceiling storage cabinet can hold china, crystal, silverware, and linen. The cabinet can be constructed with both glass and solid doors, so that it can serve as a combination decorative china closet and functional storage cabinet. For a home short on closet space, portions of the cabinet can be lined with cedar to keep linens and woolens.
A storage cabinet in the living room or family room can hold games, photograph al bums, photography equipment, and other items that need a safe, dry, and easily accessible location. With the addition of a fold-down front, a cabinet can double as a computer desk; all accessories are close at hand, and when the computer is not being used it's hidden behind cabinet doors.
You can have built-in storage cabinets constructed in a cabinet shop. Bring along a list or a sketch of the items you want to store in the cabinet, so that the cabinetmaker can create a design to suit your needs.
Re-facing a Fireplace
Because a fireplace is often the showpiece of a room, an out-of- fashion or worn surface de tracts from whatever other decorating has been done. Such a fireplace is a candidate for re-facing—either removing the existing surface and replacing it or applying a new layer of stone, tile, or marble over the old surface. The latter is an option if the existing surface is structurally sound and can be made smooth and if the fireplace itself is sound. Have it inspected before you make any decisions.
An alternative to applying tile or marble directly to the old surface is to construct a wood frame around the existing facade, cover it with wallboard and then apply the tile, marble, or even plaster. This is a popular solution for homeowners who want a free-form look that incorporates graceful curves or unusual angles.
This is also a convenient time to consider the addition of a mantel.
Because of the complexity of this project, it's advisable to seek the assistance of an interior designer or architect as well as a contractor.
Converting Stairway Walls to Open Stair Rails
Unless the stairwell and the room adjacent to it are quite large, stairway walls visually reduce the size of the room. The mind's eye tends to see a room as smaller than it's when partial walls keep one from viewing the full length of the room at a glance. Replacing solid stairway walls with open stair rails will give a feeling of space as well as add drama.
The easiest and the most cost-effective way to approach this upgrade is to cut off the wall diagonally at a point just above the stairway rather than cutting it off above each tread. This saves the cost of replacing the treads or tread-covering material, such as carpet or hard wood, which can be expensive. Further, stair rails mounted on top of the remaining portion of the wall instead of stair to stair are less expensive to purchase and install.
Although the process of selecting, installing, and finishing open stair rails is too extensive to describe in this guide, the following are a few important things to keep in mind when planning this project. The stair posts will support the handrail (which will, in turn, hold the spindles) and must be firmly connected to the wall and floor framing. For example, a 3-foot-high post should extend down into the wall at least 2 feet and should be bolted to an adjacent stud with at least two ½-inch through-bolts. The post at the lower end of the stairs should penetrate into the floor and be firmly bolted to framing members in the subarea. If a framing member is not close to the place where the post is located cross-bracing should be in stalled and bolted to both the stair post and the floor framing.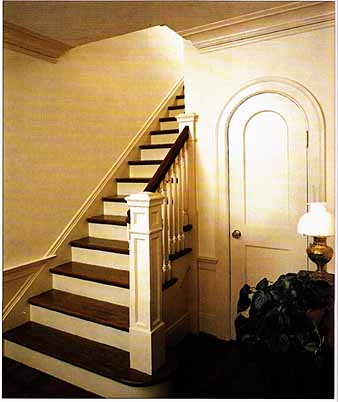 Intrinsic value is added to this entry hall through attention to details, such as the trim that echoes the banister. The crown molding and door trim convey the sense of an older home.