---
---
Adding slope to a low ceiling, installing a fireplace, and adding a family room may require professional help, but a homeowner's sweat equity can save enough to pay for features that may otherwise not be affordable. Large upgrades cost more than $4,000, although some can be completed in a day or two.
Adding Slope to a Ceiling
Converting to a flat ceiling to one that's sloped, or vaulted, can have a dramatic effect on the look and feel of a room. It can make a small room appear much larger.
A sloped ceiling also allows space to install shelves and ledges for plants and large decorative items, and it increases the wall space available to in tall windows for added light and ventilation. You can use tongue-and-groove material and open beams instead of wallboard for added richness. This is a project best left to professionals. In fact, to determine whether your ceiling is a candidate for being sloped, and at what cost, it's best to consult in architect, an engineer, or a design-and-build contractor. Not all flat ceilings can be sloped cost-effectively, even if an attic does exist. You must consider existing framing and mechanical, plumbing, and electrical conditions, since relocating heat ducts, gas or water lines, and electrical wiring can add significantly to the cost mf the project.
Adding Decorative Moldings
The traditional elegance inherent in decorative wood moldings adds charm and character to the living areas of a home, and can give a plain-looking room an air of quality and richness. With an enormous selection of prefabricated molding patterns available, the design possibilities are almost limitless. This improvement, best done by a professional, pays big dividends while you are living in the home as well as at resale.
Decorative wood moldings are an excellent way to high light room features, such as a fireplace, an entertainment center, and other built-ins. You can combine prefabricated moldings to create a more elaborate built-up design.
For the best effect; paint or stain moldings to match the existing wood trim in a room. For example, if the existing window trim, doors, and base board are painted, any crown molding that you add should also be painted rather than stained. However, if you are striving for a natural oak look, you may want to install stained oak crown molding and then replace the other trim in the room with stained oak.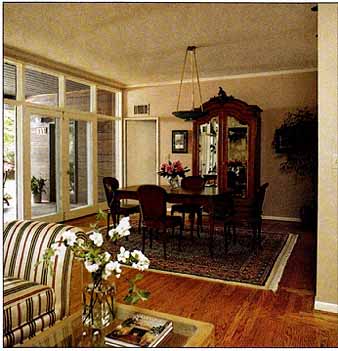 Removing the wall between the living room and dining room adds light and spaciousness. The traditional tone is enhanced by the repetition of the ceiling trim on the windows, baseboard, and fireplace.
You can also cover the entire ceiling with wood, or you can add beams. Wood can be applied directly over the existing ceiling finish. Knotty pine, clear vertical-grain redwood, rough- sawn cedar, and oak are just a few of the most popular wood ceiling finishes. Although adding wood to a ceiling can impart a rich, earthy feeling, too much wood or too much dark-stained wood can make a room gloomy and uninviting. Beams are an alternative that add wood with out overpowering a room. They can be solid or manufactured from veneered plywood or other wood solids.
Although it's hard to beat the quality of wood trim in stalled by an experienced finish carpenter, this is a project that many skilled do-it-yourselfers may wish to attempt, which would qualify it as a medium upgrade. Unlike other projects that must be finished quickly, such as remodeling a bathroom or kitchen, this project can be done at your leisure. For an inexperienced installer, time may be just what's required to do an above-average job.
Installing French Doors
French doors offer the natural beauty of wood and are a graceful alternative to a conventional aluminum sliding glass door. Furthermore, replacing a sliding glass door with two openable French doors doubles the ventilation in a room. As long as the size of the wall opening re mains the same, you can accomplish this cost-effective upgrade in a weekend.
Most French doors are avail able in configurations of from 1 to 15 panes per door. The divisions are either true divided panes, with wood mullions (frames) surrounding each one, or they are a solid piece of glass with a wood grid applied to the interior surface to simulate individual panes.
Although wood is still the most popular finish for the interior of French doors, the exterior can be clad with vinyl or aluminum. Neither requires painting, and both are more weather-resistant than wood.
Installing a Skylight
Skylights can make a dark, uninviting space look brighter and cheerier. Openable skylights can enhance ventilation, making a room more comfortable.
Locate a skylight in a part of the room that will most benefit from the added light, such as over a conversational grouping. If you must add a skylight off to one side, you may need a second skylight on the other side to balance it.
Skylights arc complex to in stall and will generally require the expertise of a contractor.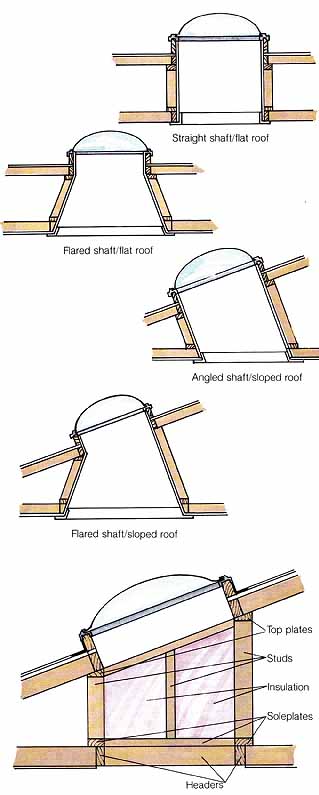 Skylight Shaft Variations: Flared shaft/sloped roof; Angled shaft/sloped roof
Installing a Bay Window
Increased natural light, an enhanced view of the landscape, and added storage space are just a few of the benefits gained by installing a bay window. A bay window can give you the few extra inches you need to make dining room seating more comfortable when the table is extended.
The most common type of bay window is a 45-degree bay—a combination of three separate windows, with the side panels at a 45-degree angle to the center panel. The second most common type of bay window is a 30-degree bay.
The single greatest difference between the two types of windows is the distance that they project from the exterior o/ the structure. Given the same- sized opening, the 45-degree bay would project more than the 30-degree bay, an especially important detail when the new window is to be installed under the existing roof overhang.
Bay windows are sold with different roof styles, including copper roofs, shed roofs, hip roofs, and flat roofs. The roof design you choose should match the architecture of the rest of the house.
Adding a Fireplace
One national remodeling association says that adding a fire place to a home is the single most cost-effective improvement a homeowner can make. In addition to the drama and interest that a fireplace adds to a room, it can also provide heat in an area of the home that's most frequently used by the family, diminishing the need to heat the entire house. With an optional blower, the heated air can be forced to other areas in the house.
There are two types of fire places: custom-built masonry and prefabricated metal boxes. The former type is the most prevalent and by far the most expensive. The prefabricated metal box can cost half as much, since it doesn't require a concrete foundation or a masonry chimney, two of the most expensive aspects of fire lace construction.
A prefabricated box is easy to install in conventional wood wall framing; it's vented with galvanized sheet-metal flue. The chimney is also framed from wood and can be covered with stucco or wood siding to match the exterior of the house. You can also have it faced with 'rick or stone for a more traditional look, although this will add significantly to the cost.
A wet bar has become an important and useful part of the entertaining area in today's home. It provides a convenient and attractive place to store beverages, glasses, and other items used when entertaining. Most often found in the family room, a wet bar is also a popular addition to a den or study, a game room, and even a sitting area off the master bedroom.
Adding a Wet Bar
A wet bar can consist of nothing more than a base cabinet with a countertop and sink, or it can include an under-counter refrigerator, a separate ice maker, and sometimes even compact dishwasher. A more elaborate wet bar can also include open shelving above the countertop for storing glassware. An upper cabinet with decorative glass doors can also be added for more dust-free storage.
A peninsula-style wet bar is similar to a traditional bar, in which the host is separated from the guests by the bar it self. Bar stools can be used with both configurations. Space allowing, cabinetry can be placed behind the bar for additional countertop and storage space.
The least expensive way to gain space for a wet bar is to install it in an unused closet or to encroach into an adjacent room. Plumbing for the sink should be a prime consideration when deciding on the location of the bar, since plumbing can be one of the most expensive aspects of the project. This is especially true if the wet bar will not be located adjacent to existing plumbing or if there is no crawl space below the house.
Adding a Family Room
Almost every home has a family room, regardless of what it's called. In some homes it's the living room; in others it's a converted bedroom called a den or a TV room. In homes such as these a family room can be a dream that's almost a necessity. The addition of a separate family room is the most likely way to return the living room or bedroom to its intended use.
A family room should be large enough to accommodate what a family needs to be comfortable when gathering together and relaxing. Options include a fireplace or a wood stove, an entertainment center or a big-screen television, a billiards table or a game table, and perhaps a wet bar or other built-in. An inventory of needs and activities will ensure the best design of the space.
Location is also important. The family room is best situated where the outdoors can be enjoyed through large windows or French or sliding glass doors with easy access to a deck, patio, or pool. Locating the family room near the kitchen is also a good idea, since the kitchen is a popular family gathering place. In fact, a kitchen and eating area that open to the family room pro vide an excellent large space for family gatherings and other entertaining.
Enlist the assistance of an architect, a design-and-build contractor, or a space planner to effectively plan a family room addition. These professionals are familiar with building code requirements and can provide estimated construction costs.
Although it may be necessary to build an addition or raise the roof to gain a family room, the most cost-effective way is to remodel within the confines of the existing house. You may be able to enlarge an existing room by annexing space from an adjacent closet, spare room, utility room, and so on. You may also be able to convert a garage, basement, attic, or other auxiliary space. Sometimes the removal of a wall or two can give a room just enough added space to solve the problem.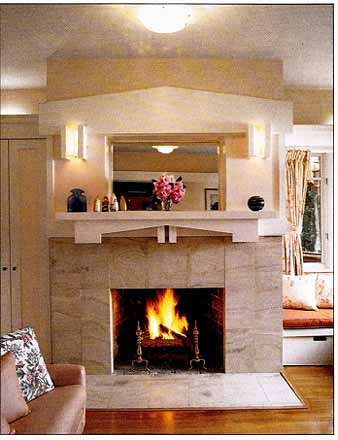 Storage space is gained beneath the window seats and beside the fireplace in a built-in that also hides the television. New lighting and a refaced fireplace complete the upgrade of this handsome living room.