---
---
Many improvements made to living areas are decorative and involve a light touch, such as rearranging the furniture or installing new window coverings. However these changes are not permanent, so they are not technically considered home improvements. The upgrades discussed in this section include improvements that will be built into the home and will remain with it even if it's sold. Examples include wainscoting, chair rail, lighting, windows, doors, decorative wood moldings, and a wet bar.
Although many of these upgrades can be completed by the average do-it-yourselfer you might want to enlist the support of a decorator or an interior designer to look at your home and make suggestions about the projects you have in mind.
Many of these projects reflect personal taste. You should carefully consider any project that's so owner specific that it will not appeal to a future buyer and may actually have to be removed or altered when you sell the house. Advice from an interior designer or a realtor can be helpful when you are considering such changes.
[Fireplace re-facing and a period mantel, found in a salvage yard, are the focal points of this living room. A built—in home entertainment center hides the television and other electronics.]
Small Living-Area Upgrades
Replacing outdated lighting and revealing hardwood floors under old carpeting are small upgrades that can dramatically transform a living room or family room. For homeowners with a limited remodeling budget, this can be the place to begin. These small upgrades cost less than $900 and can be completed in a day or two.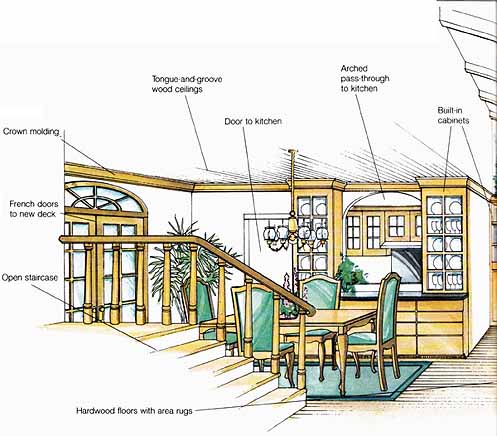 Living Upgrades (left): For an overview of the dining room and living room, before and after remodeling, see earlier section.
Refinishing Hardwood Floors
Owners of many homes built before the 1970s may be pleased and surprised to find hardwood flooring in pristine condition buried beneath layers of shag carpeting and pads. You might consider it literally a buried treasure, because hardwood flooring is now one of the most popular floor finishes, in spite of its expense to install new. It lends elegance to a room, and with proper maintenance it will last far longer than most other flooring, including car pet, vinyl, and tile.
If you suspect that hard wood flooring lies beneath old wall-to-wall carpet, pull up a small section of carpet and the underlying pad at one corner of a room. If a hardwood floor does exist, pull up all the carpet and pad; this is the only way to evaluate the condition of the entire floor. If there are no serious stains, you can probably restore the floor to its original condition after replacing any damaged boards.
An older floor may not need refinishing if it's merely dulled by several layers of old wax and grime. To see if this is the case, rub a small area with steel wool dipped in alcohol until you have removed all layers of wax. Then damp-mop the bare wood and apply paste wax. If this brings satisfactory results, clean the entire floor.
An unsightly stain usually can't be removed, but you may be able to bleach it to minimize its impact, or you car cover it with furniture or a rug If the floor is riddled with staples used to install the carpet and pad or is worn severely or stained unevenly, you will need to sand and refinish the floor. This will involve renting a drum sander and edger (a rotary sander). These tools require practice and strength to operate. Used improperly they will scar the floor.
If you choose to sand the floor yourself, get complete instructions before you begin, and practice in a back room or closet. After thoroughly sanding and vacuuming the floor, seal the floor with either a clear floor sealer or a stain. Once dry, apply at least two coats of floor finish, such as polyurethane, following the manufacturer's directions. The entire process of sanding and refinishing will take from three to five days, depending on drying times and the number of rooms. But the payoff in beauty, maintenance, and durability makes it worth the inconvenience.
Replacing Old Lighting
The replacement of old light fixtures is often overlooked as an easy, inexpensive, effective way to add style, function, and importance to any room. Whereas installing new light fixtures involves new wiring, replacing outdated fixtures is easily done by the do-it-yourselfer.
Consider the following when selecting replacement fixtures:
+ Style. The fixture should coordinate with your other furnishings to create a pulled- together look: Modern lighting looks best with contemporary furniture, classic lighting with period furniture.
+ Size. A fixture that's too large can overpower a room, and one that's too small may not provide enough of a statement, not to mention inadequate lighting.
+ Weight. If the fixture weighs more than 50 pounds, as some chandeliers do, the electrical box must be attached directly to a joist or other framing.
+ Mounting hardware. If the old fixture doesn't have a standard electrical ceiling box, you will have to install one.
+ Ground wire. The electrical box for fixtures with metal parts, including swag lights, must be grounded even if the old box was not.
Installing Recessed Lighting
A series of recessed fixtures in stalled at the edge of the ceiling close to a wall and equipped with wall-wash reflectors will cast a waterfall of light that can liven up an otherwise undramatic space. Wall-wash trim can be added to a fixture to highlight a specific object, such as a painting. Recessed downlights can highlight an area of a room, light a game table, or provide reading light for a favorite chair. Recessed downlights also are a popular alternative to a dining room chandelier. Adjustable spot lighting or eyeball trim can also highlight a specific area.
Consider separate switching if you are planning to install two or more recessed light fixtures. This will allow for more versatility and can be more energy efficient as well. Dimmer switches are an added feature that will enhance the energy efficiency and overall appeal of this type of lighting ().
Painting
A fresh coat of paint can improve the appearance of a living room more than any other upgrade of similar cost. This homeowner-friendly task can usually be completed in a weekend.
When selecting paint, choose a light color and avoid trendy colors, which can soon look outdated. Dark colors tend to make an already small room appear even more cramped. Light colors will make the space seem larger and more airy and will enhance natural light by reflecting it off of the walls and ceiling.
Flat latex paint is the most popular type of paint for areas of the home that are not exposed to constant moisture. Doors and woodwork are usually painted with an enamel, which is available in both oil-based and latex and is sold in a variety of lusters, ranging from a matte finish to a high-gloss finish.
Remove light fixtures, switch-plate covers, and electrical plug covers before beginning to paint. This is an opportune time to soak the covers in a solution of 1 cup ammonia and 1 gallon warm water. Otherwise, they may look dirty against the freshly painted walls. Cover the remaining light switches and electrical plugs with a 2-inch- wide strip of masking tape to keep them free of paint. This is also a good time to replace out dated doorknobs ().
Fill all nicks and scratches in the woodwork with wood putty or vinyl patching com pound. Next, thoroughly dust the walls and ceiling, wash the surfaces with a strong house hold cleaner or trisodium phosphate (TSP) applied according to the manufacturer's directions. Finally, patch and sand any holes or damaged areas in the walls and ceiling, using a vinyl patching compound or similar patching product, be fore you start to paint.
Installing a Ceiling Fan
Decorative ceiling fans and light-fan combinations suggest a luxurious yet casual life-style. These fixtures are attractive and energy efficient, especially in rooms with high ceilings. Ceiling fans with reversible motors can provide a breeze in summer and draw warm air down from the ceiling in win ter. Because they circulate the air in the room, they help to minimize condensation build up on the inside of windows and skylights. They are avail able in a wide variety of styles and finishes appropriate to modern settings or elaborate traditional settings, in living rooms, family rooms, and dining rooms, even in bed rooms. Some fixtures will lend a formal look; others will give the space a casual, airy feeling. For longevity and quiet operation select one that has a clutch and is properly balanced.
Additional ceiling framing or blocking may be necessary to adequately carry the weight of the new fixture. If more than routine electrical work is required to install the fan, consult an electrician or a how-to book on electrical wiring before proceeding.
Adding a Dimmer Switch
Lighting is a major design element in any room, and a simple way to make a dramatic change is by replacing a conventional toggle switch with a dimmer switch. Dimmers are most effective for dining room and living room lights and in family rooms where television viewing is a major activity. Be sure that you are replacing a two-way (single-pole) or three- way switch with the same type of dimmer.
The switch, which can be installed in about 15 minutes, improves the versatility of an existing light fixture by al lowing you to choose when you want bright light and when you want to create a special mood. By using one dimmer switch to control overhead lights and another to control accent lights, you can transform any room from a bright work space to a room for quiet contemplation.
Adding a Pass-Through
Passing food and utensils between the kitchen and an adjacent dining room is easy with a pass-through, which is simply an opening in the wall common to the two rooms, usually at counter height. This popular feature offers an excellent re turn on investment both in terms of convenience and dollar value.
Once you have cut the opening, simply wrap the pass- through with wallboard and cover it to match the existing wallcovering or, for a more finished look, trim it with decorative molding. You can add bifold louvered doors to help separate the two spaces, allowing the kitchen to be seen only when the doors are open. Paint or stain the trim and doors to match the other trim in the house.
A pass-through is an improvement that most home owners can complete in a day or two without professional help. Locate the opening where it's convenient to both spaces and where it will not interfere with existing or planned furnishings on the wall.
Note: If the only place to locate the pass-through contains plumbing and or electrical wiring, the work required to relocate these items will qualify this as a medium upgrade.
Installing Wainscoting or Chair Rail
Wainscoting capped with chair rail and either painted or left natural can enhance a simple dining room. You can even use chair rail alone. To add elegance, paper the wall above the chair rail and install crown molding at the ceiling.
Wainscoting made from oak or ash with a natural hand- rubbed or clear varnished finish is best in a small room, since a dark stain can make a small room look smaller and a dark room look darker. Paint is another option, either in a light color to complement the other finishes in the room or in a color that's coordinated with a contrasting paint or wallpaper on the wall above the wainscoting.
Wainscoting made of knotty pine with a pickled finish is an attractive addition to a kitchen or family room but may be too informal for a living room or dining room. Painted wood wainscoting, on the other hand, is attractive in any room of the house.
Traditional wainscoting is constructed of individual boards in a tongue-and-groove format that's trimmed with chair rail molding along the top and baseboard molding along the bottom. An easier method is to use sheets of plywood instead of individual boards, trimmed in the same way. In stalling plywood is much easier, because individual boards require a row of horizontal blocking between the studs. The plywood can simply be glued on top of the wallcovering with paneling adhesive and nailed at each stud.
You can construct wood wainscoting by cutting down full sheets of veneer paneling, or you can cut tongue-and-groove material to fit. Major home-improvement centers and hardware stores carry precut and packaged material.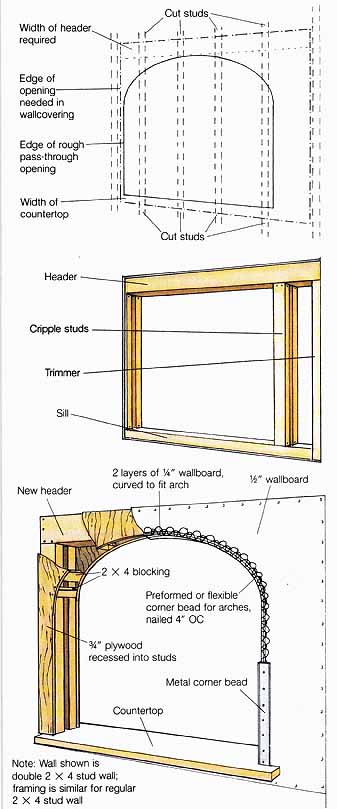 Building an Arched Pass-Through: Note: Wall shown is double 2 X 4 stud wall; framing is similar for regular 2 X 4 stud wall
Adding a Mantel
In some contemporary homes, there is no mantel above the fireplace. Because some home owners prefer the uniform, uninterrupted look of a floor- to-ceiling fireplace facade, the cost-effectiveness of adding a mantel is not as great as some of the more universally accepted projects in this section. However, homeowners who prefer a traditional look and who desire a place to display an old family clock or other memorabilia and hang Christmas stockings will value this up grade as a source of family pleasure and a means of achieving a finished look on the fireplace wall.
A mantel should fit the theme of the home. For example, a timber mantel would be appropriate in a large family room featuring a large fireplace with a stone face from hearth to ceiling. A classic painted- wood mantel and fireplace surround would enhance a simple red-brick fireplace in a living room with period furniture.
A mantel can be constructed from stone, wood, or a wood frame covered with plaster. The fireplace opening must be surrounded by noncombustible surfaces, such as stone, tile, marble, or stucco (plain wall board is not enough), that ex tend at least 12 inches above and to the sides of the fireplace opening. The hearth must ex tend at least 16 inches in front and 8 inches to each side of the fireplace opening; if the fire place opening is 6 square feet or larger, the hearth must ex tend at least 20 inches in front and 12 inches to each side.
The mantel should be securely anchored and installed to meet local safety codes, which typically require metal supports spaced between 24 and 36 inches apart. Before proceeding with the installation, check with local building officials for the acceptable installation configuration.
Replacing Door and Window Casings and Baseboards
Wide door and window casings (trim) and baseboards lend a feeling of elegance and quality to a home and can be a cost- effective improvement in any home regardless of price range. Wide casings are found in ex pensive construction and were commonplace in most houses when construction materials and labor were less expensive than they are today. If your house has narrow trim and base boards, this upgrade is for you.
The most cost-effective trim changes are those that are made to the entire house—not just to a door or two. Door and window trim that doesn't match throughout the house can look like an incomplete project rather than an upgrade. Although combining multiple styles and trim finishes can be effective, it's best left to interior decorators and professional designers.
A special technique to re member when removing painted door and window trim is to use a sharp utility knife to score the connections where the trim meets both the jamb and the wall. This is important because the trim is usually sealed to the frame and the wall with caulk and paint, which combine to make an al most inseparable joint. Scoring reduces the possibility of dam age to the wall and the frame.
Once you have pried away the old trim, nail the new, wider trim in place and caulk and then paint it. Bright finish nails (8 penny) are best for this job. When replacing trim it's wise to reinstall it with the same reveal at the frame as the original trim had.
Paint-grade trim is far easier and cheaper to install than stain-grade trim. With stain- grade trim, heavy caulk can't be used in joints, so a considerable amount of planing, chiseling, and sanding is required to achieve a proper fit. Also stained finish should be applied over a solid, single piece of wood; when the trim will be painted, you can use finger- joint stock (it is made of scrap wood whose joints look like interlocking fingers).
Adding Crown Molding
Crown molding—the sculptured trim used where the walls meet the ceiling—adds elegance to a room. This upgrade will look more appropriate and will provide a good return on investment in homes in expensive neighborhoods. A two-bedroom, one-bath home in a modest neighborhood would not be an appropriate candidate for this upgrade.
Unlike door and window trim, crown molding does not have to be used in every room; however, it's sometimes wise to trim all the rooms that are in close proximity to one another. For example, when both the living room and dining room can be viewed from the entry, all three areas should have crown molding.
Crown molding looks best in rooms with at least 8-foot ceilings. Large rooms with high ceilings look best trimmed with wide crown molding. Select thinner trim for rooms with lower ceilings. In addition, crown molding should be re served for flat ceilings; it should not be used on angled ones.
For a further discussion of crown molding and other decorative trim, see next section.
Refinishing Wall Surfaces
Patching holes, filling cracks, and removing grease and dirt can make a home look fresh, clean, new, and in good repair. In homes that are 40 years old or more, consider these methods of wall refinishing as a part of the next scheduled paint job. A painted surface looks only as good as the wall beneath it— refinishing the wall is necessary to prepare for painting. Texturing can often hide these otherwise noticeable flaws.
80 Wainscoting, chair rail, crown molding, and small-paned windows are beautifully executed details that convey the sense of a period home.
Wall refinishing is usually less expensive than applying wallcovering. Refinishing walls will return five times the cost in homes 30 to 40 years old, and twice that in homes 40 to 60 years old.