---
---
WHAT NEEDS STORING?
First use the checklists at the end of the chapter to kick-start a personalized list of what needs storing. Once you have the basics on paper—foodstuffs, cooking equipment, tableware, and so on—you can begin to categorize items to provide the most user- friendly arrangement. Don't forget to include extras such as a radio or cookbooks, which may be just as much a part of kitchen life as the sink.
Given that most of us eat in the kitchen, you'll need plenty of space for tableware, flatware, and assorted extras such as serving plates. If eating areas are split into a formal table and a breakfast bar, it may help to divide "best" tableware and everyday items, sitting them in separate areas close to each zone. By contrast, all key equipment, from pans to blender, must go in the cooking area. Think about small electrical appliances. The coffee maker and toaster should be immediately accessible: rarely used gadgets such as an ice-cream maker can be stored.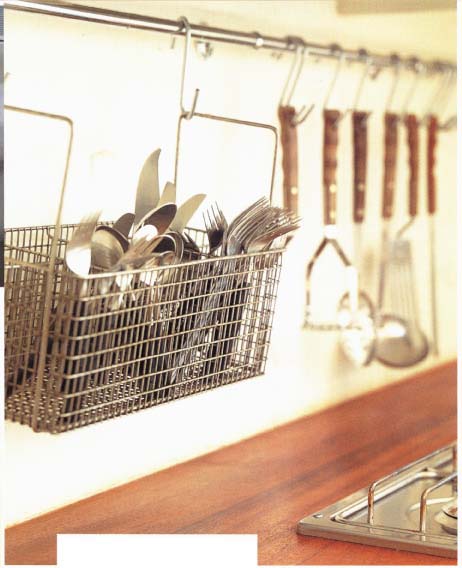 ABOVE: Cooking implements are best located next to the cooktop. For efficiency, mount a long steel rail to the backsplash, and hang a matching set from individual butcher's hooks. If drawer space is lacking, a metal basket can organize knives and forks.
---
Need to see some organization products?
Visit our online home-organization products shops:
---