---
---
ASSESSING SPACE AND LIFESTYLE
The kitchen is the hardest-working space in the home. We expect to cook and store food in it, house tableware and equipment there, as well as use it for eating and socializing. Yet despite this consistently high level of activity, we often neglect kitchen planning, preferring to focus on good looks. Great storage is vital. If there's a place for everything, the kitchen—however tiny—looks more streamlined. A well-ordered environment also guarantees a safe and efficient zone, as practical as it's welcoming.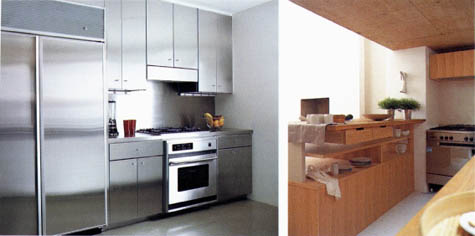 ABOVE LEFT: The decorative look you choose will directly affect the amount, and type, of storage. The strict minimalism here, for example, requires plenty of cupboards, so everyday items are stored away with just a few well-chosen accessories left out on show. RIGHT: In a more relaxed kitchen-dining room, divided by an island, storage should be planned so it may be easily accessed from both sides. This unit, with drawers and cupboards, looks sleek, yet is very user-friendly.
---
Need to see some organization products?
Visit our online home-organization products shops:
---
First, assess the available space. Review existing storage and whether it works well, and consider if there's room to add more cupboards. If the kitchen is really tiny, and construction is an option, consider extending the space, either by knocking through into an adjacent room or adding an extension. If you are stuck with small dimensions, consider any other space-saving potential. In a room with high ceilings, storage may be maximized by double-height wall cupboards. "Spare" fireplace alcoves can be filled in with flush cupboards.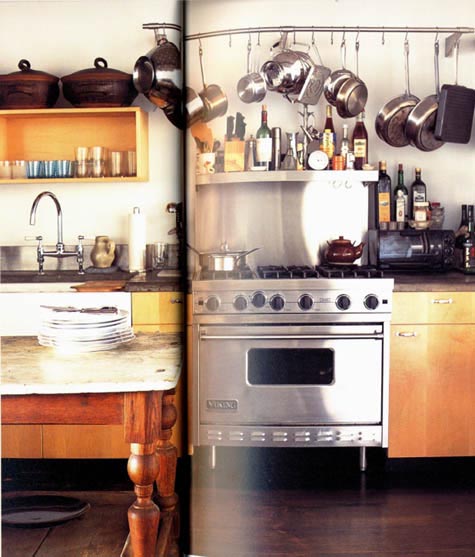 ABOVE: In a busy cook's kitchen, pick a casual style so that pans and jars are stored in full view and remain easily at hand.


Your lifestyle, and the number of people using the kitchen, must also come into the equation. For a single person, a galley kitchen may suffice. By contrast, a family kitchen—which may also double as a playroom and sitting room—needs quantities of clever storage, tailored to cope with everything from toys to tableware. Think through a day in the life of your projected kitchen, and focus on practical needs. What mood and look are you hoping for? A penchant for minimalist splendor, or a casual look, will radically affect the type of storage you need.
Image on right: There isn't always the luxury to devote an entire room to the kitchen. In an open-plan loft or studio, you may need to conceal the working kitchen itself, so that it doesn't jar with a sitting/dining area. This calls for careful planning. First, there will be space constraints. You will need to balance possible lack of wall space for cupboards against the need for good storage, so the area remains streamlined. Second, you may need to plan an additional layer of doors, so the working kitchen may be concealed. In this tiny kitchen zone, cabinets are stacked vertically, to maximize a high ceiling, and clutter is hidden behind a sliding door.