---
---
Given the vast array of items to be accommodated, the best kitchens offer a good mix of options. Your choices will be dictated largely by the style of kitchen you want and your storage "personality." But do some research, too, to see which combinations most appeal. It may be tempting to go for a purist visual option—perhaps a bank of flush cupboards—but good looks must be combined with practicality.
The cabinet is the most conventional kitchen choice, but they've moved on from just the wall or under-counter varieties. Most kitchen companies also offer floor-to-ceiling cupboards, shallow eye- level units, and tiered units. In addition to size, consider the available types of door—double, single, flap-up or -down, shuttered—and the internal layout.
Drawers are invaluable for flatware, linen, and foil. Shallow variants are good for organizing small items such as cake decorations, while medium ones— equipped with plate organizers—can even hold stacked china. Deep drawers, preferably below the cooktop, are perfect for pans. Specialized options include wicker or wire drawers for storing vegetables.
Open shelves offer easy access to kitchen gear, but can be high-maintenance. Be prepared to dust regularly. Wall-mounted shelves at eye level need to be kept particularly neat. By contrast, deep shelves tucked below a counter can be stacked with small appliances or pans and still look acceptable. When choosing, consider all potential shelf materials—steel, wood, glass, composite—as well as making sure the shelves can be well secured to the wall.
Don't forget specialist storage options, including swing-out units that utilize corner space, pantry units with pull-out baskets, built-in wine racks, and more.
---
Need some organization products?
Visit our online home-organization products shops:
---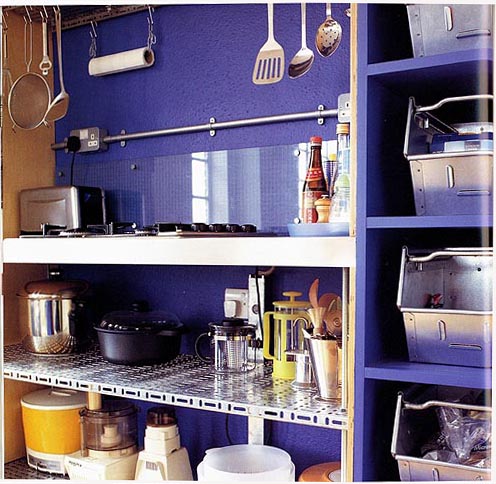 Above: Designing a kitchen, and having a carpenter build it, is the best way to get truly customized storage. This robust arrangement, blending open steel shelves, hanging options, and tiered containers, combines practicality with industrial-style chic.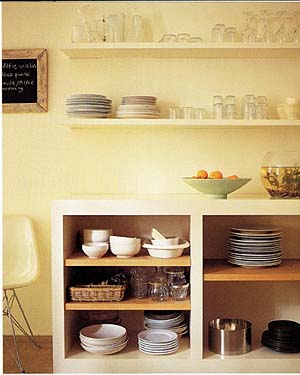 Above: Open shelves tucked beneath a counter give the best of both worlds: items are protected from dust, while being easy to access. The counter also provides useful display space, keeping cooking space free.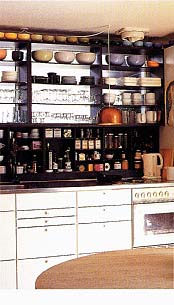 Above: In a narrow space, a bank of drawers, rather than cupboards, can be a space-saving solution.