Many kinds of special equipment are designed to save time in layout, construction and pressing. The more you sew, the more these aids will become necessities. Just as you would invest in timesaving devices for cooking and cleaning, invest in sewing equipment to make your wardrobe and home decorating projects go faster.
Before using a new product, read all instructions carefully. Learn what special handling or care is required, and what fabrics or techniques it's suited for. Here is an overview of some of these specialized sewing products.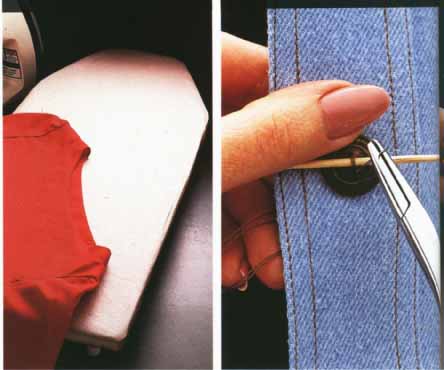 enlarge image
(above left) Table-top ironing board is portable and saves space. It is easy to set up near your sewing machine. This ironing board keeps large pieces of fabric on the table so they don't stretch out or drag on the floor. It also helps cultivate the habit of detail pressing while you sew.
(above right) Needle gripper locks tight to hold the needle, allowing needle to be pulled through heavy fabric.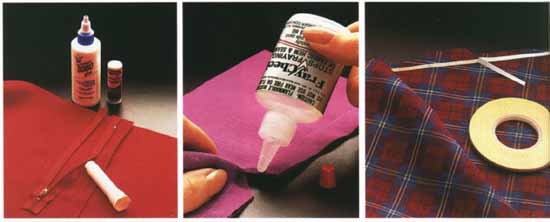 enlarge image
(left) Glue substitutes for pinning or basting by holding fabric, leather, vinyl, felt, trims, patch pockets and zippers in place for permanent stitching. Use it for craft work as well as general sewing. Glue stick is water soluble, so it provides only a temporary bond. Liquid glue can be dotted in seam allowances to hold layers of fabric together.
(center) Liquid ravel preventer is a colorless plastic liquid which prevents fraying by stiffening fabric slightly. It is helpful when you have clipped too far into a seam allowance or want to reinforce a pocket or buttonhole. It darkens light colors slightly, so apply cautiously. The liquid becomes a permanent finish that will withstand laundering and dry cleaning.
(right) Basting tape is double-faced adhesive tape that eliminates pinning and thread basting. Use it on leather and vinyl as well as on fabric. The tape is especially helpful for matching stripes and plaids, applying zippers, and positioning pockets and trims. Do not machine-stitch through the tape, because the adhesive may foul your machine needle.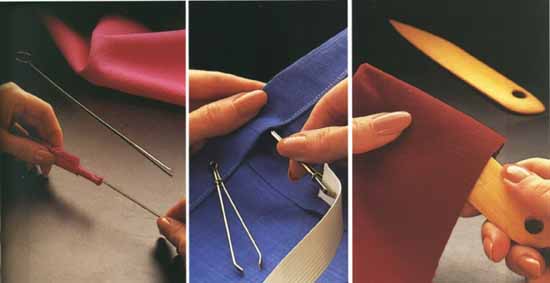 enlarge image
(left) Loop turner is specially designed with a latch hook device at one end to grasp bias tubing or cording and turn it to the right side. It is quicker and easier than attaching a safety pin to one end and working the pin through. Because the wire is so fine, it can be used for very narrow tubing and button loops.
(center) Bodkin threads ribbon, elastic or cord through a casing without twisting. Some bodkins have an eye through which ribbon or elastic is threaded; others have a tweezer or safety pin closure which grabs the elastic. The bodkin above has a ring which slides to tighten the prongs of the pincers.
(right) Point turner pokes out the tailored points in collars, lapels and pockets without risking a tear. Made of wood or plastic, its point fits neatly into corners. Use the point to remove basting thread and the rounded end to hold seamlines open for pressing.


enlarge image
(left) Folding cutting board protects a fine table's finish from pin or shears scratches. It also prevents fabric from slipping while cutting, and holds fabric more securely. Stick pins into it for faster pinning, square off fabric against marked lines, and use the 1" (2.5 cm) squares as an instant measure. The folding feature makes storage easy.
(center) Weights hold a pattern in place for cutting. They eliminate time-consuming pinning and unpinning of the pattern and protect fabrics that would be permanently marked by pins. Weights are most easily used on smaller pattern pieces. Some sewers use items like cans of vegetables in place of retail weights.
(right) Magnetic pin catcher and pin cushion keep all-steel pins in their place. The pin catcher attaches to the throat plate of the machine to catch pins as you pull them out while stitching. The magnetic, weighted pin cushion is more convenient than an ordinary one, and is especially handy for picking pins off the floor.