Thread
Select high-quality thread according to the fiber and weight of the fabric and the purpose of the stitching. As a general guideline, use a natural fiber thread for natural fiber fabrics and synthetic fiber thread for synthetic fabrics. Photo above has been enlarged 20 times to show detail. The following descriptions relate to the image below:
1) Cotton-wrapped polyester thread is an all-purpose thread designed for hand and machine sewing on all fabrics: natural fibers and synthetics, wovens and knits.
2) Extra fine cotton-wrapped polyester thread reduces fabric puckering on lightweight fabrics, and doesn't build up or break during machine embroidery.
3) Topstitching and buttonhole twist is designed for topstitching, decorative programmed stitching, cording in machine-worked buttonholes and stitching hand-worked buttonholes.
4) Hand quilting thread is a strong cotton or polyester/cotton thread that doesn't tangle, knot or untwist while hand sewing through layers of fabric.
5) Button and carpet thread is suitable for hand sewing where extra strength is required.
6) Long-fiber polyester thread is smooth and even, and suitable for hand or machine stitching.
7) 100% mercerized cotton thread is used for natural fiber woven fabrics like cotton, linen and wool; it doesn't have enough stretch for knits.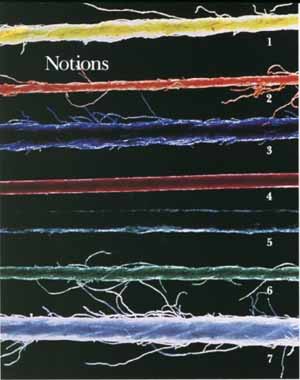 Trims and Tapes
Choose trims and tapes that are compatible with your fabric and thread. Most trims and tapes can be machine stitched, but some must be applied by hand. Preshrink trims for washable garments. The following descriptions relate to the image below:
1) Single-fold bias tape, 1/2" (1.3 cm) wide, and wide bias tape, 7/8" (2.2 cm) wide, available in prints and solid colors, are used for casings, trim and facings.
2) Double-fold bias tape binds a raw edge. It comes in 1/4" (6 mm) and 1/2" (1.3 cm) folded widths.
3) Lace seam binding is a decorative lace hem finish.
4) Seam tape is 100% rayon or polyester, 3/8" (1 cm) wide, used to stay seams, finish hems and reinforce clipped corners.
5) Twill tape is used to stay seams or roll lines.
6) Rickrack comes in 1/4" (6 mm), 1/2" (1.3 cm), and 5/s" (1.5 cm) widths for accent trim and edging.
7) Braid is available in loop (7a), soutache (7b), and middy (7c) styles. Use it for accent, scroll motifs, drawstrings, ties or button loops.
8) Corded piping is an accent trim inserted in seams to define and decorate edges.
9) Elastic is inserted in casings to shape waistbands, wrists and necklines. Knitted (9a) and woven (9b) elastics are softer than braided elastics (9c), curl less, and can be stitched directly onto the fabric. Non-roll (9d) waistband elastic has lateral ribs to keep it from twisting or rolling.
Buttons and Closures
Select these notions either to blend with the garment or stand out and make a fashion statement. Closures can be decorative as well as functional. The following descriptions relate to the image below:
1) Sew-through, two-hole or four-hole buttons are commonly-used, all-purpose buttons.
2) Shank buttons have a "neck" or shank underneath the button.
3) Self-covered buttons can be covered with the same fabric as the garment for an exact color match.
4) Toggles are loop-and-bar fasteners with leather or leather-like trim, used on lapped areas.
5) Frogs are loop-and-ball fasteners that lend a dressy look to special outfits.
6) Snap and Velcro tapes are used as closures on lapped areas of jackets, shirts or casual dresses.
7) Heavy-duty hooks and eyes are used to close waistbands on skirts or pants.
8) Hooks and eyes are inside closures available in sizes appropriate to various fabric weights.
9) Snaps are inside closures for areas that don't receive much stress, such as cuffs.
10) Jumbo snaps are hammered on or applied with a plier-like tool on the outside of a garment for a decorative effect.