It is vital to be accurate when cutting out the individual pieces of your garment. With that in mind, your cutting tools become some of the most important pieces of sewing equipment you will own.
When purchasing shears or scissors, look for high-quality steel scissors with either smooth (knife-edge) or serrated (small notches along one edges -- ideal for cutting silks or other slippery fabrics) blades. Test the mechanism to be sure the scissors ergonomically fit your hand, work smoothly and cut sharply from the back of the blades to the point.
Many shears and scissors are made with an adjustable screw to allow the user to adjust the "run" of the shears to her particular feel. Your sewing shears and scissors should be used for cutting fabric only as cutting paper will quickly dull the blades. Wipe the blades with a soft cloth after each use and keep your scissors sharpened using a professional sharpening service to prolong their life. Never use an electric knife sharpener to sharpen your scissors.

(continued below...)
---
Are you looking for sewing or crafts-related items such as sewing machines, sergers, yarn, and knitting supplies? Try our online catalog pages here.
Or see what products on our site the popular search engines have chosen to list...
---
Recommended Reading
Recommended Products




5 Drawer Foldaway Desk: Perfect for your sewing machine or serger! Constructed from durable melamine laminated particle board the Mobile Desks will offer a life time of reliable service.



If you need specific sewing supplies, browse through the products on pages like these:
---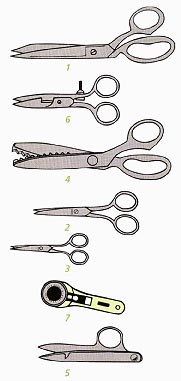 Dressmaker's shears are bent-handle shears with 7"or 8" (18 or 21 cm) blades hinged with a screw. The two differently shaped handles accommodate more fingers and yield better control. The bent handles are preferred because the fabric can rest flat on the table when being cut. Left-handed shears are also available. (1)
Sewing scissors have small round handles and range from 4" to 6" (10-15 cm) in length. They are used for more delicate cutting and trimming. (2)
Embroidery scissors , 3 - 4" (7 - 10 cm) long, are used for buttonholes and detail work. (3)
Pinking shears are used to finish raw edges of fabrics that do not ravel easily. Select 7 1/2" to 9" blades (19-23 cm) with a ball-bearing pivot. (4)
Thread clips are a scissor variation with short blades and an inner spring mechanism to keep them apart. They fit neatly into your hand and are used with a clipping motion to cut stray threads quickly and easily. (5)
Buttonhole scissors are constructed to allow you to begin cutting within the body of the fabric. A screw and nut arrangement makes it possible to set the blades to cut only a prescribed length. (6)
Rotary cutters are similar to a pizza cutter and are used with a special self-healing mat and plastic ruler for accurate cutting. Replaceable blades are available. (7)
The cutting area should be large and flat, preferably about 38" (97 cm) high, and at least 36" (92 cm) wide, and 6 to 8 feet (1.83-2.4 M) long. Ideally the area should be accessible from all four sides.