Introduction

A vast assortment of tools and sewing aids has been manufactured to serve anyone who sews. Each one has been carefully designed to save time and simplify construction. You should begin by acquiring tools according to your immediate needs (shears, steam iron, etc.) and then start to purchase those extra, handy time-savers that are constantly appearing on the market. The more basic items will be your only expenditure in the very beginning, while the more complicated tools will become necessary as your skill and interest increase. Thus, your purchases will be spread out as you go along.

Because your equipment is essential to your sewing success, it must be of good quality and always kept in the peak of working order. Experiment with various types of equipment and see which one is best for you. If possible, it is wise to test the too] before you purchase it to be sure the parts are working smoothly. Most importantly, give each tool the same scrupulous attention you would give any other household appliance and there will be no need to buy replacements.
To save yourself time and confusion, have your equipment stored systematically in categories, making each item readily accessible at all times. Keep together all your marking equipment, your fastenings, your thread, and so on. Having them handy will accelerate your work and increase your accuracy. If you follow this advice, it will be easy to get into the habit of using the right tool at the proper time.

(continued below...)
---
Are you looking for sewing or crafts-related items such as sewing machines, sergers, yarn, and knitting supplies? Try our online catalog pages here:
Or see what products on our site the popular search engines have chosen to list...
---
Recommended Reading
Recommended Products




5 Drawer Foldaway Desk: Perfect for your sewing machine or serger! Constructed from durable melamine laminated particle board the Mobile Desks will offer a life time of reliable service.



If you need specific sewing supplies, browse through the products on pages like these:
---
Measuring Tools
Measuring tools are among the most important items in your sewing box. Good quality equipment and correct usage will assure you a better-fitting garment. Be sure to have a variety available to avoid the temptation to guess or the need to substitute. The key to success is to measure often and accurately.

Tape measures are indispensable. They should be 60" (152 cm) long with metal tips and made of a material that will not stretch. It will be most helpful if the numbers, in inches or centimeters, are printed on both sides.

Rulers are necessary for all your sewing projects. You should have at least one 12" - 18" (30.5 - 46 cm) long, and one 5-6" (12.5-15cm) long. They can be found in a variety of materials. If you select wood, keep in mind that it may warp. It should have a metal edge for accuracy. The plastic see-through type easily retains its straight edges, is well suited for buttonholes, pleats, etc. and can readily serve all your needs. The numbers should be clearly indicated.

Yardsticks are invaluable for general marking purposes. They should be made of shellacked hard wood or metal. Those made of metal are sturdiest.

A sewing gauge is a 6" (15 cm) metal or plastic ruler with a sliding indicator. It is ideal for quick, accurate measurements of hems, buttonholes and pleats.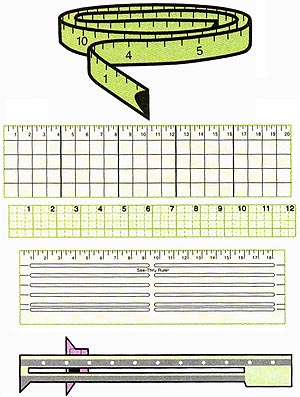 A hem gauge is generally made of lightweight metal with one gradually curved edge designed to accommodate the shape of your hems. The different hem depths are clearly indicated on it surface. The straight edges are also marked in inches or centimeters to provide another measuring tool.
A French curve is a marking tool that is sharply curved along one side. Use it to redraw curved areas such as armholes, necklines, and princess seams when altering patterns.
T-squares can be made of either clear plastic or metal. Use it for straightening grain, locating opposite grains, altering your pattern tissue, or for other marking tasks.
A skirt marker is the quickest, easiest and most accurate way to mark hems. There are several types: pin, chalk and a combination of both. The pin marker is more precise but does require the assistance of another person, which is not necessary for the chalk variety with a blower on a tube. A skirt marker that combines pin and chalk allows you to have the best qualities of both. Be sure the base is heavy and steady and that the marker extends high enough to be suitable for all your fashion lengths.