Marking plays an important role in the construction process. The pattern tissue has specific construction lines and symbols printed on its surface for you to transfer to your garment pieces. If you have been accurate in marking these guidelines, construction will be greatly simplified and errors kept to a minimum.
Since you will be working with many varieties of fabric, you should have on hand the accompanying types of marking equipment.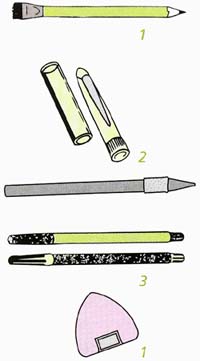 Chalk is ideal for marking most fabrics. Easy to use it comes in many forms such as clay chalk wedges or squares, chalk wheels, chalk marking pencils, and wax chalk. (1) Do not use wax chalk on synthetic fabrics because it will be difficult to remove by any method. Chalk wheels can be refilled and chalk-marking pencils sharpened with a pencil or cosmetic sharpener. A small brush is useful for erasing pencil marks. A soapstone marker is an alternative to chalk pencils and can easily be removed. (2)
Fabric marking pens work well on most washable fabrics. There are two types of pens, air- and water-soluble. Air-soluble disappears in the air within 12 to 48 hours. Water-soluble pens rinse away with water. Do not press over either of these types of marking pens as the marks may become permanent. (3)

(continued below...)
---
Are you looking for sewing or crafts-related items such as sewing machines, sergers, yarn, and knitting supplies? Try our online catalog pages here.
Or see what products on our site the popular search engines have chosen to list...
---
Recommended Reading
Recommended Products




5 Drawer Foldaway Desk: Perfect for your sewing machine or serger! Constructed from durable melamine laminated particle board the Mobile Desks will offer a life time of reliable service.



If you need specific sewing supplies, browse through the products on pages like these:
---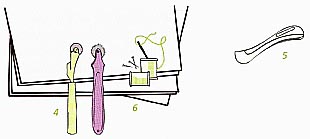 Tracing wheels and dressmaker's tracing paper is suitable for most fine fabrics. The wheels, available in a single or double wheel format, have serrated, smooth, blunt or stiletto edges. The wheels are used to mark with wax-free tracing paper, which can be single- or double-sided or of a disappearing type (4).
A hera marking tool is a Japanese tool that marks the fabric when pressure is applied leaving an indentation, It works best on natural fiber fabrics (5).
Thread tracing is used to mark pockets, garment centerlines, tailor tacks, grainlines or for general basting. Silk thread is recommended for fine fabrics and when basting stitches are not to be removed before pressing. Choose thread in a slightly contrasting color for easier removal (6).