---
---
There are three main types of staircases: straight, spiral, and platform. While spiral staircases are available factory built, new staircases are generally made. However, an existing staircase is often integral to the layout of a house. This means that it is more common to repair the stairs, and replace only the railing if a change of style is desired.
TYPES OF STAIRCASES
Staircases are complicated constructions. Traditional straight flights are most common, and easiest to attempt. However, in new homes and renovations other designs, such as spiral stairs, are often used. If you want to change the style of your existing staircase, you can purchase new stair parts at your local home improvement center.
STAIRCASE CONSTRUCTION
A staircase may be composed of one material or a combination of several—wood, concrete, and metal are most often used. Boards, such as MDF, are increasingly popular. Methods of construction vary depending on the materials. Standard designs are 3 ft (900 mm) wide, with 2 ft 8 in (800 mm) clearance to the handrail.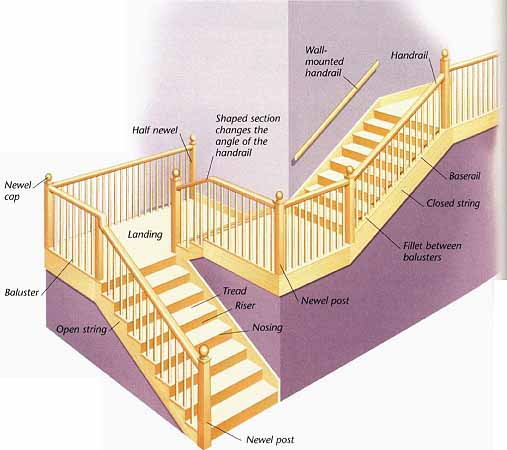 Parts of a staircase: There are many terms associated with a staircase and railing and it is important to understand what they describe, and how the parts relate to each other. The staircase shown here has a traditional design with landings, but an alternative is to use winders—kite-shaped treads that turn a corner in a similar way to a section of spiral staircase. Many of the terms used here also apply to other designs of staircases, such as spiral stairs.
CONCRETE STAIRCASES
Most of the terminology used for a wooden staircase is also relevant for a concrete one, the differences being in construction and installation.
A concrete staircase can be built on site to your requirements and is a professional job. A plywood form is created, steel bars are inserted to strengthen and reinforce the structure, and then concrete is poured in. Once the concrete has cured, the form is removed.
STAIRCASE DESIGNS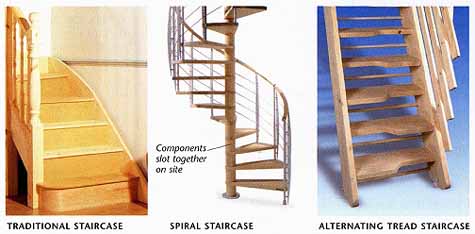 Traditional staircases are based around a straight flight or flights of stairs. Spiral stairs have long been used as an alternative, and modern designs are popular in open-plan spaces. Disappearing fold-away stairs, and alternating tread stairs are often used to access attics. The steps are wider at alternate ends so your foot can always rest on a deep tread. Spiral and disappearing stairs are available ready to install.
BALUSTRADE MATERIALS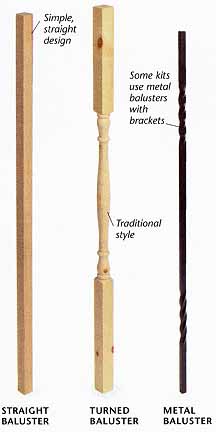 Staircases are not usually replaced, although a railing can be updated using a kit (see above). Several styles are available, modern and traditional, and may have solid wood or metal balusters. Newel posts and handrails are usually made of wood. If you want to replace the whole staircase, you will probably need to get one custom-built. Most stair parts are available in standard sizes, and can be installed following the manufacturer's instructions.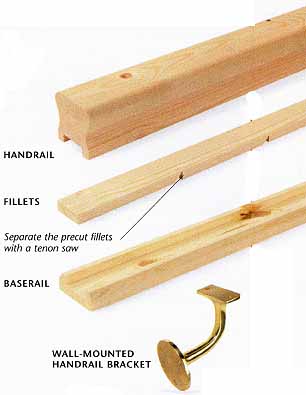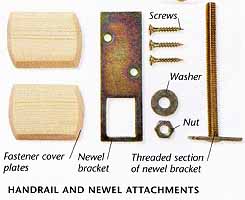 Stair railings: All of the components needed for the new railings should be available—handrail, baserail, newel posts, balusters, and special brackets and fasteners. Newel posts may come whole, or be made up of several pieces (modular). Modular newels are better for an existing staircase.
PREV: Stair Layout: Introduction

NEXT: Staircase Preparation
Home • •