---
---
Island units act as a work zone and a breakfast bar, not to mention being a sociable focal point. They are also rich in storage potential. Before planning one, check there's adequate floor area. You'll need three feet of circulation space all around, plus enough counter overhang for tucking in stools. An island unit can be square, rectangular, or even round, though custom made curved cabinet doors will cost more. An extension of the island concept is a longer, industrial-style work bench, which may be teamed with a wall of cupboards for a freestanding look.
The type of storage you incorporate depends on the function of the island. If it's to be the cooking zone, with built-in gas cooktop and oven, pan drawers and open shelves for oils and spices will be the order of the day. If it's a breakfast bar, plan flush cupboards for tableware and cereals. Positioning is crucial, If stools flank one side, install storage at one or both ends instead. How wide will the island be? Decide whether to include shallow cupboards on each side, or deep shelves accessed from one side only. Think about traffic flow around the island. Where space is tight, sliding doors or open shelves will be less obtrusive than hinged doors.
In a multifunctional kitchen, in which the island divides cooking and eating/play zones, vary storage options on alternate sides. Add doors on the kitchen side to match wall units, and on the opposite side add a mix of open shelves and drawers. Low-level storage like this is great for toys and books.

Above: Table-style sink units blend easily with casual freestanding storage. Also look out for industrial-style kitchen counters, conveniently equipped with appliances but with a freestanding look.
For those after a more relaxed look, consider mixing a large freestanding piece such as a traditional hutch, sideboard, or serving table with drawers, with built-in shelves and freestanding appliances. Visually, such furniture gives the kitchen "room" appeal, while still offering practical storage. Key pieces can be teamed with mobile furniture such as a butcher's block, metal catering trolley on wheels, or a trestle table. Not everyone wants to hunt secondhand stores for appropriate pieces. If you want the practicality of purpose-built units, but a flexible layout, check out freestanding-style kitchen ranges: big-box stores have some excellent variations.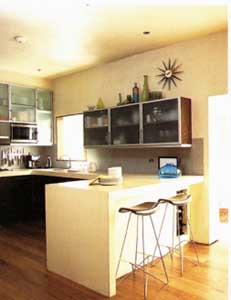 Above: If there's only enough space for an island unit with cupboards on one side, there may be room on the reverse for a narrow storage niche. This one has a built-in wine rack.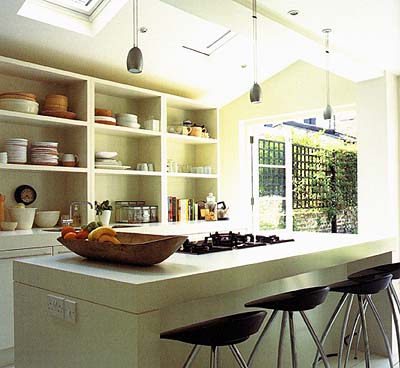 Above: Properly planned, an island unit should have a place for everything, so that the counters can remain clutter-free.
---
Need some organization products?
Visit our online home-organization products shops:
---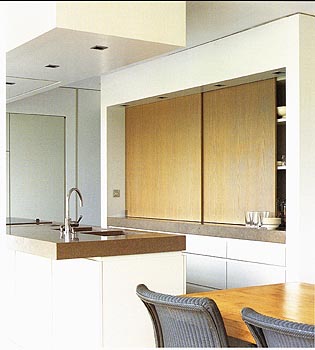 Above: In this minimalist kitchen, the island unit has been teamed with a recessed cupboard at one end of the room and a generous bank of drawers. Sliding doors complete the streamlined look.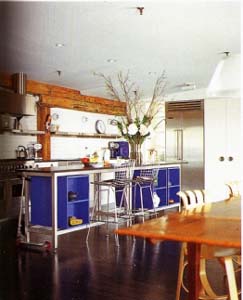 Above: A large island unit will be the center of attention in an open-plan space. Brightly painted open shelves combine storage and display space.