---
---
These are typical steps to construct a custom closet. Study the instructions in case you need other techniques--for instance, to install the doors. If possible, get someone to help hold the sections in position.
1. FITTING THE SIDE


A. Measure from the corner of the room to where you want the cabinet's side panel. Draw a plumb line on the wall. B. Hold the side panel in place. It will not sit flush if the wall is uneven; if this is the case, scribe it to fit. Cut the panel to size. C. Check with a square that the angle between wall and panel is 90 degrees. Then use plates to secure the panel to the floor.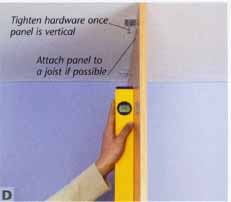 D. Attach the panel loosely to the ceiling with plates. Use a level to check that it's plumb. If necessary, use the slots in the plates to adjust its position. Then secure it. At the cabinet's other "side," draw a guide line on the wall for the cabinet's front edge. The jamb will sit against this line. Tighten hardware once panel is vertical; Attach panel to a joist if possible.
2. FITTING THE JAMB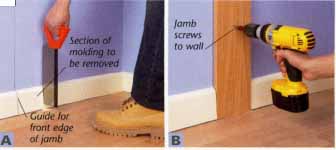 A. Cut a section from the baseboard to allow the jamb to sit flush against the wall. B. Cut the jamb to size. Then attach it to the wall. Use a level as you work, to check that the jamb is plumb.
Visit our online home-organization products shops:
---
3. INSTALLING THE RUNNERS AND DOOR


A. Measure the distance between the inside edges of the side panel and the jamb. Check that the closet is "square" by measuring at the top and bottom of the opening, and adjust if necessary. Use a hacksaw to cut the top rail of the sliding door mechanism to fit the opening. B. Using the manufacturer's guidelines on positioning, attach the rail to the joists in the ceiling. Use the plugged hardware required for the ceiling type. C. Cut the base rail to length. Position it loosely between the side panel and jamb, but don't attach it at this stage.


D. Hang the doors on the runner mechanism, paying close attention to the manufacturer's instructions. E. Once the doors are hung, adjust the runners to allow the doors to hang correctly. Check that they operate smoothly. F. With the doors and rails in the best position for smooth operation, use a detector to find out whether there are any wires or pipes below the floor. Secure the base rail to the floor. The length of screw needed depends on the type and thickness of the flooring.