---
---
All sorts of ways exist to hang hand tools on a wall. Some woodworkers build special cabinets for their hand tools. The more common solution is pegboard. It's inexpensive, versatile and easy to mount. With a variety of hooks to choose from, you can make pegboard storage adapt to almost anything. And pegboard doesn't have to be dark brown. More frequently it is being offered in colored plastic, or you can simply paint your own.
But pegboard isn't the only simple option for hanging tools. You've likely seen slat wall in department stores holding up socks and ties. This material is essentially a 3/4" board with T-shaped grooves cut in it and a colored plastic laminate on top. It provides much of the versatility and convenience of pegboard, but looks nicer doing it. It'll cost a little more, but it's your choice.
Then there are the workshop experts who mount things right to the wall. By using drywall molly bolts (or covering your walls with painted particleboard) and a variety of hanging storage accessories available in any home-improvement store, you can make a wall of tools that will be uniquely your own. In fact, many folks add outlines of the tools on the wall (or on pegboard) so they know exactly where it belongs - and more importantly, if it's missing.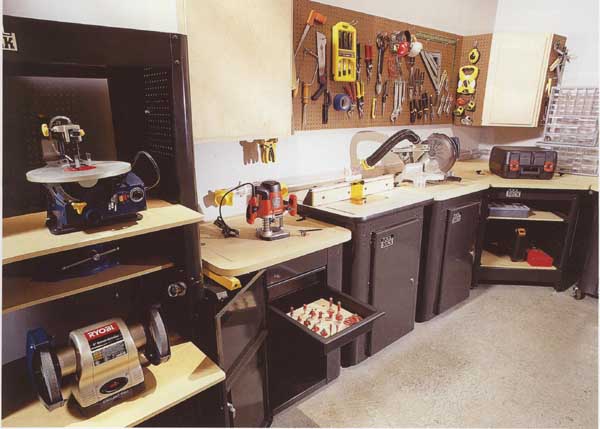 Above: The cabinets you choose for your shop can be pre-made kitchen cabinets, cabinets you make yourself, or cabinets designed for your woodworking needs, as shown in the photo. These cabinets offer simple drop-in platforms for a variety of bench-top tools, with slide-in/slideout storage for easy access. Storage options include drawers and doors, depending on your needs. Each of the units is capable of easy dust collection hookup for any bench-top tool, and one of the drop-in panels will allow the cabinet to function as a downdraft table. But don't forget the lowly pegboard for storing hand tools. It still provides the easiest, least expensive and most adjustable hanging storage around.
Previous: Where to Put Your Machines

Next: Power, Lights, Ventilation