---
---
If woodworking will be an occasional activity, or space is at a high premium, consider buying benchtop machines. You can do a lot of work with a benchtop drill press, planer and band saw. While they're not as versatile as their floor-model big brothers, we recommend them for the small shop.
On the other hand, we don't recommend benchtop table saws for any but the tiniest of shops. While a benchtop saw might be smaller, it's also less powerful and less accurate. Find a way to squeeze a contractor's saw or cabinet saw in your shop on a mobile base.
The same goes for the jointer. Like the table saw, benchtop jointers just don't satisfy the needs of most woodshops. We recommend carving out a section of floor space along the wall for a stationary 6" or 8" jointer.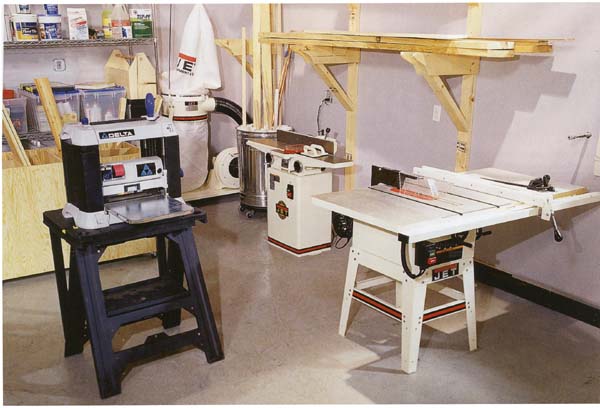 Above: This corner essentially makes up the machining area in the shop. Lumber is stored within easy reach above the jointer, with the planer positioned ready to be used by simply turning around from the jointer. With the wood milled, it's a simple step to the table saw to cut the pieces to final size. The stand for the planer is designed to knock down quickly and fold flat against the wall. The planer itself stores under a cabinet, or even under the right-hand wing of the table saw. The portable dust collector is stored in the corner, but it can be attached quickly to any of the three machines in this corner for clean and safe working conditions.
With these five machines (and an assortment of portable and hand tools), you'll be ready to build cabinets and shelves. However, if turning is your passion, a lathe may be at the top of the list, and the jointer and planer may disappear altogether. It's your choice.
You'll want to have other tools, including a miter saw, scroll saw and bench grinder, as you go along if you don't already own them, and they don't take up much space.
Previous: Woodworking and other DIY Projects, too!

Next: Where to Put Your Machines