Lining
Lining gives your garment a smooth, luxurious feeling for added comfort as well as a quality finished, custom-made look. It is either cut from the same pattern pieces as the garment or from separate lining pieces. It is assembled separately, then sewn into your garment by hand or machine.
A lining prolongs the life of the garment. It does this by:
Covering the inner construction details and protecting the fashion fabric from abrasion during wear
Prevents stretching, and helps preserve the shape
Reduces wrinkling
Adds body to limp fabric
The lining fabric should not affect the fit or characteristics of the outer fabric. Generally, it should be softer and lighter in weight than the outer fabric, but not so lightweight as to reveal ridges and bumps from the construction details. A lining fabric that is too firm for the fashion fabric may distort the silhouette of the garment.
Lining fabrics should be static-free, smooth and slippery to help your garment slide easily over your other apparel, especially if it's a jacket or coat.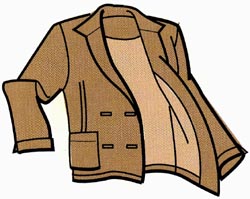 Color is important in choosing a lining fabric, especially for a jacket or coat where the lining may show when the garment is worn open. Choose a color to match your fashion fabric or go bold with a flashy print or stripe. If the lining fabric is darker than the outer fabric, make sure that it does not show through to the outside of the garment.
When selecting a lining fabric, consider how often you plan to wear and clean your garment. Delicate fabrics, such as China silk, can be used for lining garments that will occasionally be worn and cleaned, but will not last in a garment worn or dry cleaned often. Lining fabrics, like interfacings and underlinings, must be able to receive the same care as the outer fabric.
When shopping for a lining, note the special characteristics of the fabric listed on the bolt in addition to its fiber content. The majority of trade name linings are colorfast, perspiration-proof, wrinkle-resistant and have non-cling finishes as well as other desirable attributes.
---


Recommended Reading
Recommended Products
Learn more about sewing, knitting and related arts and crafts: Browse our reading list.
---
fabric name

fiber content

type/weight

color

use

Acetate

100% acetate

Woven

Medium to heavy

Range of colors

Coats, jackets, suit linings

Batiste

100% cotton, Cotton/poly blends

Woven Light

Range of colors

Underlining for all weights of fabric

Batting

100% poly

Non Woven Light to medium

White

Insulation fabric for coats, jackets

Brocade

Silk or manmade fibers

Woven Medium to heavy

Range of colors

Elegant lining for evening wear and fur coats

China Silk Polyester China silk

100% Silk or 100% polyester

Woven Light

Range of colors

Lining for all weights of fabrics

Crepe de chine

100% Silk or polyester blend

Woven Light to medium

Range of colors

Lining for medium to heavy weight fabrics, also fashion fabric for blouses and dresses

Crepeback Satin

Acetate or polyester blends

Woven Light to medium

Range of colors

Reversible satin lining for coats, jackets and suits

Fake Fur

Man-made fibers

Woven or knit Heavy

Range of colors

Pile lining for coats and jackets

Lawn

100% cotton or cotton blends

Woven Light to medium

Range of colors

Underlining or lining for lightweight fabrics

Mesh

Cotton or man-made fibers

Woven or warp-knitted Light

Limited colors

Underlining for sheer fabrics

Muslin

100% cotton or cotton blends

Woven Light

Natural or white

Underlining for coats and suits

Organdy or Organza

100% cotton or man-made fibers

Woven Light

Range of colors

Fine, crisp underlining for sheer and lightweight fabrics

Percale

Cotton or cotton blends

Woven Light to medium

Range of colors

Lining especially for cotton fabrics

Pima Cotton

100% cotton

Woven Light

Range of colors

Very fine cotton for underlining

Pongee

100% polyester

Woven Light

Range of colors

Lining for medium-weight fabrics

Silk broadcloth or Surrah

100% silk

Woven Light

Range of colors

Lining for lightweight fabrics

Swimwear lining

100% stretch nylon or nylon/spandex blend

Knit Light

Nude, white and black

Lining for swimwear and bodysuits; lining with spandex has more stretch

Taffeta

100% acetate

Woven Medium

Range of colors

Lining for medium to heavy weight fabrics

Tricot

100% nylon

Knit Light

Range of colors

Lining for laces or mesh/netting