The "undercover" story
Designers' styles require fabrics to take many different shapes. They depend on either the fabric's natural ability to flare into a silhouette or hidden inner components that support the fabric in its desired shape. Underlining and interfacing when chosen and used correctly, will help achieve the designer's intended effect with relative ease. They are the concealed elements that help garments retain their shape and wear longer. In lining a garment, the designer uses only fabrics that will comply with the drape of the style and will be attractive, comfortable and smooth. The use of these hidden components, correctly executed, is one of the hallmarks of fine couture.
As fashion styles and silhouettes change from year to year, so do the fabric preferences of designers. Some seasons crisp silhouettes executed in firm fabrics predominate, other seasons the fashion pendulum swings to soft, fluid styles with lightweight, flowing fabrics. Therefore the type, weight, and amount of inner construction used in garments varies according to the styles and fabrics highlighted by current fashion.
Crisp or tailored garments may require an underlining to maintain the silhouette, while for soft, woven or knit fabrics; an underlining would inhibit the drape or stretch of the fashion fabric.
Interfacing is needed to shape detail areas such as collars, cuffs, and buttonholes in almost all garments regardless of the silhouette or weight of fabric.
When choosing underlining, interfacing and lining consider the following:
Style of your garment, do instructions suggest using underlining or lining?
Weight of the fashion fabric, is the weight similar to the suggested fabrics for the style?
Type of care required for the fashion fabric, all interfacing, lining and underlining must be compatible in care and residual shrinkage should only be 1% or less. When in doubt, pre-shrink all fabrics.
Durability of the inner fabric compared to the fashion fabric, inner construction should last the life of the garment.
Test all inner fabrics with your fashion fabric by draping together over your hand to make sure they relate well to each other.
Test the tightness of the weave of lining and underlining especially, by scratching the fabric with your thumbnail. If the threads spread apart or slide, the fabric generally will not wear well.
Inner construction is never seen, except for a beautifully lined coat or jacket, yet it's proper selection and application often determine the final appearance of your garment—not only when it is first constructed, but long after it has been worn and cleaned many times. Inner construction should never be overlooked.
---


Recommended Reading
Recommended Products
Learn more about sewing, knitting and related arts and crafts: Browse our reading list.
---
Underlining
Underlining helps to impart a sculpted look to your garment. It is cut from the same pattern pieces as the garment fabric. Then the underlining and fashion fabric are basted and sewn together to act as one layer throughout the construction.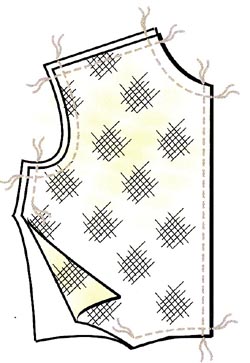 Underlining adds body and durability to your garment by supporting and reinforcing the fabric and seams, It also helps to reduce wrinkling and prevent stretching. Underlining can act as a foundation for the garment so that the interfacings, facings and hems can be sewn without stitches or ridges appearing on the right side of the garment. With sheer and lightweight fabrics, underlining can be used for opaqueness in certain areas of the garment.
When used for crisper shaping, it can give support to the outer fabric to maintain a silhouette that otherwise could not have been achieved.
Underlining helps to facilitate the marking and stitching of your garment. All pattern markings are made on the underlining, which is then pinned to the wrong side of your fashion fabric. Slight changes or adjustments can also be marked on the underlining.
You can achieve different effects in different areas of the same garment by using more than one type of underlining. For example, a lightweight wool dress with a soft bodice and an A-line skirt, will require a soft, lightweight underlining for the bodice and a crisp underlining for the skirt.
Special underlining fabrics are available in a wide selection of colors and fiber blends and may be labeled for softness or crispness. You can also use other light and medium weight fabrics such as batiste, China silk, organdy, organza, muslin and taffeta. As a general rule, the underlining should be lighter in weight and as soft or softer than the fashion fabric so as not to affect the appearance of the garment, except in cases where subtle shaping is desired.
Interfacing
Interfacing is used to shape detail areas in a garment. It can maintain a gentle roll in collars and lapels; add body without bulk to garment edges, cuffs, and pockets; prevent stretching of necklines and buttonholes; and add crispness and stability to waistbands and belts. Almost all garments, regardless of their style or type of fabric, require some interfacing—a tailored jacket may have many areas interfaced while a simple knit dress could have interfacing only in the neckline.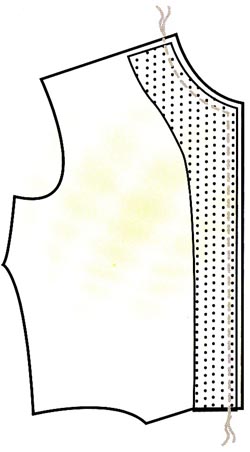 lnterfacings are available in a wide range of fibers, weights, and degrees of crispness. They are categorized according to their method of application: sew-in interfacings are stitched by hand or machine to your garment; fusible interfacings have a resin coating on the back that will fuse to fabric when steam, heat, and pressure are applied. Both types can be woven, non-woven, or knitted and are available in white, black, and neutral colors.
Woven interfacings are made of synthetic, cotton, or a blend of fibers; canvases may include wool or goat hair. They are available in different weights and crisp ness from lightweight polyester to heavyweight hair canvas. Woven interfacings must be cut on straight grain, or they can be cut on the bias for softer shaping in rolled collars and hems.
Non-woven interfacings are made of synthetic fibers bonded together in weights from sheer to heavy. Pattern pieces can be laid in any direction for stable or "all-bias" non-wovens; however, for those that have crosswise stretch and lengthwise stability, the pattern pieces must be laid out as for woven fabrics.
Knitted interfacings are tricot knit, tn-dimensional, weft insertion, or warp insertion construction, providing flexibility for lightweight knits and wovens.
Other fabrics such as organza, cotton batiste, and lightweight underlining fabrics can also be used as interfacings.
The selection of the appropriate interfacing depends upon the weight of the fashion fabric, the area in which it will be used, the amount of shaping or stiffness desired, and the type of care the fabric will receive.
Sheer or featherweight interfacings are designed for lightweight woven and knitted fabrics.
Lightweight interfacings are suitable for dress weight fabrics.
Medium weight interfacings are used for suiting-type fabrics and medium to heavy weight fabrics.
Heavyweight interfacings are recommended only for accessories and crafts.
In general, your interfacing should not be heavier in weight than your garment fabric, although it can be crisper. Some fabrics may require an interfacing with a certain amount of stretch or flexibility to achieve subtle shaping. With sheer fabrics, a piece of self-fabric can act as interfacing. To determine a compatible weight of interfacing, drape it and your fabric into a shape that resembles how they will be used, such as a cuff or hem edge, and check for the crispness and shaping you desire. Remember that fusible interfacings may be slightly crisper after fusing. Do not hesitate to mix different types and weights of interfacing within your garment in order to produce the desired fashion effect with your fabric.
Preshrinking Interfacing
Most sew-in interfacings can generally be preshrunk in the same manner as the outer fabric. Fusibles may require pre-treating in a different manner. Follow the instructions on the package or bolt. Or for washable wovens, wefts, and tricot knits, fold the interfacing loosely and immerse in a tub of hot water. Let sit until the water cools to room temperature (approximately 15 to 20 minutes). After rolling in a towel to remove excess moisture, let air-dry. When you are ready to use the interfacing, "steam shrink" as you would non woven and dry-clean only interfacings. With the resin side down over the wrong side of the garment piece (collar, cuff, etc.), hold the iron about 1" to 2" (2.5 to 5 cm) above the pieces and steam for 5-7 seconds. Do not place the iron on the fabric. Smooth out the pieces and fuse as usual.
Fusible interfacings can be used to stabilize small areas such as buttonholes, slashes, and plackets. If the edge of the interfacing creates a visible outline on the right side of the fabric, try pinking the edges of the interfacing before fusing.
Fusing Agents
A fusing agent is used to hold two layers of fabrics together. They can be used in detail areas such as hems, cuffs, pocket flaps, and belts to add body simply by fusing the layers of fabric together. Unlike interfacing, fusing agents cannot be used to stabilize an area to prevent stretching but are used to hold fabric pieces in place.