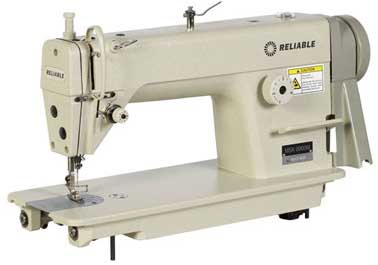 An industrial sewing machines lets you sacrifice nothing: power, performance, durability and even outstanding value for many commercial-sewing applications. You get it all! Be aware that industrial sewing machines are specialized machines: they are meant to perform a smaller range of tasks and heavy-duty sewing on items such as sails, saddles, webbing, belting, canvas, upholstery, tents, etc.
We also recommend commercial-grade sewing machines for home. These machines are ideal for crafts made from heavier materials such as pillows, cushions or slipcovers. Several heavy-duty sewing machines recommended on this site have a built-in or attachable walking foot which prevents layers of materials from shifting while sewing.
Finally, our leather sewing machines are simply superb for stitching chaps, belts, purses, bags, cases, wallets, holsters, boots, shoes and other leather apparel.
Types of industrial sewing machines and related equipment:
| | | |
| --- | --- | --- |
| One-Needle Sewing Machine (Walking Foot) | Two-Needle Sewing Machine | Serger/Overlock |
| Blindstitch/Invisible Seam | Zig-Zag | Specialty machine -- for button sewing and drapery tacking. |
| Leather / Shoe repair / Upholstery | Needle-Feed | Walking Foot Upholstery Very Heavy Duty with Power Stand |
| Quilting | Fabric Cutters | |
Manufacturers of industrial sewing machines and related equipment
(click the links below for models, pricing, and ordering details):
Alphasew Industrial Sewing Machines: Specializing in portable industrial models.
Artisan Sewing Supply, Inc.: this company makes sewing, stitching, strip-cutting and skiving machinery.
Bernina Industrial Sewing: superb machines when a variety of stitch functions are needed. Ideal for small businesses and cottage industries. Bernina machines generally have more stitch functions than other industrial. Designed for normal clothing weight.
Brother: Industrial sewing and embroidery machine with power stands. Brother also makes sergers and long-arm quilting machines. One of the best-selling brands of sewing machines today.
Consew: high-quality machines for: Single Needle Flat Bed; Double Needle; Blindstitch; Postbed; Cylinder Bed; Feed-Off-The-Arm; Zig-Zag; Button Sewing; Swatch Cutting; Chainstitch; Coverstitch; Overlock; Shoe Repair and Mending; Bag Closing; Strip Cutters and Skiving; Cutting ; Automatic Bobbin Winder; Embroidery and Quilting. (manuf. site)
Gemsy: Affordable Industrial Sewing Machines Walking Foot, Sergers, Blindhem, Interlock, Button, Cutters and Press.
Great Notions: Commercial Embroidery Machines.
Juki Industrial: perhaps the largest and best manufacturer of industrial sewing machines in the industry. Juki makes machines for sewing applications in apparel, bag making or bag closing. (manuf site)
Melco: U.S.-based manufacturer of commercial embroidery machines and embroidery digitizing software. (manuf. site)
Power Pro Industrial Sewing:
Reliable Industrial: Canadian company that makes outstanding sewing products for professionals and serious sewing hobbyists. (manuf. home page)
Rex Industrial Machines: Low-cost single-needle, zig-zag, blindstitch, serger/overlock and related equipment and accessories. (manuf site)
Sailrite: Walking-foot sewing machines for sails and canvas. (manuf. site)
Singer Industrial Sewing Machines: The one and only Singer.
Tacsew Industrial Sewing: all classes of Industrial sewing machines, quilting machines, commercial motors, heavy duty quilting machines, industrial irons, blind stitch machines, cutting equipment, commercial sergers, parts and more. Tacsew is also a main importer and distributor for popular brands of industrial sewing equipment, including Juki, Brother, Singer, Consew, Pfaff, Kenquilt, Sussman, Thompson, Pacific, Naomoto, Johnson and Yamata.
Thompson Industrial Walking Foot Machines: for home and auto upholstery, drapery, and other heavy sewing. (manuf site)
Tippmann Industrial Sewing Equipment: Leather Sewing and Die Cutting Equipment: Sew through Leather, up to 3/4" Thick. Tippmann's "Boss" sewing machine will also sew nylon, canvas, urethane, plastic, sheepskin, etc.
Yamata Industrial: High-quality machines ... from single-needle, overlock/serger, zig-zag, to blind stitch and compound walking-foot models.
---
Terms:
Feed dog: a mechanism which helps advance material through the sight of the needle. Feed dogs are "guides" that help to keep the material straight as the stitch is applied. A feed dog isn't only helpful in manufacturing or industrial use -- it can help in many home applications, too.
Needle-Feed Sewing Machine: a good option when the sewing technique requires rapid stitching with a high degree of uniformity. Also, needle-feed models allow for certain useful options. One options is a feed dog. Another is presser feet. And, lastly, with needle-feed machines it's possible to acquire units that utilize a single needle or use two needles for the actual stitching. The double-needle type is perfect for sewing projects where creating a double seam will either enhance the appearance of the finished product or is necessary for stability/durability. Models with the dual-needle capability lets the sewer adjust the machine for use with a single needle as well as making it possible to sew a double-stitch design.
Presser Feet: commonly stored in a compartment that's under the top lid of the machine, the presser foot helps to keep the thread straight. Normally, the storage compartment will hold several feet, so there are always spare available.
Walking-Foot Machine: Almost exclusively (or necessary) for industrial sewing. Essentially, this is a straight- stitch machine that's designed to feed materials evenly, top and bottom pieces. It has a two-piece foot that moves one side at a time in concert with the feed. As it moves, it appears to "walk".
In the industry, one can't spend a lot of time sewing any one piece, so a walking foot is often used to eliminate the pinning together of material. The even feed will allow both pieces being sewn to be fed through with reduced slippage; hence, keeping patterns and cut pieces true during sewing. Machines with walking feet are the standard in industrieds like furniture upholstery.
Do you need a walking-foot machine? For home use, probably not. Some say they are are needed for leather sewing. But most experts agree that many common machines without walking feet accept leather feeds quite well.
You need a powerful and heavy-duty machine for leather, vinyl, denim, canvas and other heavy fabrics. Trouble-free material feeds are the heavily dependent on the condition, sharpness, and height setting of the feed dogs, and the type of presser feet being used. It also depends on the downward pressure setting the presser foot.
Other Resources: