fastenings
details that count
linings and interfacings
finishing touches
special treatment for special clothes
coping with difficult fabrics
the patterns
glossary of terms
---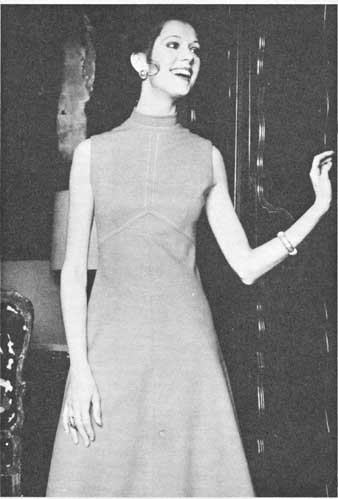 Introduction
Dressmaking must surely be one of the most rewarding forms of handicraft. There is great pleasure to be found in simply choosing with care the raw materials—harmonizing color, texture and style—then going on to create a beautiful finished product. Added to this is the satisfaction of being able to wear your 'work of art' . . . Sewing your own clothes is also a moneysaving proposition, for perfectly-fitted garments tailor-made in every respect to suit you exactly, can be produced for a fraction of the cost of ready-made clothes. It's thus easier and cheaper to keep up with constantly changing fashion trends.
Once a particular basic style is fitted to your shape and size, it can be used over and over again, made up in totally different fabric types and designs to create a wardrobe of fashionable clothes. The same classic shift, for instance, will look totally different made up in a rich jewel-bright velvet as it will in a polka-dotted cotton print, and different again in a supple, stretchy knit fabric. Add further contrast with a careful choice of accessories, belts and jewelry—and no one would ever guess all the dresses came from the same original pattern. In fact, part of the real and final satisfaction in sewing your own clothes is that friends never do guess your outfit is home-made!
Almost anyone can sew pieces of fabric together to make a dress. But it takes a good deal more skill, imagination and application to give this basic dress a couture finish. In this guide I aim to show you how easy it's to learn the art of sewing, for it's indeed an art: the art of finishing your garments so they fit perfectly, reflect your personality and way of life, and never—in any circumstances—look 'home-made'.
---