---
---
For larger building projects, more complex arrangements are necessary. A large number of people and organizations are needed: not just the owner and local building inspector but also an architect; various engineers and specialist design consultants in such fields as structure, foundations, heating, plumbing, electrical work, acoustics; a general contractor; subcontractors and materials suppliers; and a small army of financiers, lawyers, and insurers (ill. 1-20 below). With so many entities involved, with so much money changing hands, and with the ever-present hazards of accident, fire, vandalism, inclement weather, labor disputes, inflation, and materials shortages and delays, arm, written understandings must be established among the various entities regarding who is responsible for what, especially if something should go wrong. As a basis for these understandings, all must agree precisely on what is to be built and how. The "what" and "how" are the purposes of the architect's specifications and working drawings.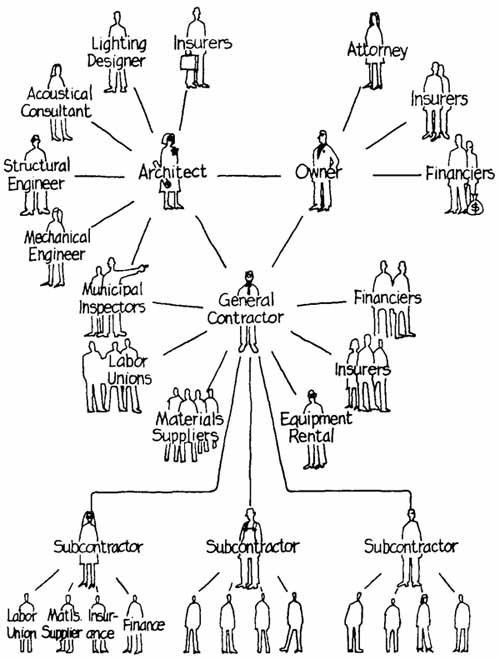 ill. 1-20: Simplified organization for larger construction projects. Sub-contractors.

The specifications are a written document that enumerates in detail the type and quality of all the materials to be used in a building, the standards of workmanship to be expected, and which trades will be responsible for which portions of the work ( ill. 2-20). The working drawings (sometimes called the blueprints because long ago they were printed in white on a blue background) show the size, location, and configuration of all parts of the building. These are presented in terms of what each tradesperson needs to know in order to get the building built in its intended form (ill. 3-20).

SPECIFICATION

Chez Rover

R. Dogg, Owner

Foundation: Concrete, 2500 psi

Floor: Concrete, steel trowel finish

Structure: #2 Pine boards, ship-lapped on walls

Roofing: #1 Red Cedar Perfections, laid 5" to weather

Painting: One coat oil-base primer, two coats exterior latex paint. Furnish color samples to owner for selection.


Above: ill. 2-20: A simple specification.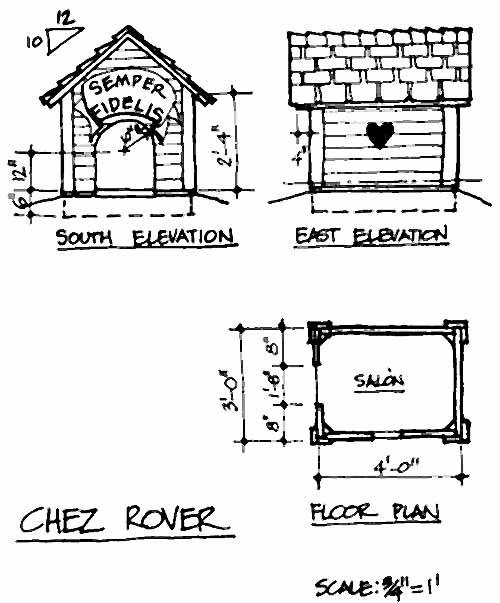 Above: ill. 3-20: A simple working drawing.
The specifications and working drawings are, for practical purposes, the sole means of translating the design ideas of the owner and the architect into an actual building. They serve as the basis for just about everything that is involved in getting a building built: construction financing, various insurances, estimating and bidding construction costs, the general construction contract and all subcontracts, material supply contracts, and the legal permit to build the building. As such, they must be complete, clear, unambiguous, and understandable ( ill. 4-20). They must be written and drawn in a language that is understood by the people who will provide and place the materials. Beauty is of no importance in these drawings, but clarity and precision are essential. Specifications are usually organized according to a standard format developed by the Construction Specifications Institute and Construction Specifications Canada ( see ill. 5-20 below).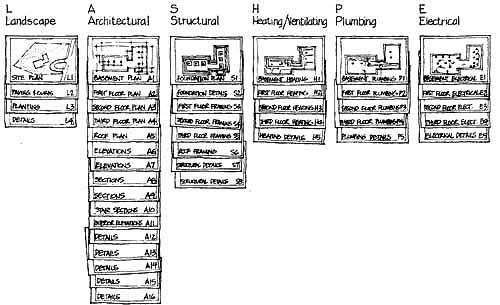 Above: ill. 4-20: Typical working drawing for a medium-sized building. Landscape, Architectural, Structural, Electrical.
DIVISION 1 GENERAL REQUIREMENTS

01010 Summary of work

01021 Cash allowances

DIVISION 2 SITEWORK

02150 Shoring and underpinning

02200 Earthwork

02350 Piles and caissons

DIVISION 3 CONCRETE

03100 Concrete formwork

03200 Concrete reinforcement

03300 Cast-in-place concrete

DIVISION 4 MASONRY

04210 Clay unit masonry

04220 Concrete unit masonry

DIVISION 5 METALS

05100 Structural metal framing

05300 Metal decking

05700 Ornamental metal

DIVISION 6 WOOD and PLASTICS

06100 Rough carpentry

06200 Finish carpentry

DIVISION 7 THERMAL and MOISTURE PROTECTION

07190 Vapor retarders

07200 Insulation

07250 Fireproofing

07500 Membrane roofing

DIVISION 8 DOORS and WINDOWS

08100 Metal doors and frames

08500 Metal windows

08700 Hardware

DIVISION 9 FINISHES

09110 Non-loadbearing wall framing

09200 Lath and plaster

09500 Acoustical treatment

09650 Resilient flooring

DIVISION 10 SPECIALTIES

10160 Metal toilet compartments

10500 Lockers

DIVISION 11 EQUIPMENT

11050 Library equipment

11400 Food service equipment

DIVISION 12 FURNISHINGS

12300 Manufactured casework

DIVISION 13 SPECIAL CONSTRUCTION

13034 Sound conditioned rooms

DIVISION 14 CONVEYING SYSTEMS

14210 Electric traction elevators

DIVISION 15 MECHANICAL

15400 Plumbing

15500 Heating, ventilating, and air conditioning

DIVISION 16 ELECTRICAL

16120 Wires and cables

16140 Wiring devices

16500 Lighting

16700 Communications
Above: ill. 5-20: Typical specification sections for a medium-sized building.
The actual contract for construction is made between the owner of the building and the general contractor. Most contracts are based on standard contracts that take into account all the things that can go wrong with a project. What if the contractor is losing money on a construction project and withdraws from it? (The contract provides that the contractor must post a performance bond before commencing work. This is a form of insurance that provides cash for the owner to finish the project with another contractor if the original con tractor withdraws.) 'What if the owner does not pay the contractor for work completed, in accordance with a schedule of payments spelled out in the contract? (The contract allows the contractor to stop work if payments are not made in a timely manner.) Who is responsible for insuring the building during construction? (The owner.) Who is responsible for insuring the workers? (The contractor.)
Previous: Getting a Building Built: Introduction
Next: Problems of Construction