---
---
it's vital that a building assist and protect firefighters during a blaze. A building's designers must furnish local fire authorities at the time of construction with information regarding the configuration and construction of a building, its expected contents and use, and its facilities for assisting firefighters. Fire departments keep this information on file so that it can be consulted at the time a fire might break out. Complexes of buildings must be planned so that fire trucks can drive to any building in the complex (see ill. 23 below). Outdoor hydrants must be located within easy hose reach of the various buildings. Buildings must be designed so that fire-truck ladders can reach lower-floor windows.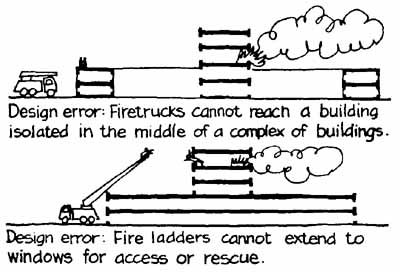 ill. 23: (top) Design error: Fire truck can't reach a building isolated in the middle of a complex of buildings. (bottom) Design error: Fire ladders can't extend to windows for access or rescue.
One exit stairway in a taller building must be placed in a smoke-proof enclosure (see ill. 24 below). This stair either is connected to the main spaces of the building only by open-air balconies or is automatically pressurized with fresh air by a fan in case of fire. Within each exit stairway in multistory buildings, a standpipe must be furnished to which fire hoses may be connected at any floor. To ensure a continuous supply of water through the standpipe, a Y-shaped Siamese connection must be connected to the pipe at street level. One or two pumper trucks may couple to this connection to maintain pressure and volume in the standpipe if the city water mains can't keep up with demand during a fire.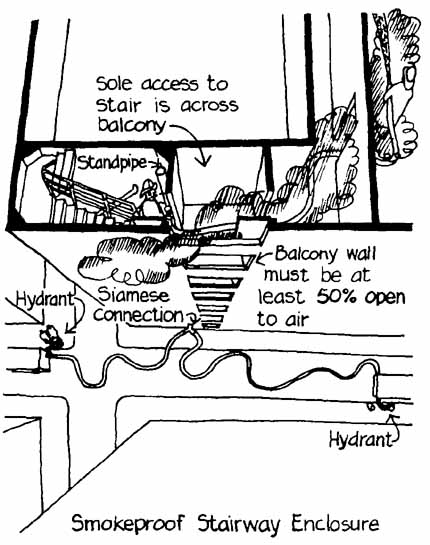 ill. 24: Smoke-proof stairway enclosure: Sole access to stair across balcony; Balcony wall must be at least 50% open to air; Hydrants on street; Siamese connection; Standpipe in staircase.
Because of their inherent unreliability, especially during a building fire, elevators and escalators generally may not be used as escape devices in buildings. But specially equipped elevators are required to assist firefighters in gaining quick access to the upper reaches of tall buildings. These must comply with elaborate precautions that ensure reliable smoke control, a secure supply of electricity, and complete isolation from the effects of the fire.
Suggested Reading:
James Patterson. Simplified Design for Building Fire Safety. New York, Wiley, 1993.
Previous: Protecting the Structure of the Building Next: Getting a Building Built