The bathroom plays a key role in any home. It sees a tremendous amount of daily activity, yet a great number of bathrooms laid out are poorly and undersized for that much use. Like a kitchen, a bathroom contains large, fixed objects that, once placed, cannot easily be moved.



As a result, a poor initial design often will remain that way for the life of the house.
As you work on your ideas and they begin to come together into possible designs, there are a few things you'll want to keep in mind. The enemy of almost all bathroom designs, whether for a new room or a remodeled one, is space.



Either the space is poorly planned and inefficiently utilized, or else there's simply not enough space with which to do anything.
Bathrooms are usually small in comparison to the other rooms in the house. Sometimes they are too small to handle much activity efficiently and comfortably. You might have to add additional room to your bathroom to accomplish your remodeling plans. However, having ample space to work with is not always the answer. Many very effective and work able bathroom arrangements are done in fairly limited areas.
One of the real keys to a good bathroom design is the way you utilize the space. Part of that success is in knowing what type of bathroom you want and need. If you're constructing a small guest bath room that will see a limited amount of use, a small amount of space is usually adequate.



If your dreams run toward a luxurious master bathroom, however, skimping on the amount of room you have or can make available can often defeat the design before you even get going.
Much of what you will be wrestling with in your initial designs is fixture location. The bathroom, de spite its limited area, is packed with more plumbing than any other room in the house. The plumbing lay out and the placement of the fixtures dictate the lay out of the remodeled bathroom to a great degree.
Changing fixture locations is time consuming and relatively expensive, especially if you're hiring out the plumbing chores. In homes with wood floors, this work might include cutting and reinforcing joists or even changing the layout of some of the floor framing. If your home has a concrete slab floor, the plumbing was placed in the floor first and the concrete poured around it. As a result, the floor might need to be broken into to gain the necessary access to make any location changes.
By no means should this labor keep you from constructing the type bathroom you really want. Remodeling to achieve a room that falls short of your expectations is little better than not remodeling at all. Just bear these restrictions in mind as you plan, and only consider moving fixture locations (especially the toilet) if the alteration is truly a key feature of the new design.
TYPES OF BATHROOMS
Before you get too far into your own plans, it helps to have a clear understanding of what the different types of bathrooms are. This understanding will help to refine your thinking and planning, and will get you started in the right direction.
There are really no "standard" sizes for bathrooms, and as mentioned earlier, most are undersized for the amount of use they receive. With the following bathroom types are some average sizes that you can use as a guide for your own designs.
Compartmentalized Bathrooms
Designers often employ compartmentalization to get more use out of one room. This type of de sign uses walls and doors to separate the bathroom's washing facilities from those facilities requiring more privacy, such as the shower and toilet. Because of this feature, more than one person at a time can use the bathroom. (See Fig. 1-1.)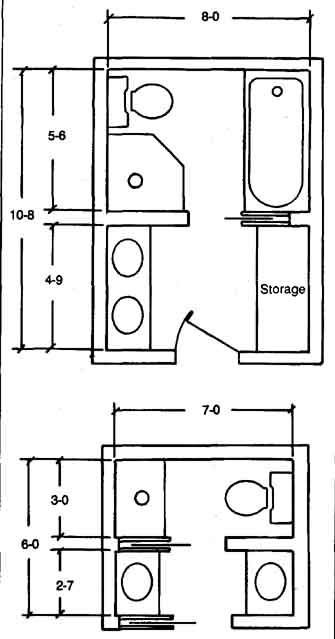 Fig. 1-1. Using a cross wall and pocket door to compartmentalize a family bathroom (top) and a small master bathroom (bottom).
You can use compartmentalization with many different bathroom types, although a space of approximately 6 x 7 feet is considered by most designers to be the very minimum area that can be effectively compartmentalized. Separate bathrooms to meet the needs of family members and guests are usually preferable, but are not always possible. Compartmentalizing the room to serve a dual purpose, or even just to better apportion the available space, might offer the perfect solution to your remodeling needs.
Individual Bathroom
Also called a single bathroom (Fig. 1-2), the individual bathroom is the most common type found in residential construction. It contains the three major bathroom fixtures—sink, toilet, and tub (or shower)—and is intended to be occupied and used by only one person at a time. In many homes that lack a separate guest or half bath, the individual bath also serves the needs of guests.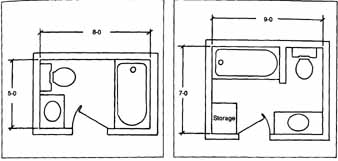 Fig. 1-2-3 (left) A typical single, or individual, bathroom.; (right) An average-sized family bathroom, with a combination tub/shower, a vanity cabinet, and a separate storage cabinet.
The individual bath is typically centrally located in the home, and in smaller houses it might be the only bathroom. Typically, the least amount of room you'll find is 5 x 6 feet, or 30 square feet. Some of the more common sizes are 5 x 7 and 5 x 8 feet. The standard bathtub is 5 feet long, so often you will find 5 feet used as one dimension of the bathroom.
The individual bath is adequate for a small home with two or perhaps three occupants. A larger family would find this one small bathroom inadequate. If you're remodeling or adding on to accommodate a growing family, you'll want to give serious thought to enlarging the room or adding another bathroom.
Family Bathroom
The family bathroom (Fig. 1-3), is larger than the individual bathroom, and often features compartmentalization to allow more than one family member to use it at a time. It is usually conveniently located adjacent to the bedrooms, and serves the needs of most or all of the family. It commonly does double duty by serving the needs of guests.
Typically, the family bathroom contains two sinks in the front part of the room, with a toilet and a bathtub or combination shower/bath in the rear. In homes with a small master or guest bathroom, this room might contain the only bathtub in the house.
In some designs, the family bathroom will be placed between two bedrooms, with a door opening into it from each of the two rooms. An additional door from a hallway or "living" portion of the home also might be included. The more room you have to work with, the greater the number of design options you'll have.
Master Bathroom
The master bathroom (Fig. 1-4), is intended to serve only the needs of the "master" and "mis tress" of the house. It is located off the master bed room to keep it separate and private from the rest of the family. The master bedroom, bathroom, and dressing areas often combine to create what is called the master suite, a very popular feature in larger homes. A home containing a master bathroom also will contain at least one other bathroom for use by the family and guests.

Fig. 1-4. This spacious master bathroom (top) offers a whirlpool bath in a raised platform; a separate stall shower; individual vanities and sinks with a makeup table in between; a toilet and bidet in separate stalls; and ample open storage. The more compact room (bottom) still offers a private area off the master bedroom.
Sizes for the master bathroom vary tremendously. Some rooms might only be 4 x 5 feet or smaller, containing only a small sink, toilet, and stall shower. At the other end of the spectrum, the master bath might be 150 square feet or more. The master bathroom is the least utilitarian of all the bathroom types. It is here that the greatest variety of size, style, and luxury will be found.
What you choose to encompass in the master bathroom is a matter of personal choice. Many master bathrooms feature "his and hers" facilities, including two sinks and perhaps two toilets in distinctly separated areas. It might include only a stall shower, offer a combination shower/bath or, in the larger rooms, have both a stall shower and a bathtub. De pending on your tastes and budget, other popular master bathroom options are a bidet, a whirlpool bath, a soaking bath, an oversized bathtub that will accommodate two people, or even a sauna or the addition of steam-generating equipment within the shower stall. Telephones, stereo equipment, and even televisions are not uncommon in today's luxurious master bathroom retreats.
Many larger master bathrooms are being de signed to include an exercise area (Fig. 1-5), gar den area (Fig. 1-6), or plush, comfortable space for reclining and reading. In keeping with the trend to ward separate his and hers facilities in the larger master suites, you also might wish to provide individual dressing areas with separate standard or walk-in closets.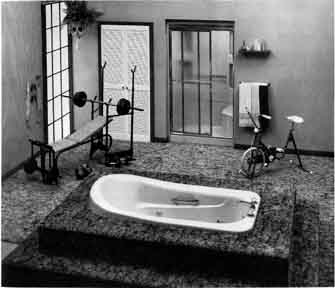 Fig. 1-5. This bath is part of a large master suite, and offers a whirlpool tub and stall shower, an exercise area, a large storage closet, and access to a private deck through the French door at the left.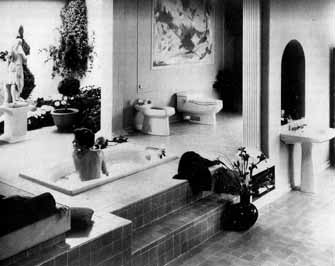 Fig. 1-6. Another lavish master suite, with an enclosed garden area (upper left), a day bed (lower left), and a tremendous amount of elegantly-appointed open space.
Half Bathroom
The half bathroom (Fig. 1-7), also called a powder room or lavatory, is so named because it provides only a sink and toilet, with no shower or bathtub. It is used to provide the convenience of additional facilities in various parts of the home, particularly on one floor of a two-story house when the family bathroom is on the other floor.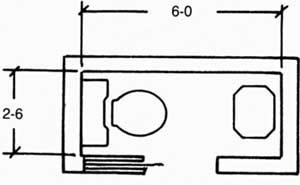 Fig. 1-7. This compact half-bathroom with toilet and pedestal sink is a good example of what can be done in a small area.
One of the nice things about the half bath is that it can be installed just about anywhere. Most designers use 3 x 4 feet as a standard size, although with careful planning, even smaller spaces have been used with success. Larger spaces, as with any bath room, will allow you more flexibility with the design, and also will let you incorporate additional storage areas. You can build a half bathroom into any area that can be reached with the necessary plumbing—in the garage or shop, in part of the laundry room, under a set of stairs, in a remodeled basement or at tic, or in all or part of an unused closet. If bathroom facilities are limited in your home and the addition of an extra bathtub or shower is not critical, finding a small, convenient area for a half bath might be just what you need.
Three-Quarter Bathroom and Full Bathroom
The three-quarter bathroom is a fairly recent term, and not all designers use it. When you hear a reference to a three-quarter bath, the term is being used to indicate a bathroom with a sink, toilet, and stall shower, but no bathtub. (See Fig. 1-8.)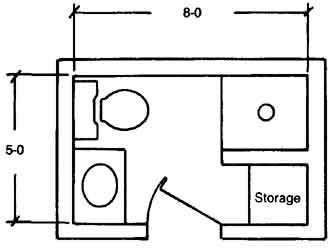 Fig. 1-8. A typical three-quarter bath, with a shower but no bathtub.
Along with half and three-quarter bathrooms, you will often hear the term full bathroom. This term refers to a bathroom with one or more sinks, a toilet, a stall shower, and a bathtub. Bathrooms that have a combination shower/bathtub also are referred to as full bathrooms.
Guest Bathroom
If you have a large home or if you entertain a lot, you might want to create a guest bathroom. By setting aside a bathroom specifically for guests, you keep the room free of the everyday wear and tear of the family, so that it is always fresh and inviting for guests, no matter when they drop in. On the other hand, the guest bathroom does not need to he kept only for company; it certainly can be one the family uses also.
The size of the guest bath and its features are matters of personal choice and preference. Typically, a half bath is used for guests, since bathing facilities are not usually necessary. If possible, it should be located near the entry to the home or adjacent to commonly used living areas to avoid the necessity of guests visiting the more private areas of the home.
If you have frequent overnight guests and have a guest bedroom set aside, a small guest bathroom with bathing or showering facilities is a nice touch. It allows your guests privacy, while eliminating additional strain on the family's bathrooms. In this case, the guest bathroom should be close to the guest bedroom, opening directly off it if possible.
SPECIAL-USE BATHROOMS
In several instances, a bathroom is installed to serve the specific needs of one or more members of the family. Specialty bathrooms of this type can by any size, and should be carefully planned and located with those specific needs in mind.
Bathrooms for the Elderly or Disabled
When designing a bathroom to meet the needs of an elderly or disabled member of the family, you must make special plans and carefully consider the layout and fixtures used. You might wish to consult with a designer who is experienced in designs of this type to ensure that the room comfortably and efficiently suits the person's specific needs.
For this type of bathroom you should include an entry door large enough to accommodate a wheel chair. If possible, provide a 2-foot, 10-inch (2-10) or 3-foot (3-0) door for easy maneuvering. Special, extra high toilets can be very helpful, and you should place grab bars wherever necessary, particularly next to the toilet and inside or alongside bathing facilities. (See Fig. 1-9.) You might wish to consider a 3-foot-square or larger stall shower with a built-in or fold-down seat, rather than a bathtub (Fig. 1-10), or install a special waterproof lift mechanism in a standard or oversized tub to facilitate easy entry and exit from the tub.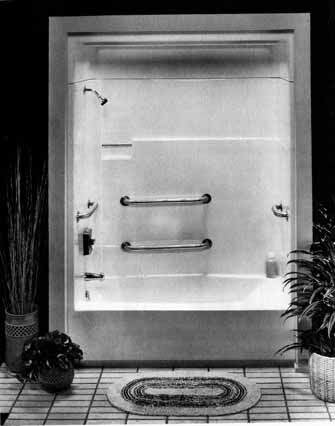 Fig. 1-9

Fig. 1-10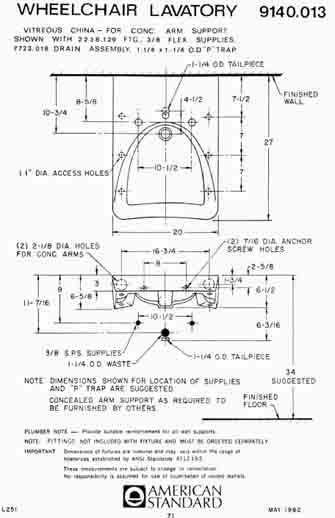 Fig. 1-11. An elongated wall-hung sink, specifically designed for use with a wheelchair: "WHEELCHAIR LAVATORY"
There are special wall-mounted sinks (Fig. 1-11), that project farther from the wall than ordinary sinks, allowing a wheelchair to be rolled under it with ease. Lever-action or push-button faucets can make the task of using the sink easier. Make sure the under-sink plumbing is located so that it does not interfere with the wheelchair's access. Temperature-sensing and -regulating devices are available for the sink and shower to prevent accidental scalding.
Stress safety and convenience in a bathroom of this type. Use durable, easily cleaned materials such as ceramic tile throughout the room, and use a non- slip material for floors. Avoid loose carpeting or throw rugs. Provide higher than normal levels of light, and door locks of the type that can be opened from the outside in an emergency.
Bathrooms for Children
Designing a bathroom specifically for children involves many of the same design techniques used in a bathroom for the elderly or disabled. Once again, stress safety, convenience, and low maintenance with non-slip materials, good levels of lighting, and doorknobs that can be opened from the outside.
You can mount the sink at a lower level if desired, but keep in mind that it will need to be raised as the child grows or if the home is to be sold. A better solution is to provide a large, nonskid step for the child to use, which can be freestanding or built into a vanity drawer or toe-kick.
Mud Room
A nice feature in many homes is the mud room, which can be included in just about any bathroom design. You should place the mud room adjacent to a garage or on an outside wall, to provide a convenient place for anyone coming in from outside with dirty clothes to change and clean up. The mud room might be just a small area within another bathroom, or it might be a full or half bath with an outside door.
Changing Room
If your home has a swimming pool, spa, or hot tub located outside, a changing room might be a real convenience, saving a lot of wear and tear on the other bathrooms, and eliminating wet feet traipsing through the house. Locate it as near the pool as possible, and include a door from the outside for easy access by the swimmers.
Size and facilities in a changing room vary, but they usually include a toilet, sink, and shower. You can also include a separate changing room with facilities for linen and other storage if desired.
DECIDING WHAT YOU NEED
Bathroom remodeling takes on three basic forms, and each has its inherent advantages and disadvantages. The course your own project takes depends on a variety of factors, including the age and condition of the existing bath, the wants and needs of various family members, and the overall budget you have allotted for completion of the work. Careful planning is essential to ensure the type of bathroom you want and need at a price that is comfortable for you.
Redecorating
The simplest and least expensive form of redoing the bathroom is redecorating. If the bathroom is of adequate size and the fixtures are in relatively good condition, redecorating might be all you need to breathe life into a drab, tired room.
Redecorating might involve little more than a new coat of paint, with a total expenditure of only $20 for materials and a weekend's worth of work. For a few more dollars and a little more effort, you might wish to experiment with other wall coverings, such as wallpaper or perhaps a combination of both paint and wallpaper.
Redecorating might also involve new floor covering, which is a fairly minor expense in a room as small as the bathroom. You might wish to strip and paint or stain any cabinets in the room, or perhaps dress them up with new hardware. Additional small storage cabinets can expand the room's usefulness and add a nice decorating touch at the same time.
If you are opting for a new color scheme and the fixtures won't match it, don't immediately think you need to go through the expense of buying new ones, especially if the existing ones are still in good working order. Many companies can completely re-glaze bathroom fixtures in a new color, with a re sult that is virtually indistinguishable from brand new. They can do the work in their shop, or they can visit your home to take care of large items such as the bathtub. Add new faucets, and you've created a beautiful new room for a fraction of the cost of a complete remodeling.
Redesigning
The next step, in terms of time, effort, cost, and results, is to redesign the bathroom, working within the existing space and reusing the existing plumbing locations (See Fig. 1-12.) You can achieve a completely new look in the room while avoiding the two biggest bathroom remodeling expenses: moving the plumbing and adding on space.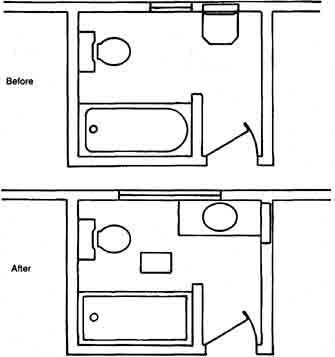 Fig. 1-12. Great results often can be achieved in a bathroom without moving the fixture locations. In this room, a new whirlpool tub was installed in place of the old tub; a vanity replaced the existing pedestal sink to gain much needed storage; the old medicine cabinet was removed from behind the sink and a new one was installed to the right of the vanity, allowing the window to be enlarged; and a new toilet and ceiling-mounted fan-heat-light unit completed the makeover.

Depending on the scope of the project and the size of the budget, redesigning might involve new fixtures, new cabinets, new flooring, ceramic tile walls or counters, new or enlarged windows, a revamped electrical and lighting system, or any combination of these. You might want to leave some of the old components of the room as they are and interwork them with new components, or you might want to strip the room and begin again as if it were brand new.

The advantages of redesigning are obvious: you can replace outdated or inoperable fixtures, you can add storage space, and you can achieve a new and more efficient room layout, all at moderate cost. The disadvantages are equally apparent: you must work within the existing space, and you have to keep the fixture locations in relatively the same place, al though some movement usually is possible.

Remodeling

A true, complete bathroom remodeling is more involved than either redecorating or redesigning. Full remodeling is the most expensive route to take, be cause it involves the greatest amount of labor and materials. However, it also, offers the greatest amount of design flexibility and allows you to remake the space in any way that you wish. If you cannot achieve a workable floor plan in any other manner, a full remodeling is the only option open to you.

Remodeling a bathroom often will involve moving the fixtures to new locations. This move requires a fairly complete knowledge of plumbing techniques, and might be out of the range of many do-it- yourselfers. Likewise, the complete remodeling project often involves creating additional space in the room, either by adding to the house or by acquiring space from adjacent rooms. Windows and doors of ten are moved to entirely new locations, fixtures are changed completely, skylights or greenhouses might be added, and the electrical system is reworked completely.

New Bathrooms

There is a fourth general category, to which many of the same rules and ideas you'll find in this guide apply. New bathrooms, whether they're for a new house or an addition to an existing home, follow the same guidelines for good design. The ad vantage to a new bathroom, of course, is that you have a considerably greater degree of design flexibility. While it is still in the planning stages, a new bathroom, in many instances, can be enlarged, altered, or rearranged to any degree necessary to achieve the desired look and floor plan.

If you are in the process of designing a new home or an addition to your present one that will include a bathroom, you still can learn a lot from a close inventory of your existing bathrooms. Size, traffic patterns, fixture arrangement, storage, decor, and other aspects of the existing rooms, good or bad, can offer tremendous guidance for your new design.

Next: Planning and Design

Prev.: Intro