---
---
This section addresses the issues involved in attic, basement, and garage conversions—deciding what makes the most sense for your home. Like the other large upgrades in this guide, these cost more than $4,000, although some can be completed in a day or two.
Converting an Attic
Many older homes have large attics that were originally built to be rooms. Although they were left unfinished, they have their own set of stairs, dormer or gable-end mounted windows, and solid floor framing designed to carry the weight of living space. These attics are prime candidates for conversion to living space. Such conversions are more cost-effective than converting a basement or garage. When plumbing, heating, electricity, insulation, wall board, and floor covering are all that you need to make the conversion, you can expect a 200 percent (or more) return on the projects.
The reasons are simple: The stairs, windows, and a structurally sound floor are the most expensive components in an at tic conversion. Having any or all of these elements in place, especially the stairs and floor, add up to tremendous savings in construction costs. When stairs are in place to the attic, it usually means that the floor is built as a floor and not just as a ceiling for the rooms below. It also means that it's not necessary to alter the living area below to accommodate a set of stairs.
Converting standard attic space without stairs, walls, windows, or a solid floor is probably less cost-effective than building a room addition at the main floor level. Building stairs, adding dormers for windows, al lowing proper headroom clearances, and converting a ceiling to a floor can all reduce the cost-efficiency of an attic conversion. However, when you need more living space and the house can't be expanded elsewhere, converting the attic may be the only solution.
With any attic conversion, the design is determined almost solely by stair placement. Stairs should be located in a convenient and likely place—near the entry hail, for example, rather than having to be accessed through the laundry or a bathroom.
The best attic conversion is one that doesn't look like a con version but looks like the rooms on the floors below. If an addition or a remodeling project is obvious, prospective buyers may wonder whether it was done correctly, if it will hold up as well as the original part of the house, and how much it will cost to make it match the rest of the house. It is important to match new finishes to old as closely as possible. Doors and windows, door and window trim, baseboards, wall finishes, and lighting schemes should all be similar. Angled walls or recessed or track lighting used in a converted attic but nowhere else in the house are a giveway to a conversion. If these features are used, similar changes should be made to other areas in the home so that all the rooms tie together.
Lighting, ventilation, traffic flow, and furnishability are other key considerations when remodeling. A good decorator, a designer, or an architect can be valuable in assisting you in these areas.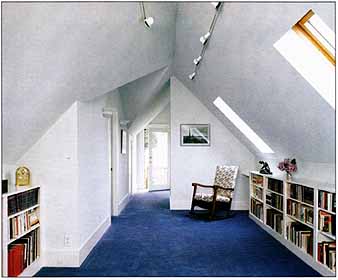 This remodeled attic is brightened with skylights, track lighting, and a glass door to the balcony. The space beneath the eaves is well-utilized for bookcases.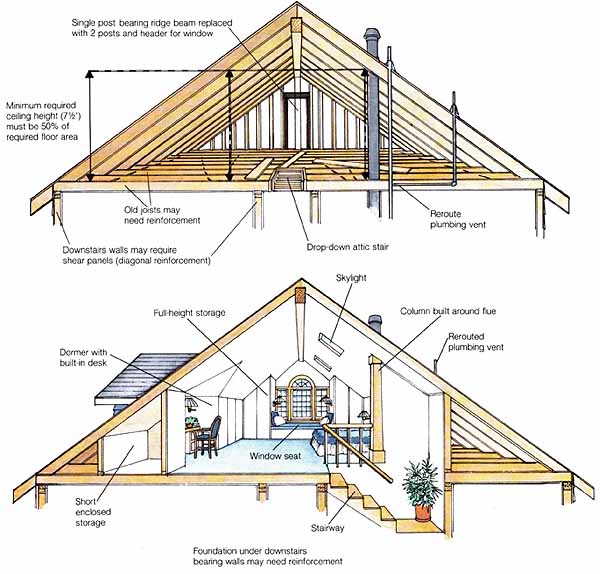 Converting an Attic: Minimum required ceiling height (7 1/2') must be 50% of required floor area; Foundation under downstairs bearing walls may need reinforcement.
Converting a Basement
Converting a basement can be another extremely cost-effective way of adding more living area. As is true with the attic, stair location is a key factor. If stairs exist, the project will prove to be far less expensive than if the house above had to be altered to accommodate a stairwell.
It is important to know that stairs must be built to specific standards in order to be safe and to comply with the building code. Typically, the width of the stairwell must be at least 30 inches from wall to wall or to the inside of a handrail. The rise (height) of each tread can not exceed 8 inches, and the run (tread depth) must be at least 10 inches. The rise and run of each stair element must not vary more than 3/16 inch.
A stairway must have a handrail on at least one side; if the stairway is 42 inches or wider, a handrail is required on each side. These rules apply to all stairs, including those that access attics.
Some situations may exist in your home that make a basement conversion expensive or a poor decision. The most important one is dampness, which is not unusual with basements. If you have to use a sump pump each winter to prevent flooding in the basement, conversion can prove to be extremely expensive. Even minor dampness on basement walls is exacerbated when new framing and wall board are added. Further, heating the basement can create condensation in new walls that will spur the growth of mildew, even if you use treated wood and water-resistant wallboard.
Another consideration should be natural light and ventilation. Basements that are situated partially above ground are the best candidates for con version because windows can easily be added. It is important to have light and ventilation in a room, which may be impossible in a basement situated completely below ground level.
One aspect of conversion that needn't be of extreme concern is piping, ducting, and other mechanical equipment. In most cases these systems can be altered to create needed headroom, or they can be safely enclosed behind new walls.
If the basement is dry, if stairs exist, if windows can be added, and if the finished headroom will be 8 feet or more, a basement conversion can provide a 200 percent (or more) return on investment.
Converting a Garage
There are only a few occasions when a garage conversion is wise. One would be when the layout of the yard and the lay out of the house don't lend themselves to a room addition that will flow properly.
To avoid lost parking space, it's important to plan to build a new garage or at least a car port in the process. Eliminating the garage altogether can substantially reduce the value of a house. Although a garage is a premium in some cities, many municipalities now require covered off-street parking in all types of new home construction (including apartments). The era of car-filled streets is slowly but surely disappearing in American neighborhoods.
Although garage conversions generally are not cost-effective, if that's your only option for adding living space, the following suggestions may help.
Garage conversions that don't look like garage conversions, especially from the street, are the most successful. If you're thinking about resale value, remember that first impressions are lasting ones.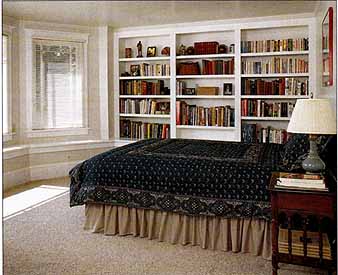 The owners gained a handsome bedroom in the basement by adding a bay window and using the foundation as a window seat and as the base for bookcases. Industrial-grade carpeting was chosen for its durability. The trim around the ceiling and window seat create continuity with the rest of this older home.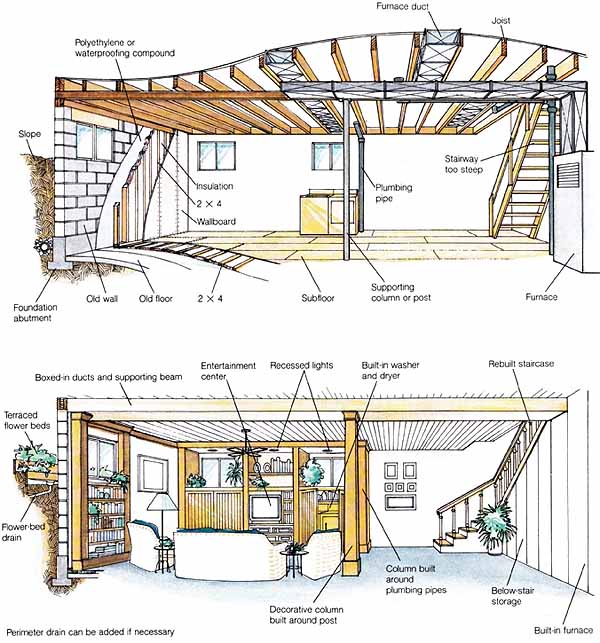 Converting a Basement: Perimeter drain can be added if necessary; Polyethylene or waterproofing compound; Foundation abutment
Avoid these dead giveaways:
The driveway ends at the house and no garage door exists; no garage door or carport exists at all; windows are used in a layout that exactly matches the old garage door opening.
When converting a garage, it's important to alter the exterior so that its style matches the rest of the front of the house. This can be done with the addition of a popped-out roof, a continuation of the front porch, columns, soffits, planter boxes, shutters, stone or masonry veneers, walkways, and creative landscaping. Trees and shrubs can be used to break up the lines of a long wall.
On the interior, if possible, the old floor of the garage should align with the floor in the house. Ceilings should also align. Size is another important consideration: A two-car garage is usually too large to be converted to one room. A 1,600-square-foot house will seem out of scale with a 440-square-foot room at one end. The average family room or living room is about 210 square feet, the aver age second bedroom is about 120 square feet, and the aver age dining room is about 150 square feet.
If the garage floor is at a lower level than the house, it's a good idea to design an open wall between the house and the converted room in addition to installing a short flight of steps, since the steps alone would be a giveaway to the conversion.
Since it's difficult to convert a garage so that it looks like original living space, it's best to consult an architect or a designer to achieve a result that's aesthetic as well as cost-effective.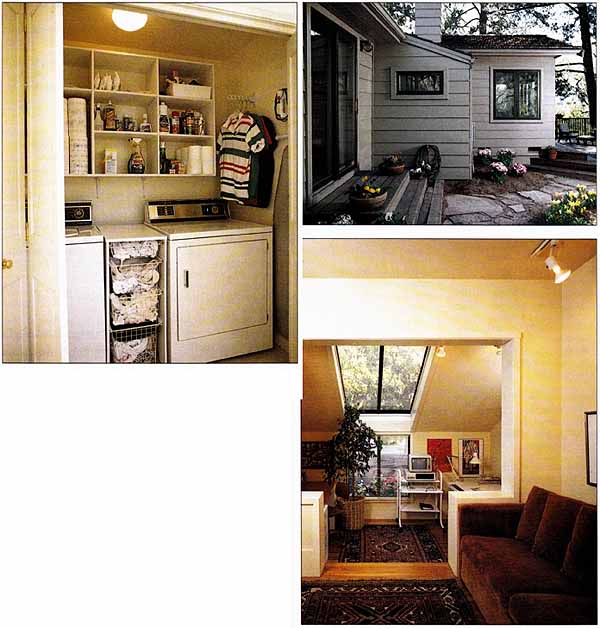 left: A closet in an upstairs hallway is a practical place to add a laundry area. Bifold doors conceal the washer and dryer when not in use. top right: Added storage is gained in this attractive enclosed shed, which avoids the cost of extending the roof and making structural changes to the house. bottom right: A handsome, well-lit home office has been added in the basement of this home with a small addition, which allows for an angled skylight.