Power nailers and staplers, first used in production operations, are now commonly used for carpentry projects to promote efficiency and provide dependable fastenings. The nail and staple have certain features that determine which is best used for specific applications. For example, a staple has more holding power in wood than a nail because it has two legs holding it. However, when conditions of lateral stress exist, or in an application where longer fasteners are needed, nails are the correct fastener to use. The types of nails available for use in power nailers varies from the small brad nail for fine finish work to the 5" long spike for extra heavy fastening. There are three principal shank types: smooth for general applications; ring for superior holding in softwood applications; screw for hardwood applications. The diamond point nail is the most commonly used for general softwood applications.
Shown in Fig. 1 (below) is a compressed air-powered nailer incorporating a magazine that holds a clip of nails which feed automatically for rapid controlled nailing. Other models have larger capacity magazines.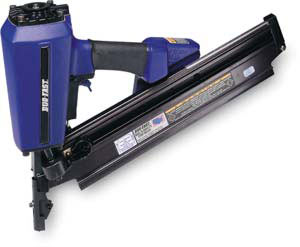 Fig. 1. Compressed Air Powered Nailer.
The power stapler is similar in appearance and operation to the power nailer shown in Fig. 1 (above). The fasteners it drives (staples) are available in a great variety of wire gauges, crown widths and leg lengths. Staplers are in common use for carpentry operations involving application of sheathing, decking, roofing, etc., as well as in many finishing operations.

Above: Table showing (in two parts): Schedule of Common Wire Nail Use in Wood Frame Construction. Click each table for full-sized image.
Home • •