---
---
LIFESTYLE CONSIDERATIONS
Just as each of us has a unique character, we all have an individual way of life at home. It pays to examine that. While our daily clothes should match our lifestyle, so also our storage needs to be closely tailored to the ways we like to live at home. First, think through your storage "personality."



If you like to exist in lightly organized chaos, then it makes sense to plan for casual, easy-access shelves and hooks requiring minimum effort. Tidiness freaks, however, will be better off with well-planned drawers and shelves, concealed behind doors. Be honest with yourself. There's no point choosing a grid of open shelves, fitted with lidded boxes, if you can't be bothered to keep them neat.
The number of people at home, the amount of time they spend there, and what they do also affects organization. A working couple out of the house all day will require streamlined systems that aid a quick getaway in the mornings, and minimal clearing up.



In a family home, by contrast, varied storage options must allow for easy toy access for children, space for bikes and sports gear, and quick-tidy options (such as baskets and hooks) for a painless clear-up at night. Those who work from home or pursue an active hobby may need specialized storage, in a home office or exterior studio. Observe the house at the end of a busy day. What are the problem areas? Where has stuff accumulated?
However well planned and capacious, storage systems will only work like clockwork if everyone in the household is motivated to use them.



So think through the storage personalities of other family members, too. Children can be encouraged to clear up if storage is suitably tailored to them, such as floor-level crates or low coat hooks. Teenagers will be inclined to keep their own spaces neat if provided with cool, industrial- style shelving and a hanging rack, rather than a conventional closet. And there's nothing wrong with a few house rules. Tell everyone to hang up coats on arrival home, put back DVD5 after use, and sort the recycling.
Any household will also benefit from a twice-yearly seasonal shift in possessions to keep things moving smoothly. Just as you don't want outdoor clothes cluttering a utility room in summer, out-of-season gear like deckchairs can be stowed in winter. Plan your home with seasonal storage in mind: a loft, basement, or high cupboards are good options.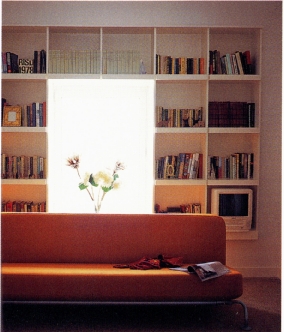 In a high-traffic family room, casual storage is the best option for an assortment of books, DVDs and magazines. A grid arrangement will lead to an illusion of neatness, even if the stacks aren't stacked in perfect order. Providing plenty of shelves, as in this floor-to-ceiling design, keeps the clutter off the floor.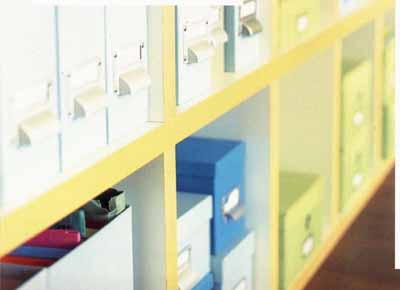 Even if space doesn't permit a separate office, those working from home will need a designated shelf unit or a cupboard to keep private papers together. Picking office-style, clearly-labeled storage boxes and files -- see image below -- sends a clear message to everyone message to everyone that this is a working zone.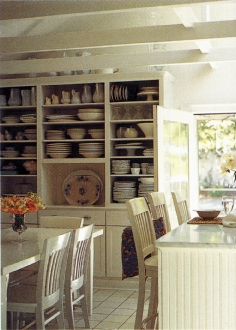 A family kitchen should be cleverly planned so that everyone can help with unloading the dishwasher and keeping things neat. Open shelves, with casual stacks of plates and cups, leave no excuses.