---
---

Addresses (see Business Cards, Phone Numbers)
Announcements (see also Bulletin Boards, Calendars, Desks, Mail, Papers)
Announcements and invitations all too often get lost in the general incoming mail clutter. Before you know it, you've missed that art opening or wedding shower you wanted to attend. Weeks after the event, you come across the announcement or invitation and stare stupidly at it, annoyance mounting steadily.



To avoid repeating this performance, open your mail when it comes and make a decision about the event on the spot. Check your calendar, and if you have the time available and want to attend the event, mark it on the calendar. Put the announcement (or invitation) either in the back of your calendar if you have a desk calendar (highly recommended), or in a basket near the calendar if you have a wall calendar.



If you use only a briefcase, purse, or pocket-type calendar, keep the invitations in a colored folder in an easily accessible place, such as on top of your desk in a rack, or in the very front of your desk file drawer.
When the date rolls around, simply pull out the announcements so that you have all of the pertinent details and directions at hand. Now take a shower, comb your hair, and go.
Antiques (see also Collections, Heirlooms)
I used to be in the antique business, so you won't get an argument from me about the value of some of your great grandmother's heirlooms. People get into trouble, however, when they start packing and storing antiques, thinking that they are going to either sell them someday or pass them along as heirlooms to their relatives. Generally these items get stored in the attic, basement, or garage, and eventually bugs, mildew, damp conditions, and mice wreak havoc, turning beautiful things into useless junk. The solution is to use and display your antiques. If you don't want or have room to do this, then sell them now. And if your antiques are packed just so you can pass them on to your heirs, why not pass them along right now so they can be put to use and be appreciated on a daily basis?
Appliances (see also Gadgets, Kitchen Utensils, Pots and Pans)
In our quest for labor- and time-saving devices, we often grab for the newest fandangled gadget on the market, adding to our inventory of appliances. Can openers, crock pots, blenders, coffeemakers, toasters, juicers, warmers, grinders, deep flyers, food processors, carving knives, popcorn poppers, salad shooters, egg poachers, pasta makers, french fry cutters, and of course, the mighty microwave, are just a few of the possible appliances found in the average home. All of these appliances require electricity, and the average kitchen has a decided shortage of outlets and counter space to accommodate these gadgets. If you must have a plethora of electrical appliances (c'mon now, how often do you really use that egg poacher?), you might want to invest in a kitchen center that provides additional storage as well as work space. (Some models also feature extra electrical outlets.)
This portable cabinet is generally made of wood or metal, and has storage space in the form of shelves and extra countertop work space. Many of these cabinets roll on casters, and some feature butcher block tops to provide an area for cutting and preparing food. Appliances can be stored in the cabinet, pulled out and plugged into the extra outlet provided, and put to use on the extra countertop space. Some appliances, such as coffeemakers, toasters, and can openers, can now be mounted under wall cabinets, which means that your countertops remain clear for other food preparation activities.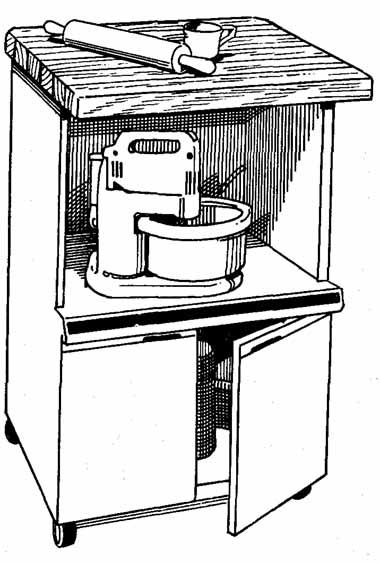 Closet Maid Serving Cart by Clairson International
But the best organizational idea of all for appliances is to get rid of some of them. If it's shoved into the back of the cabinet, if it's too complicated to use, or if you never use it because, on the rare occasions that you need it, it's just too much trouble to dig it out and put it away again, get rid of it. Now is the time to deal with the broken appliances as well. If you're like most people, you hang onto them, thinking that as soon as you get around to it, you'll get it repaired. In theory, this makes perfect sense. In reality, the broken appliance gets stuffed into the far reaches of some cabinet, never to be seen again. Even after it gets replaced, the broken appliance, for some incomprehensible reason, stays put. You need that cabinet space, so either throw the broken item out or give it to a charity that repairs the items they take in. If your appliances have turned to clutter rather than contributing daily to your food preparation, now is the time to go back to simpler times in your kitchen by dumping the appliances that have become albatrosses.
Art and Art Supplies (see also Craft Supplies, Paint and Paint brushes)
If you or a member of your family is a budding artist, the question of what to do with art supplies can be a vexing one. Art supply stores sell elaborate boxes, cabinets, and taborets to hold paints, brushes, and artwork, but they can be expensive. A little imagination can go a long way here. Adapt a ceramic vase, coffee can, or large oatmeal box to hold brushes, or use an inexpensive tackle or tool box to control some of your colorful artistic clutter. These supply containers can be stored on a shelf built near your work area or in a closet (where the items are stored). A narrow shelf will do the trick and take up a minimum amount of space.
Rolling basket systems can become portable art centers for holding jars of paint, brushes, and art paper supplies. If you have art that can be rolled up, it can be stored in large, clean, circular trash cans, or in architect's bins (these bins are expensive, but look terrific). To store flat canvases, you might want to build a simple cabinet, or adapt one you already have by adding plywood partitions to make slots to slide the canvases into for storage. Or, you can turn a small bookcase on end to change it from a horizontal storage unit for books to a vertical storage unit for art. Finally, you don't have to keep every jar of dried up old paint just because you are a creative genius, nor do you need to keep every original work of art you've ever created. If it's so great, sell it, hang it on your own walls, or (be careful here) give it to a friend or relative.
ZIL-LION The number of excuses you'll come up with to not get rid of a specific item of clutter.