Make all the fancy decisions you want about this sewing-machine feature or that, but it gets to the point where there is nothing left to do but reach into your pocket and take out the money to pay for the decisions you've made. The chart on the facing page gives you an idea of the kind of machine you'll get for the money.
There is more than one way to pay for a sewing machine, and you should consider the advantages and disadvantages of all of them before you make your purchase. For example, if you can save some money by paying cash, perhaps you can afford that more expensive machine after all.


Ten ways to save for that machine
Well, if you're like me, you just hate to spend good money on things you know you can get for what seems like nothing. So here are 10 ways I use to get the things I want without dipping into the pockets of my retirement fund.
1. Save your small change in an opaque container (clear glass is too tempting) that you mark Sewing Machine Fund, Ask your husband to empty his pockets into your fund.
2. Recycle big time. Collect soft drink bottles and cans and put the money toward your machine. Get the kids to help you, but be fair and give them a cut of the action.


3. Give sewing lessons to neighborhood children or teach an evening class for community education. If you are an accomplished sewer, you might teach for a sewing-machine dealer and get two advantages: some cash and a deep discount on that machine you want.
4. Give something up. This is an old "Lent" trick I was taught when I was in grade school: Give up that piece of candy and give the money to the poor. Well, give up that cappuccino and put that two bucks into the sewing machine fund. When you get your machine, sew something useful and pretty and donate it to charity.
5. Sell something you don't need. If I really want something badly and don't have the money, I make a sweep of the house and collect all the things I don't need or want. Then I have a garage sale or bring better clothes to a consignment shop.
6. Make or grow something to sell. Are you good at propagating houseplants? Sell them at your next neighborhood sale. Do you make good jams and jellies or homemade soaps? Sell them at the farmer's market.
7. Take a temporary sales job at Christmastime.
8. Comb the classified ads to find what you want and then barter.
I'll give you this great canoe for your machine. You have nothing to lose, and the person just might say yes.
9. Write about sewing. Did you know that sewing magazines pay you to tell about your unusual sewing projects? They will even pay you for sewing tips they can pass on to their readers. Don't worry about your writing skills; the magazine editor will edit the story for you.
10. Sell your blood. Check with your doctor; you may have a gold mine running through those veins!
Price Points for Household Sewing Machines:
| | |
| --- | --- |
| What you pay | What you get |
| $4,000+ | A machine with all the capabilities of a $2,500 machine plus the ability to attach it to your home computer. The software that allows the two machines to understand each other is expensive. |
| $2,500+ | A top-of-the-line sewing and embroidery machine. Can do sideways-motion sewing. Has every stitch you can imagine plus the ability to buy more on cards. |
| $1,500-$2,300 | Atop-of-the-line sewing machine only. Has maximum features and a generous menu of built-in stitches. Or an embroidery-only machine. Or a lower-quality combination embroidery and sewing machine but with no sideways-motion stitches. |
| $1,000 | Popular price point. A good machine with all the basics. These are often anniversary or special-edition models. |
| $700 | A machine with some interesting features but is made from cheaper materials and is designed to last half as long as the higher-priced models. |
| $250-$500 | The "thrift" end of the line that's often made in another country and given a different name so as not to contaminate the reputation of the higher-priced models. Never buy anything called a "jeans" machine. |
| $150 or less | Variety-store junk. |
A Short Story about Buying
My sewing room is in the basement of my house. It's cool and damp in summer (requiring a dehumidifier) and cold and dry in winter (requiring a humidifier and heater). Except for occasional clear, dry, and warm days (two days a year in my neck of the woods!), the windows stay shut.
An ad in the Sunday paper convinced me that an air purifier might take some of the dust and mold out of the air to make the sewing room more pleasant. This contraption used special new technology, and —music to my ears—it was on sale. I was ready to buy it.
I don't part with $200 easily, so there was one small question I had to ask before I went to the store: Did these things actually work? So I consulted a 1993 Consumer Reports digest and found a helpful two-page article on air purifiers, what they claim to do, and how well they perform the task. I got my answer and saved $200.
Learning about sewing machines may not be as fun as spending money, but you really do need to learn a bit before you choose one. There are many different brands and kinds of sewing machines, as well as different price points, so be sure to do some research before buying.
Kinds of sewing dealerships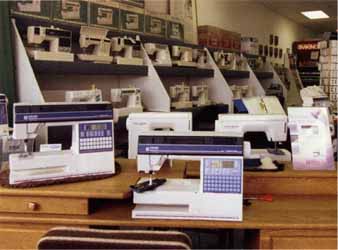 The Gratz family has been operating a single-brand dealership and selling Vikings in the Twin Cities area for years. Recently, they added the New Home line. The machines on the top shelves on the left are reconditioned trade-ins.
Once you've saved your pennies, it's time to go shopping. Not all sewing machine dealerships are equal. Some carry only one brand, some two, and some sell as many as five or six brands, Obviously, if you have already determined the brand you want to buy, going to a store that sells only that kind of machine isn't going to be a problem. If you are comparing brands, however, a multi-brand dealer seems like the most convenient option. After all, you get one-stop shopping.
But if you calculate that there may be five or more models for each of the brands (not including sergers), you could find yourself in a shop facing a bewildering number of machines, features, price points, and options. Sometimes less is more.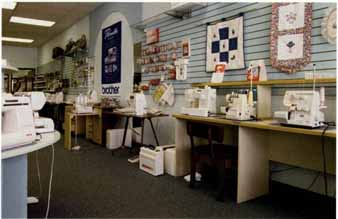 Creative Sewing Centers have seven stores in the Twin Cities market and carry six brands of machines. The selection can be overwhelming if you don't have something specific in mind; it's not a good idea to try too many machines during any one visit.
You would also think that a multi-brand dealer is a neutral party that's going to give you "just the facts, ma'am" about all the machines. This isn't likely to happen because multi-brand dealers know that showing too many machines can confuse a customer and lose a sale, and dealers make more money selling some brands than others.
Manufacturers are pretty smart in the way they set up dealership networks. They reward high-volume shops and shops that agree to carry their brands to the exclusion of others. Authorized dealers have priority over unauthorized dealers, and high-volume shops are given deeper wholesale discounts and first shipments of the new models. At annual dealer conventions held by each company, the goal is to instill brand loyalty and selling enthusiasm in the troops on the sales front. High-volume sellers are rewarded with plaques and trophies just like at the Academy Awards.
Many brand names may be mentioned in an ad, but that doesn't mean the dealer sells them; it means he can repair them. Call the dealer to find out what new machines he is authorized to sell and what used machines he has on the shelf.
How to choose a dealer
Here's how to choose a dealer systematically:
1. Decide on what brand(s) you will consider after looking at ads, studying brochures, and talking to your sewing friends.
2. Ask your friends where they bought their machines. Were they happy with the service?
3. Call or e-mail the manufacturer to get the location and telephone number of the dealer nearest you. Also ask for the next nearest dealership. Try to get the names of three places.
4. Look in the Yellow Pages to identify the shops in your area that sell the brand you want.
Write down the names and numbers.
5. Call each of these shops to ask for information without obligation. Here's a checklist:
• Do you carry X brand?
• Do you carry the full range of models of X brand?
• Are you an authorized dealer of X brand?
• What other brands, if any, do you carry?
• How long have you been in business?
• May I have the names and telephone numbers of some customers?
• How do I get to your shop?
• When is a good time of day to visit so that I will get your full attention?
6. If you have any doubts about a dealership, call the Better Business Bureau in your area and ask if there have been any complaints against the dealer.
Visiting the shop
The first time you visit a sewing-machine shop, I suggest you leave your cash, checkbook, and credit card at home. That simple act dramatically changes the nature of your visit by taking the pressure of making a quick and regretful decision off your shoulders. Now you can relax and concentrate on selecting the machine that's right for you.
Spend enough time in the shop to make note of the following:
• Is the shop neat, clean, and well organized? Your machine will be serviced here. If the shop is a mess, what can you expect?
• How were you greeted? Did a staff person greet you when you came into the shop? Was her tone of voice pleasant and helpful without being pushy?
• How does the dealer talk to others in the shop or on the phone? Does the dealer pay attention to you once you tell her that you left your checkbook home? When she answers the phone, does she give the person on the other end the bum's rush? That could be you on the phone with a question. Think about it.
• Are you comfortable? Do you like the person you are dealing with or does she give you the creeps? Remember that you will have to bring your machine back to this place and this person if anything goes wrong.
• If there is another customer in the shop, listen to what the dealer tells her. This is valuable information for when it's your turn. I once entered a shop bypassing a leaving customer. The last words the dealer said to her were "Give me a call when you are ready to write that check and I'll make sure you get the price you wanted." I knew immediately that this was a smart dealer willing to deal. (And I knew that I had just walked past a pretty sharp customer!)
Tricks of the trade
Most sewing-machine dealers are very honorable people. But they are honorable, human people, and they sometimes get carried away in their attempt to pay the rent, make a quota, or win the company award for best sales of the month. An informed shopper is a smart shopper. Here are some "tricks" to watch out for.
The last model What you will hear from a dealer: "This is the very last one of these beautiful machines that I have in stock. The new ones won't be in for months because there is such a back order on them. If you take this one off the floor, I'll give it to you at the demo-model price: It's just like new. Why, I just took it out of the box yesterday. It might not be here tomorrow."
This technique forces you to make a decision on the spot because you may lose a bargain if you don't.
I was hanging out in a dealership once when I heard the "last one" pitch. The pressure was on for the customer to make a decision right then, and she did. She bought the machine. After she walked out the door, the dealer went into the stockroom and brought out a brand new duplicate. She had plenty of the machines in the back room.
Bait and switch How often have you seen ads in the paper advertising something wonderful for practically nothing? You walk into the store and the model that was advertised has been sold out. But, conveniently, there just happens to be a few left of a more expensive model, and they happen to be on sale. Lucky you.
What you will hear: "Oh, we had so many of them yesterday, they just flew out of the door like hotcakes. But since you came all this way, let me show you a machine that I think is a better buy. You know, because I work here I can get a great buy on any of the models on the floor. This is the one that I chose for myself."
Walk out.
Extended warranty When I bought a shop vacuum not too long ago, the salesman asked me if I wanted to buy an extended warranty for it. This is what I heard: "For just $49.95 more, you will have extra protection just in case something breaks. You just never know. And if something does break, you will be covered. Frankly, I think it's worth the peace of mind. And you will get unlimited dust bags for three years. Just bring the old one in any time and I'll personally exchange it for a new one. Be sure to ask for me." My answer to this $50 rip-off was this: "Well, why should something new break? And if it breaks and you are the good dealer you say you are, why won't you stand behind your products?"
Most sewing machines are already covered for two years of parts and labor. Put that $50 in your bank account. By the time your machine needs repair, you will have money in the bank to cover the expense.
Overstock of school models The dealer says that the manufacturer made too many school machines and our warehouse is full. Out they go at just $299.99. What you will see is an ad with a photo of a school model. There is no such thing as a school model. There are only models that manufacturers sell to schools. The implication is that these machines are built in some special way (with titanium parts, perhaps?) to withstand the abuse of roughneck teenagers. But it's just another way to get you into the store. Don't fall for it.
On sale One sewing-machine dealership in my city has had the same sale sign in the window for three years. What kind of a sale is that? Answer: It isn't a sale at all. What you will hear: "You are so lucky because we just happen to be running a special on these machines right now. The regular price is X but for this week it's only...." When you go into the store, the dealer will show you the suggested retail price and the price you can buy it for. The price you can buy it for is the real price. The other price is make-believe. Use the Yellow Pages to call other dealers to find out how much the machine you want is selling for. Sewing machines do go on sale from time to time, especially when new models are about to be introduced and when the dealer is willing to take less of a profit in order to pay the rent.
Special deal with trade-in Even well-established, national-chain department stores run sales using this popular gimmick: "Bring us any old iron and get this new one at X price." That's when everybody runs to Goodwill and buys irons for a couple of dollars so that they have something to trade in. Then, all those traded-in irons are just thrown in the dumpster or given to charity, just where they came from. I guess merchants know that you can't get something for nothing, so they ask for something, even if it's garbage. In the case of sewing-machine dealers, they might actually receive a machine or two that they can fix up for resale. But most of their machines go in the dumpster, too.
The Little Blue Book
Do you know that, like car dealers, sewing-machine dealers really have a little blue book of trade-in prices? Published by Bobette Industries, Inc. of Atlanta, it's meant to legitimize the amount of money the dealer will give you for the machine you are trading in. If your trade-in is a junker, the dealer may give you $10 or $20 for it, then throw it in the dumpster or cannibalize it for repair parts; it's of no real use to him. If it's a machine that he can resell, he will offer you about one-quarter to one-half of what he can sell it for. After all, the dealer has to spend time cleaning and repairing your old machine and he has bills to pay. These trade-ins are the used machines you will see on any dealer's shelf when you visit the shop.
How to bargain
There is a trend to remove bargaining from the marketplace. Car dealerships—even used-car places—tout a friendly, no negotiation atmosphere where the buyer can be confident she is getting the best deal possible. The price on the sticker is the price you pay. Phooey. First of all, I don't believe it. Second, bargaining is fun and not that difficult to do if you practice a few basic behaviors and principles, most of which you already know (what parent has never bargained with a child—if you eat your spinach, you get dessert). Here are some bargaining tips:
• Pleasant bargaining—what I call bantering bargaining—is better than hard-nosed dickering. They say honey attracts more flies than vinegar; you don't have look mean, think mean, or act mean to bargain.
• Put time on your side. You lose bargaining advantage if you are in a hurry—that's why a quick-stop shop can charge you a fortune for a Chap stick. You need it and you need it now, and you will pay what they ask. If you have time to make two trips to the shop, you will show that you are serious and that you will not be rushed into a deal. (On the other hand, too many visits will just annoy the dealer and may destroy your chances of getting a good deal.)
• Never show too much enthusiasm for the item you want—it makes the price go up. If you want that sewing machine so badly, why should the dealer negotiate? Be enthusiastic in your heart, not on your face.
• Be pretty sure you know what you want, but be flexible. You've done your homework, but be open to something new, something you hadn't heard about, or some new model that wasn't in the brochure. It costs you nothing to think about something. Be focused on what you want to buy, but be ready to deviate from your script if it's to your advantage to do so.
• You can negotiate a better price in a competitive market, so get prices from other dealers in the area. Sometimes there is only one dealer in your area that carries the machine you want—a disadvantage to you. Are you willing to travel to save some bucks?
• It is easier to get a better deal if you create a package. Buying a sewing machine, serger, and accessories will get you the best deal. Sometimes the "deal" isn't in the form of a discount but in a "free" accessory. The question is do you need the accessory? If you don't, it's no deal at all.
• One of the 10 commandments of negotiating is that the seller always moves down and the buyer always moves up from the opening bids. But how do you know where to start the bidding? If you don't mention a specific model, one of the first things a merchant will casually ask you is "how much do you want to spend?" Or the merchant will say, "The price of this machine is $1,200. How much do you want to give me for this machine? You tell me the price." You think, "I'm the buyer and I get to set the price? Cool." Don't fall for it. By answering this question, you tell the merchant what you know about the market (did you call around to find out what the competition is offering?), what you are willing to spend, and where she should start her bid. There is one thing you can count on: she will always start above your amount and work her way toward the figure you gave, If, on the other hand, the merchant gives you her "best" price first ("What's your rock-bottom price on this machine that's marked $1,500?"), then you know where to start: You will always start below the amount she gave you and work your way up. The key to good bargaining is to find out where the other person's starting point is before you reveal your own. Smile, be friendly, but never make the first offer.
• Don't make a ridiculous offer. If something is worth, say, $2,000 on the market, offering $300 for it's ridiculous. This tells the dealer that you don't know what you are doing and gives her the advantage.
• Offer something to the merchant besides your money. Buyers mistakenly think that dealers are only interested in money. The best merchants are interested in money, but they are more interested in running a good business. That means they want good, satisfied, pleasant customers like you. They enjoy customers with a good sense of humor and playfulness (it can get pretty boring fixing old sewing machines all day). You can offer the dealer your goodwill by making it clear that you intend to spread the word about the good service and good price you received from her. Offer to be a reference for the dealer, remembering that you, yourself, asked for references when you called the shop.
• Once you begin to negotiate, you are in a serious business relationship. It is up to you to do your homework, negotiate wisely, and accept the outcome. To do otherwise is uncivilized. For example, if you say to a dealer, "I'll give you $100 for that machine," and the dealer agrees, it's poor form (to say the least) to back out and say, "Oh, I changed my mind. I'll give you $80." A dealer to whom you do this will never give you good service or a good price because you will never be a satisfied customer no matter what she does.
How to pay for your new machine
Once you and the dealer have agreed on a price, there are a number of ways you can pay for your new machine. Here are some pros and cons of the types of payment methods.
Paying with cash When I go to garage sales, I always take plenty of cash along, never mind that writing a check is easier. The reason I do this is simple: Sellers will take less if you're paying with cash rather than a check. Let's say you find a plate that you want to buy that's marked $7. If you hold out a five-dollar bill to the seller while you say, "Will you take five dollars for it?" I bet you will get that plate for five bucks! There is something about the sight of hard cash that excites a seller and causes him to take it while he's got it, even if it's a bit less than he wanted. Checks, after all, can bounce. Many sewing-machine dealers will discount for cash sales, especially on used machines.
Paying by check Aside from convenience and the safety of not having to carry large amounts of cash, there are no other bargaining advantages that I know of to paying for a sewing machine by check. Out-of-town dealers, who may have good prices, may not accept your check, or they may require the check to clear, which could take up to two weeks, before sending you the machine.
Paying by credit card If there is no bargaining or convenience advantage in paying for something with cash, my next favorite way to pay is with a credit card. It takes 30 days for me to get the bill, and that's 30 days I can keep my money in the bank collecting interest.
Since there is no way I am going to pay a credit-card company 18% interest on my hard-earned money, I have devised a way that keeps me from spending money I don't have. I "pencil deposit" a certain amount of "money" into my credit-card account book each month (I use an extra checking-account register booklet that comes with my checks). Then when I buy on credit, I subtract the amount from my "balance." When there isn't enough "money" in my "account" to cover my purchases, I don't use the credit card. It really works; this is a great way to budget your money. Too complicated? Just cut up that credit card and destroy temptation right now. Go ahead, get the scissors.
Besides using somebody else's money for a month (banks call it a loan or a float), I used to think that credit-card purchases gave me protection against unscrupulous merchants as well. But I've discovered that isn't necessarily so.
A while ago, I bought a reconditioned used machine for $400 and paid for it by credit card. After a few weeks (and before I received the credit-card bill for that purchase), the machine started to act up and I discovered that the motor brushes where completely worn away. The merchant wouldn't take the machine back, so I called the credit-card company and asked them if they could do anything about it. The answer was a disappointing "Sorry, we can't help you with that; the purchase has already gone through the system. You'll just have to talk to the dealer."
Before you pay for that sewing machine with plastic, you may want to call your credit-card company and find out what kind of consumer protection you can expect.
Using the manufacturer credit card Many sewing-machine companies are tempting buyers with no-payment- 'til -whenever plans that are very appealing. This is how it works: You apply for and receive the sewing-machine company's credit card. Then you charge your purchase to that card with no payments due until a certain date—usually "next year," even though that may only be three months away.
Sounds good doesn't it? Yes, it can be a great opportunity. You get to take a new sewing machine home and play with it for several months, and it didn't cost you a cent...until the clock strikes 12!
Then again, it can cost you a bundle.
The company is actually making you a short-term, no-interest loan if you come up with the money on the due date, when the clock strikes 12, If you don't pay the whole amount, you will start paying a huge interest on your loan. At 18% or more interest, your thousand-dollar machine is going to cost you a lot more than you ever imagined.
Take my advice: Set the full purchase price of the machine in a certificate of deposit (CD), collecting interest at 4% or 5%, that will mature when your first payment is due. Then accept the company's kind offer. When the payment is due, cash in your CD, and pay the entire bill, Use the interest money you've earned to buy an accessory for your machine, some thread, or some fabric.
Money for your old machine Sewing-machine dealers are not going to "give" you money for your old machine unless you purchase a new one (or you are silly enough to ask for a few dollars for a machine they know they can sell for lots, lots more). They usually have more old machines than they know what to do with. The money the merchant is going to give you is actually a reduction on the purchase of a new machine. So, I'd consider a trade-in as a form of payment: I'll give you this old machine, and you give me $250 toward my new machine. Sounds like good money to me.
Even swap Rarely, but from time to time, a dealer may be willing to swap one of his used machines for the machine you have to offer. Obviously, he isn't going to swap a good machine for a piece of junk, but he may be willing to swap something with features you like for something he likes even better. (For example, he may have a special customer that's looking for your type of machine.) Even though it's a long shot, take my mother's advice: "It doesn't hurt to ask."
Installment payments If you see a machine that you like at a price that's attractive, you can arrange with most dealers to pay for it in installments. That means that you reserve the machine while the dealer keeps it until you pay for it in full, usually in monthly or quarterly installments. The advantage to the dealer is that she puts your money in her bank account and collects interest. The advantage to you is that you lock in the price. If the prices go up, which is likely, you win. If the prices go down as they might in a model closeout, for example, you lose. Personally, I don't like to buy stuff if I don't have the money.