Introduction
The overlock machine, or serger, as it is often called, has become almost commonplace in everyone's sewing room today. Used in factories for almost 100 years, this handy machine was introduced to the sewing public in the mid-1960's. It immediately appealed to those that sew because it produced a stitch "just like ready-to-wear". The serger trims the fabric while overcasting the edges at the same time.
Most sewers thought, at first, that the serger was only for sewing knits but we all soon came to realize how versatile this machine really is. Numerous models with a variety of stitch formations are now available from most sewing machine manufacturers. Sophisticated top-of-the-line machines have such features as computerized stitch selection and tension control. Less expensive models may offer color-coded threading, differential feed or snap-on presser feet. The serger can be used to sew seams just as easily as it can finish fabric edges or apply decorative trims.
---
Are you looking for sewing or crafts-related items such as sewing machines, sergers, yarn, and knitting supplies? Try our online catalog pages here:
Or see what products on our site the popular search engines have chosen to list...
---
Recommended Reading
Recommended Products
If you need specific sewing supplies, browse through the products on pages like these:
---
Stitch Types
A variety of stitch types are available depending on the number and position of the needles on your machine. Rather than working with a bobbin as on a sewing machine, the serger uses "loopers" to form the stitch. The needle threads hold the looper threads in place as the stitch is being formed. As this stitch has somewhat a zigzag appearance, it will have built-in stretch in the seam.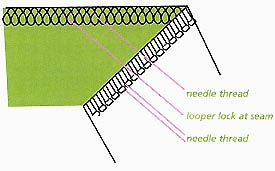 The choice of the stitch is based on the type of fabric selected, the end-use of the garment, and the location of the seam. Many stitch formations may work in any number of seam locations however, one stitch is usually the most appropriate for the end use of the garment. Listed below are a number of the common stitches available on many overlock machines.

2-THREAD Overlock Stitch: Using one needle and one looper, this stitch is best used for an edge finish particularly on fine fabrics. It is not strong enough for a seam.

2-THREAD Rolled Hem: The fabric edge is rolled by the stitch formed by the needle and one looper. When stitched with lightweight threads, this edge finish is a very elegant finish on fine silk, wool, and cotton.

3-THREAD Overlock Stitch: This stitch is formed using one needle and two loopers. Used on medium- to heavy weight fabrics, this balanced stitch is suitable as the seam on knitwear or an edge finish on raveling fabrics.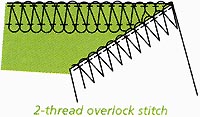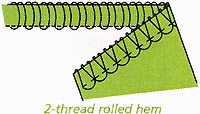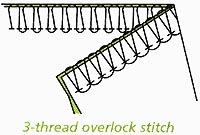 3-THREAD Rolled Hem: Sturdier than the 2-thread rolled hem, this stitch is often used as a hem finish on skirts, scarves, ruffles, or on home decorating projects. It can also be used to make pin tucks as a decorative technique.
4-THREAD Overlock Stitch: This stitch is formed using two needles and two loopers. It is a sturdy stitch often used as a seaming stitch on medium to heavy weight fabrics.
5-THREAD Overlock Stitch: This stitch is actually a combination of two stitches -- a 2-thread chainstitch and a 3-thread overlock stitch. It used as a seaming stitch on medium- to heavy weight woven fabrics and has very little stretch because of the chainstitch. If you have this stitch on your machine, you may or may not be able to stitch a 2-thread chainstitch alone. This stitch is often used for home decorating.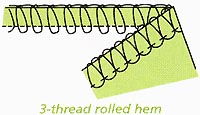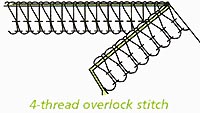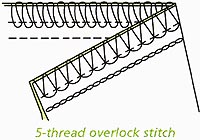 Cover Stitch: This stitch looks like a double row of topstitching on the right side and an overlock stitch on the wrong side of the fabric. Formed with two needles and the chainstitch looper, it is used to hem or topstitch garments. This stitch may vary in width depending on the brand of machine you own.

Triple Cover Stitch: Similar to the cover hem, this stitch uses three needles and the chain looper to form the stitch.

The outward appearance is of three rows of parallel straight stitching. It is also used for hemming, topstitching or making belt loops.

There are a number of other stitch formations available depending on the brand of machine you have purchased. Stitches like stretched wrap or super stretch, wrapped edge, or the stretch knit are just some of the names they possess. Before purchasing an overlock machine, determine the type of sewing you will be doing most often so you can buy a machine with the most appropriate stitch combinations for you.