Recommended Reading
Recommended Products
If you need specific sewing supplies, browse through the products on pages like these:
---
The zipper foot is designed to stitch very close to the raised teeth during zipper insertion. The foot itself may slide side-to-side or the needle position may need to be adjusted to stitch both sides during insertion. This foot is also often used for covering cords and applying piping into seams.
The blindhem foot is used for machine hemming. The bar, often adjustable, allows the needle to just penetrate the hem fold for an invisible hem finish.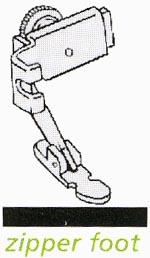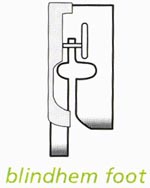 An indispensable foot, often similar in appearance to the blindhem foot, is the edgestitching foot. This bar on this foot acts as a guide for straight, even topstitching and edgestitching.

The embroidery foot is used when satin stitching or stitching any of the decorative stitches on your machine. The wide groove on the bottom of the sole allows the more densely stitched patterns to move easily under the foot. These feet are also often available in clear plastic and with a cut out opening between the toes for better visibility while sewing.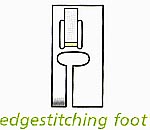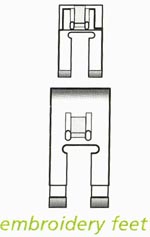 A hemmer foot turns a narrow hem and stitch it in one operation using either straight or decorative stitches These feet are available in a number of sizes based on the weight of the fabric being hemmed
An overedge or overcasting foot is designed to hold knit fabrics flat while using an overedge stitch to sew a seam and overcast the edge at the same time.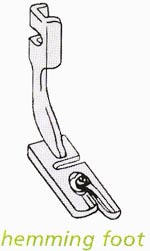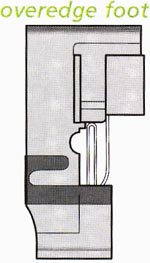 Most sewing machines today have a built-in buttonhole stitch. In fact, many models have more than one type of buttonhole stitch to select from -- standard, stretch, or keyhole, to name a few. A special buttonhole foot is used to sew these stitches to ensure that multiple-sewn buttonholes are exactly the same size. Whether your machine sews electronically-sized buttonholes or the presser foot measures the size of the button while sewing, the results are the same -- the buttonholes are all the same size. After sewing your buttonholes, you can sew on the buttons with your button sew-on foot. Designed to hold any two- or four-hole button securely, a zigzag stitch is used to attach the button to the fabric. Some machines even have a stitch designated solely for this purpose.
The gathering foot is used to gather or shirr with every stitch. It can also be used to attach the gathered piece to a flat piece at the same time.