Have you ever had to compromise on fit because you could not reach that puckered seam or extra back fullness? Such compromises could lead to disappointing results. As every fine seamstress knows, an accurate fit is as vital as good workmanship to the lovely look of a finished garment. The perfect solution to these and other tricky fitting problems is a dress form, which duplicates your figure and allows you to fit and alter from all angles.
Whichever type you choose, it should have a heavy, sturdy base and be adjustable for figure changes, different heights, and convenient storage. Compressible shoulders are also a definite plus, as they allow you to slip your garment on and off the form easily.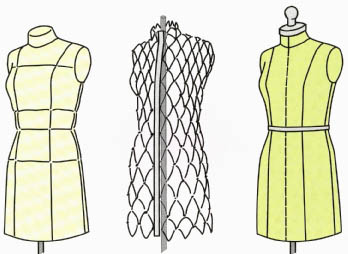 A foam form is covered with a fabric shell that can be individually fitted to your contours. It can be adjusted by altering the fabric shell, and will not be harmed by pinning fabric to its surface. It is also available in pants forms.
A molded, sectional form can be adjusted both horizontally and vertically in several places to correspond to your own measurements, but it cannot duplicate your figure variations.
A wire mesh form can be slipped on and shaped to your own body and posture. It is then unsnapped and attached to a stand. Although easily adjustable, it does not have a smooth contour. It is also available in pants forms.
A fabric-covered cotton batting form is smoothly shaped, takes pins, and is good for working with very heavy fabrics or garments. However, it can be adjusted only by adding padding to the outside of the form.
Remember to check your measurements occasionally to make sure your dress form is still accurate, and adjust accordingly if necessary.
---
Are you looking for sewing or crafts-related items such as sewing machines, sergers, yarn, and knitting supplies? Try our online catalog pages here.
Or see what products on our site the popular search engines have chosen to list...
---
Recommended Reading
Recommended Products




5 Drawer Foldaway Desk: Perfect for your sewing machine or serger! Constructed from durable melamine laminated particle board the Mobile Desks will offer a life time of reliable service.



If you need specific sewing supplies, browse through the products on pages like these:
---
Once you begin using a dress form as part of your sewing equipment, you will be happily surprised at its many uses and the convenience it provides. Fitting, of course, will be quicker, easier, and more accurate. You will be able to see and understand more completely the reasoning behind darts, structured seams, and built-in ease, It will help you check such details as the fall of a hem or the roll of a collar before it is too late to easily make any necessary adjustments. You can steam press directly on the dress form to perfectly set design lines. Most importantly, you can stand away from your garment and see it, as others will, giving you greater objectivity and a three-dimensional view you can't get in a mirror.