HOW TO PICK A PROPER PATTERN
All pattern companies use a standardized measurement chart and the patterns are proportioned for the different figure types. Figure types are determined by height, back waist length, and figure development — the height, without shoes.
All measurements on the pattern book charts are actual body measurements. To determine what pattern size you need, compare your body measurements with the listed body measurements on the chart for your figure type.
TAKING BODY MEASUREMENTS
For successful garments all measurements must be accurate. Taking measurements requires experience; ask an experienced dressmaker to hell) you. Some sewing centers have a trained employee who will take measurements for home dressmakers. (See diagram 19.)

Take measurements over a slip and the type of undergarments that you usually wear, without shoes. Stand in a normal position.
(1) Tie a string around waist to locate natural waistline.
(2) Locate "socket" or "collar-button" bone at back of neck — bend head back and forth and feel for the prominent vertebra which sort of opens and closes.
(3) Locate base of neck in front.
(4) Locate shoulder tip — feel for the end of the shoulder bone; if the individual raises her arm wrinkles will appear at this point.
Keep tapeline snug. To avoid pulling it too tight keep two to four fingers under tapeline and keep it parallel to floor.
Bust — over fullest part of bust in front and just touching lower tip of shoulder blade in back, your helper standing at the side keeping her fingers under the tape where flesh is firm.
High bust measurement — in the case of a very large bust, place tapeline under arms, straight across hack, and over bust in front. (See diagram 20.)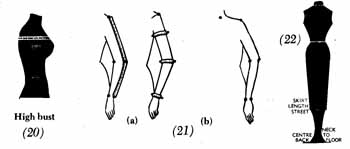 Bust point level — from center of shoulder to bust point. On the normal figure bust point is level with shoulder blade point.
Front bodice length — center front — base of neck to waistline, useful if individual has flat bust or full bust; center of shoulder, over bust, to waistline.
Back bodice length — neck to waist — down center back from socket bone to waistline; center of shoulder to waistline, useful if individual has rounded shoulders.
Shoulder length — base of neck to shoulder point.
Shoulder point width fold arms naturally across chest, measure from shoulder tip to tip.
Back width — arms folded, measure from armhole to armhole at a level 4 inches below socket bone; measure again at 7-inch level if individual has full, rounded back.
Hip — at fullest point, 6-9 inches below waistline: 7 inches is normal point, 6 for very petite figure, and 9 for large hips and heavy thighs.
Sleeve — Overarm with arm bent, measure from shoulder tip point, over elbow point, down back of arm to wrist. (See diagram 21a.) Shoulder to elbow point — necessary for long sleeves. (See diagram 21b.) Elbow to wrist.
Arm — around fullest point of upper arm (bicep or girth of arm); around fullest part of lower arm; around wrist.
Raglan or Kimona sleeves — taken from socket bone along shoulder to shoulder tip, down over elbow to wrist.
Neck to floor — from socket hone, down center back to waistline and down to floor. To determine finished length of coat or dress, subtract distance of hem to floor. (See diagram 22.)
Waist to floor — to determine finished skirt length, subtract distance of hem to floor.
These are body measurements. The corresponding measurements on your finished garment and on the paper pattern will be greater, as body ease has been allowed in all cases. The amount of ease varies, depending on style and purpose of the garment. Working garments and sports garments have greater body ease than those worn for dress wear. Keep this fact in mind when choosing a pattern. Check all paper patterns by measuring in the various areas to determine ease allowance. Measure a similar garment that you have found comfortable, because the amount of ease is a personal preference. Cut your garment accordingly.
GENERAL GUIDE FOR NORMAL EASE in PAPER PATTERNS
1. Shoulder seam — front shoulder seam should be the same as your length, has no ease allowance. Back shoulder seam — about inch for curve of shoulder at back.
2. Bust — 2 to 4 inches.
3. Across chest — 1/2 to 3/8 inch.
4. Across back — 1/2 to 3/4 inch.
5. Sleeve cap ease — about 1 ½ inches to allow for curve at top of upper arm.
6. Neck to waist — 1/4 to 1/2 inch.
7. Hips — 2 to 4 inches.
8. Elbow — 1 inch.
9. Upper arm or bicep — 2 inches or more.
10. Lower arm — ½ to 1 inch.
11. Waistline — 1 inch.
12. Shoulder tip to elbow — 1/2 inch.
13. Overarm length — 1/2 to 3/4 inch.
SIZE and TYPE of PATTERN
You know your figure. You know your body measurements. Is the style you have chosen suitable for the fabric, for the purpose of the garment and for you?
When determining size of pattern, choose the one nearest your body measurements. If you are half-way between two bust sizes, choose the smaller one and increase where necessary. You will obtain a better fitting garment. Why? Observe your figure from the side view. Your body is thicker than normal at bust level but your bust points are no further apart than in a normal figure. The extra fabric needed is on the side seam, and bust darts remain in the correct position to give shaping for bust curve. A larger pattern, taken in on side seams, would pull bust dart out of position. (That is why brassieres have several adjustments at back hooks.)
Remember:
* Buy dress, blouse, suit and coat patterns by bust measurement.
* Buy slim skirts by hip measurement.
* Buy flared or full skirts by waist measurement.
COMPARING YOUR BODY MEASUREMENTS with THOSE of the PATTERN
Fill in the following chart with your body measurements and corresponding pattern measurements. List amount of alteration needed at each point. All points will not relate to every garment, but as you make different garments you will need them.
On the back of each pattern envelope you will find these measurements of the garment you plan to make:
(1) finished back length of dress, blouse, coat, skirt
(2) width of lower edge of dress, skirt, coat
(3) finished length at side seam of pants
(4) bottom width of each leg of pants
Compare these measurements with a similar garment that you have been wearing that's becoming and comfortable. Length of sleeve, other than full length, is a matter of individual preference. Check this on paper pattern before cutting. For depth and width of collarless neckline, hold bodice pattern against yourself to determine if finished neckline is becoming. See neckline check in section 2.
MEASUREMENT CHART
Measurements to check before cutting

Your measurements

Pattern measurements

Alteration: increase

Alteration: decrease

Bust

Waist

Hip (1) at 7" level

(2) at largest part level

Waist

Neck to waist

Waist to floor

Sleeve (1) overarm

(2) shoulder to elbow

(3) elbow to wrist

Raglan sleeve length

Finished length of garment

(1) blouse

(2) skirt

(3) dress

(4) coat or jacket

Width at lower edge
Remember:
- A jacket or overblouse should never end at the widest part of the hips, as it will add body width.
- Three-quarter sleeves should never end at the same level as the jacket or they will add body width.
- Short sleeves should never end at bust level because they will add body width.
- Very short jackets, if boxy", should end at a level which shows a slight body shaping for a more slenderizing effect.
- Jackets that clip slightly in the center hack, producing a graceful curve from side seams toward back, are more flattering than those which are straight across — the usual depth of curve is 1/2-inch. This may be added or adjusted when putting up the hem.
- If a slim skirt doesn't have a center back pleat or a front pleat, one may be added.
- Pleats that extend from hem to waistline are more satisfactory than those which don't because the pleat will stay closed better and is less apt to go out of shape. Cut pleat to extend to waistline, and tape inner or hack edge of pleat as an added stretching preventative.
- The zipper closing may be changed from back to front or front to back, presenting no problem if there are front and back seams. If there is no seam, and you wish to insert a zipper, don't forget to make a seam allowance.
- A zipper may be used instead of buttons. It can be set at the center front line — don't forget your seam allowance.
Remember: All alterations made at side seams will he the total amount divided by 4; e.g., one-inch total will be 1/4 inch on each cut edge.
Check before laying out pattern and before cutting:
1. Sleeve length — is it becoming?
2. Do you wish to acid a pleat?
3. Blouse or jacket length — is it becoming?
4. If a collarless neckline — is it a becoming depth?
5. If the neckline is wide cut at the shoulders (bateau), will it cover your shoulder straps?
6. How does sleeve length compare with length of overblouse or jacket, especially if you have altered length?
7. Are you changing zipper location?
INFORMATION on PATTERN ENVELOPE
On the hack of each pattern envelope is important information. Read it carefully before buying your fabric. You have already decided on the view to he used. You will find:
1. List of suggested fabrics.
2. Whether the pattern is suitable for stripes, plaids, or diagonal weaves.
3. Whether uneven stripes, uneven plaids or obvious diagonal fabrics are suitable.
4. Whether a nap or pile fabric can be used.
5. If pattern is suitable for a border print, one of the illustrations on the front will show' a border print.
6. Yardage for sizes, views, and fabric widths.
7. Yardage for lining.
8. Yardage and type of interfacing required.
9. Suggested notions — zipper, number of buttons, elastic, braid or lace trimming, etc.
10. That no allowance has been made for matching of designs, plaids, stripes.
THE METRIC SYSTEM of MEASUREMENT
It has been announced that we should prepare to convert to the metric system of measurement. While no definite date has been set, some of the pattern companies are including conversion tables with their new patterns. For years seam allowances on patterns have been marked 5/8" (1.5 cm.). In Europe fabric is sold by the meter; 1 meter = 39.37 inches.
Lengths larger and smaller are related to the meter by a decimal system. If buying new tapelines or rulers, look for one in both inches and centimeters. They are available. Prepare to think in meters.
jos-23.jpg
MISSES: Misses' patterns are designed for a well proportioned, and developed figure; about 165m to 1,68m without shoes.
MISS PETITE: This new size range is designed for the shorter Miss figure; about 1,57m to 1,60m without shoes.
JUNIOR: Junior patterns are designed for a well proportioned, shorter waisted figure; about 1 ,63m to 1,65m without shoes.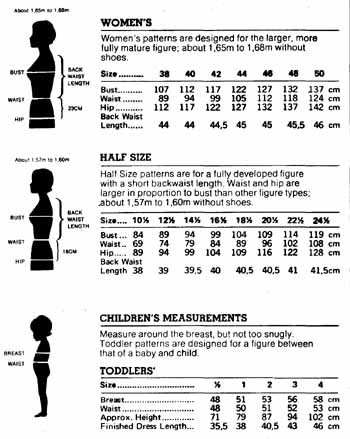 WOMEN'S: Women's patterns are designed for the larger, more fully mature figure; about 1,65m to 1,68m without shoes.
HALF SIZE: Half Size patterns are for a fully developed figure with a short backwaist length. Waist and hip are larger in proportion to bust than other figure types; .about 1,57m to 1,60m without shoes.
CHILDREN'S MEASUREMENTS: Measure around the breast, but not too snugly. Toddler patterns are designed for a figure between that of a baby and child.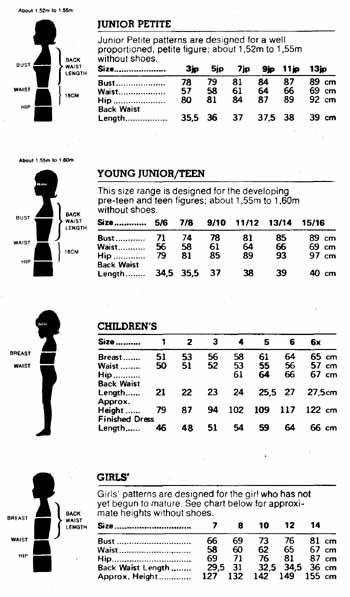 JUNIOR PETITE: Junior Petite patterns are designed for a well proportioned, petite figure: about 1,52m to 1 55m without shoes.
YOUNG JUNIOR/TEEN: This size range is designed for the developing pre-teen and teen figures; about 1,55m to 1,60m without shoes.
GIRLS': Girls' patterns are designed for the girl who has not yet begun to mature. See chart below for approximate heights without shoes.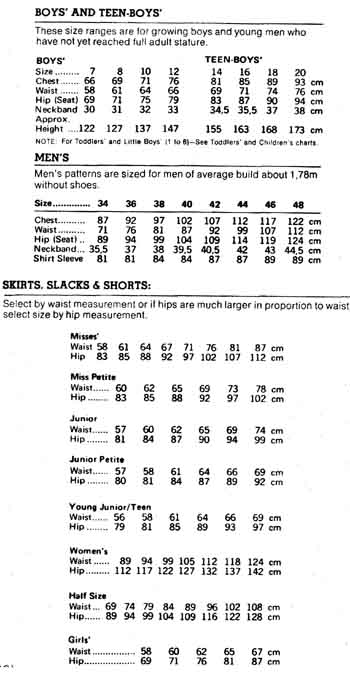 BOYS' AND TEEN-BOYS': These size ranges are for growing boys and young men who haven't yet reached full adult stature.
SKIRTS. SLACKS and SHORTS: Select by waist measurement or if hips are much larger in proportion to waist, select size by hip measurement.