When you get ready to sew, you'll need to make several decisions. Before you pick a pattern, think about the following questions.
• What is your experience level? Experience makes a difference. If you haven't sewn before, a simple project is best. Then, with each future project, you can build skills by choosing something more complicated.
• How much time do you have? With limited time, you're more likely to complete a project that has less detail. Ask for help in choosing a project if you're not sure what's involved.
• Where will you sew? If you don't have a sewing machine, you might be able to work at the home of a family member or friend. In some schools you can get permission to sew during study halls or after school.
• What will you sew? Many people like to sew for themselves, perhaps clothing or something for the home, such as a pillow or placemats. Making a gift for someone is another idea.
THE PATTERN CATALOG
Once these early decisions are made, you're ready to begin-with a pattern. A pattern is a set of tissue pattern pieces and instructions for creating an item from fabric. Most sewers use a pattern to guide them, but how do you choose one? Start by looking through pattern catalogs. Each company that manufactures patterns produces its own catalog. See Fgr. 1-1. You may have some copies of catalogs in your classroom.
Fgr. 1-1 Pattern catalogs provide information about the style, fit, design details, and sewing difficulty of patterns.
Catalogs are divided into sections that make choosing easy. For example, tabbed sections are marked for dresses, sportswear, and easy-to-sew styles. Special categories include larger sizes, children and toddlers, men and boys, home decorating, crafts, gifts, and accessories.
Garments are sketched in the catalog and often actual photographs are included. A close look at these gives you a good idea of what the garment will look like when done. You may even get ideas for accessories.
One pattern usually shows more than one view, identified by letter. View A might show a shirt with long sleeves, while view B is the same shirt with short sleeves.
= = =
TIP : Customizing. If the pattern measurements and style aren't quite right for you, remember that you can customize a pattern. Lengthening and shortening are possible. You can also make the garment a little looser or more fitted in specific places. With careful planning, the pattern can be adapted to produce a garment that fits you well.
= = =
Stores that sell patterns have pattern catalogs.
After browsing through a catalog, note the number of the pattern you want. Then find the cabinet drawer that contains that number. Most stores allow you to remove the pattern from the cabinet yourself so you can carry it with you while choosing fabric and supplies. Store displays also feature patterns that you can take from racks.
Several times a year most pattern companies publish a magazine that features a selected group of patterns. You can subscribe to these magazines or buy them at the newsstand. In addition, most pattern companies have Web sites where you can preview and order patterns.
SELECTING THE RIGHT STYLE
How can you tell from the drawing on a catalog page what the finished garment will look like on you? One way is to pay careful attention to the styles of items you already own. Which ones are flattering and enjoyable to wear? You might choose patterns with similar designs. Trying on ready-to-wear garments in a store is another way to determine whether a style is right for you.
As you study styles, remember all you've learned about design. Whether sewing or buying clothes, the design elements and principles can be helpful.
Clues on the Pattern Envelope
Fgr. 1-2 What information is provided on the front of this pattern envelope?
The pattern envelope shows you how the finished garment should look. Carefully examine the illustrations on the front of the envelope, shown in Fgr. 1-2. Note the fit across the shoulders, waist, and hips. Is the garment fitted to the shape of the body, or is it full and loose? Also note the type of fabric pictured. Is it a heavyweight or lightweight fabric? Is it a solid color, print, plaid, or stripe? These clues will help you choose fabric.
The back of the pattern envelope contains small line drawings that show the garment back.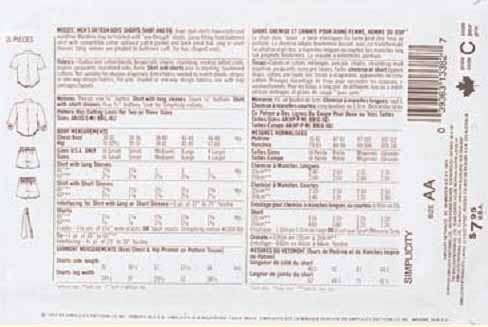 You'll also find other information, as shown above. The finished garment measurements, including "width at lower edge" and "finished back length," give an idea of the pro portions of the finished garment.
Skill Level
For clues about sewing difficulty, read the description in the catalog or on the pattern envelope. Most pattern companies have easy-to-sew patterns, identified by such brand names as "Easy," "Fast and Easy," "Quick and Easy," and "6 Made Easy." These patterns usually have fewer pattern pieces, simple-to-follow layouts, and easier construction techniques. Some easy-to-sew patterns are even marked with a sewing time that helps you estimate how long it will take to make the item.
TIP : Measurements. The clothes in your closet can help you interpret the measurements on a pattern envelope. Measure the lengths of a few jackets, dresses, or pants that you wear. Also measure the bottom circumference, or distance around, of pants and skirts in different styles. Compare these measurements to those on a pattern you like. Then you'll know, for example, whether pant legs described as 20" (51 cm) at the lower edge are slimmer or fuller than those you already own.
Underhanded Uniquizing Effort Sub-Series:
Wiki Sewing
Get to Know Your Sewing Machine
A quality sewing machine may be the largest one-time investment you will make in sewing. Whether you buy a $20 sewing machine on eBay or spend 1000s of dollars for a top-of-the-line machine that can do almost everything, it's important to know what you will need in a sewing machine before you go shopping. In this section, you'll learn some of the standard options that are available on sewing machines and how to prepare your machine for sewing.
New Sewing Machines
Stitching Options
Sewing Machine Needles
Needle Positions
Buttonhole Options
Sewing Machine Feet
The Manual
Thread the Bobbin
Place the Bobbin in the Sewing Machine
Thread the Sewing Machine
New Sewing Machines
The price of new sewing machine is usually related to the durability of and the amount of options available on the machine. New sewing machines offer many options that are not available on machines you'll find at a garage sale. If you're in the market for a new machine, visit local dealers or research online and ask questions before you buy.
The best way to learn about sewing machines is to visit sewing machine dealers and try different features on a variety of sewing machines. An email or garage-sale bargain may not be a bargain if the machine won't sew. Always ask to see a machine run before you buy it rather than risk ending up with disposal fees or repair expenses.
Presser feet, power cords, and the manual for the machine will be an added cost if they aren't included with a used machine.
There is a huge variance in sewing machine prices. All sewing machine companies have upper- and lower-end machines.
Many low-priced machines are considered "light-duty" machines, which means they're meant for mending or occasional sewing. Light-duty machines rarely hold up to everyday dependable sewing. Upper-end machines offer more options: the more you pay, the more options the machine is going to have. Take the time to learn about the options and weigh just how much you'd use the upper-end options.
FAQ
Why should I buy from a local dealer if I can find a better deal online?
Local sewing machine dealers offer lessons, usually free, with the purchase of a sewing machine. These classes are a great way to learn basic techniques and help you get the most from your sewing machine. Many dealers have sewing clubs and are knowledgeable about local sewing guilds. These clubs and guilds allow you to learn more and meet people who share a love of sewing.
You won't receive these benefits from an online purchase.
All that said, see our Video-tutorials section for some high-quality lessons.
| >>
SELECTING THE CORRECT SIZE
To determine the correct pattern size for you, first take your body measurements. Ideally you should take measurements over undergarments, not over clothes. If necessary, you can take them over snug-fitting clothes. Remove sweaters, belts, jackets, and other bulky items.
Use a flexible, 60" (150-cm), plastic-coated measuring tape. The tape measure should be held snugly, but not tightly, around the body. For width measurements, be sure the tape measure is parallel to the floor. For accuracy, have someone help you, writing down each measurement after it's taken.
As you record height and circumference measurements, include bust or chest, waist, and hips.
Females need to take a back waist measurement.
Males should take neck and sleeve measurements.
For pants, the waist and inseam measurements are needed. These measurements are explained in Fgr. 1-4.
Figure Type
Figure types, such as juniors and misses, are size categories determined by height and body proportions. In order to determine your figure type, you need to look at three pieces of information: your height, your back waist length (for females), and your body proportions. Then compare this information with the charts that appear in the back of the pattern catalogs to choose the figure type for you. See Fgr. 1-5, below.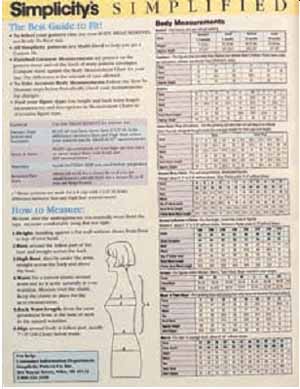 = = =
Pattern Envelope Back
The back of a pattern envelope gives more information per square inch than any other part of the pattern. Use it to choose fabric, notions, and sewing supplies for a project.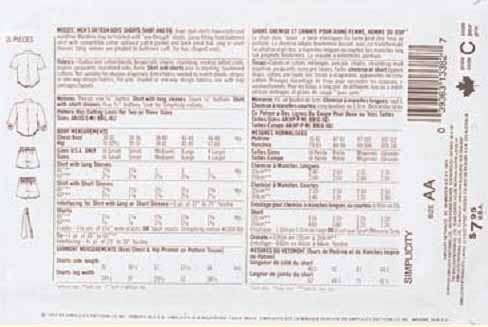 • Identification information. General information including pat tern number; basic size category; style, such as "Misses' Pants"; number of pattern pieces (usually having fewer pieces means easier to make); and whether French and Spanish translations are included.
• Back views. Drawings that show all seams, darts, and design details on the garment back.
• Body measurements. All sizes for which the pattern was designed; actual pattern pieces are larger to allow for movement and comfort.
• Yardage chart. Amount of fabric needed for different views, sizes, and fabric widths. The terms "with nap" and "without nap" appear after fabric widths. "With nap" means fabric has a nap, pile, or one-way design, so all pattern pieces must be placed in one direction on the fabric. "With-nap" layouts some times take extra fabric.
• Finished garment measurements. Length and circumference measurements on completed garment. For example, "skirt width" and "side length" describe the fullness and length of the design.
• Suggested fabrics. Recommended fabrics for the garment; tells whether extra fabric is needed to match plaids and stripes and whether stretch fabric must be used; notes suitability of stripes, plaids, and diagonal designs.
• Notions. Quantity and recommended sizes of such sewing sup plies as thread, buttons, tapes, and zippers.
= = =
Taking Your Measurements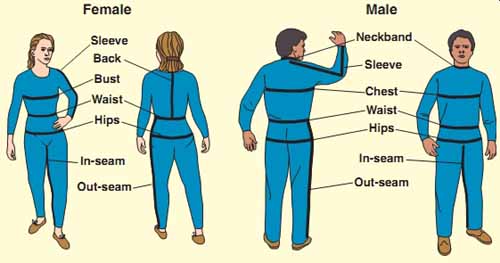 • Height. Stand against a wall in bare feet. Have another person make a mark that's level with the top of your head. Measure from this point to the floor. For pants and skirt measurements, it's best to wear shoes.
• Bust/chest. The tape measure should be straight across the back and over the fullest part of the bust or chest.
• Waist. Tie a length of string around the smallest part of the waistline. It will roll into the natural waistline position. Measure the waist line exactly where the string settles.
• Hips or seat. Measure over the fullest part of the hips in a straight line around the body. For most females, measure 7 to 9" (18 to 23 cm) below the waist. For most men, measure 8" (20.5 cm) below the waist; for teen males, measure 7" (18 cm) below the waist.
• Neck (for males only). Measure around the base of the neck. This measurement plus 1/2" (1.3 cm) is neck size.
• Back waist length (for females only). Bend the head forward to locate the prominent bone at the base of the neck. Measure from this bone down the center back to the waistline string.
• In-seam. Place pants that are the correct length on a flat surface. Measure along inner seam from the bottom of one leg to where the two legs meet.
• Out-seam. Measure from the waist to the point where the pants bottom breaks slightly on the shoe.
• Sleeve. Bend the arm up for men. Measure from the base of the neck across the center back to the elbow, across the elbow crook, and up over the wrist bone. For women, measure from the top of the shoulder over the bent elbow to the wrist.
= = =
Pattern Size
After you have determined your figure type, the next step is to find your pattern size. Compare your measurements with those listed in the chart on the pattern envelope back. Make sure you are looking only at the measurements within your figure type category. Find the measurements that come closest to yours. That will identify your pat tern size. Be sure you choose the size by actual measurements, not by the size you buy in ready to-wear clothes. They may not be the same, and you might not be able to return the pattern. Even worse, you might spend time and money making a garment that doesn't fit.
Since few people are a perfect size, your measurements might not exactly match the sizes shown. If your measurements fall between two sizes, base your choice on the design. Select the smaller size if the design is full or loose fitting.
Select the larger size if the design is closely fitted.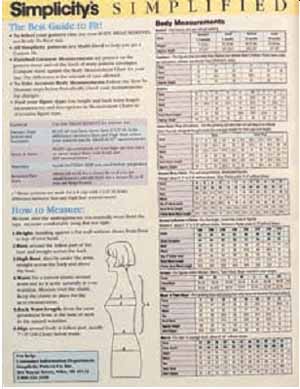 Fgr. 1-5 Pattern catalogs provide measurement charts to help you decide what pattern size to buy.
If you're choosing a pattern for pants or a skirt, select the pattern size by waist measurement. It is important to take this measurement at your natural waistline. See Fgr. 1-6. If your hips are large in proportion to your waist, however, choose the pattern by hip measurement.
Almost all patterns are multisized, which means the pattern is printed with several sizes on each pattern piece. This is particularly helpful for people who are one size on top and another on the bottom. Each size range is identified by a letter code printed on the catalog page and on the pattern envelope. Be sure you select the size range that includes your pattern size.
Fig.1-6: To find your waistline, tie a length of string around the middle of your body at the smallest part.
Raise your arms up and bend to the right and the left a few times. The string will roll into the natural waistline position. Take the measurement over the string.
Pattern Ease
All patterns have a certain amount of built-in "ease." In other words, the garment is larger than your body to give you the space to sit down and bend over in your clothes. This extra space, known as wearing ease, is the amount of fullness needed for movement and comfort. The only garments that don't have wearing ease are items made of stretch fabrics, such as bathing suits, body suits, and exercise wear.
A second kind of ease built into a garment is called design ease. This is the extra fullness a designer adds to create a particular style or silhouette. Some designers want garments to have a very loose-fitting silhouette. Others want garments to fit snugly against the body. The picture and the description on the pattern envelope give clues about the amount of ease.