---
---
While backyard swimming pools and spas can be sources of great enjoyment, they are potentially the most dangerous places around the house, especially for children.
There is no substitute for adult supervision when a pool is in use, but the area also must be made safe for those times when no one is around. Install layers of protection to prevent children from entering the pool area and to keep them out of the water should they get in, and alarms to alert you if they somehow fall into the water.
Lines of Defense: The first layer of protection is a fence. Check local laws or building codes for fencing requirements around a pool— almost all jurisdictions provide some sort of guidance—but as a minimum install a fence at least 6 feet high and built so that it's difficult to scale.
A pool safety cover helps to keep leaves and dirt out of the water, but its primary purpose is to prevent unauthorized access to the pool. The cover can be manually deployed or can be rolled out with the help of a key-operated electric motor. The model shown here hides the motor and spool beneath a bench. A solar cover, designed to keep a pool warm, is useless as a safety cover. It supports little weight and can trap a small child beneath it. If you have a solar cover, buy a pool alarm.
Don't scrimp on protection from within the house. Toddlers can wander out a door that is left ajar or unlocked, and a determined child can unlatch a window that opens onto the pool area.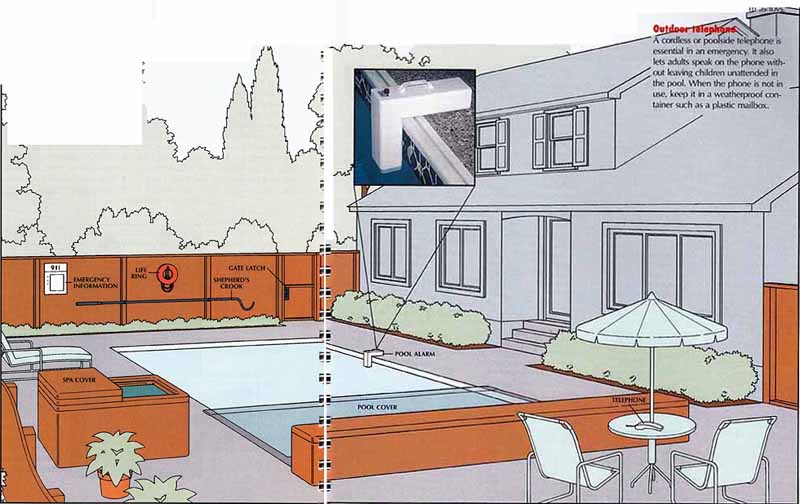 (click above diagram to enlarge; specific areas in diagram are defined below)

Fencing. As long as a pool fence is 6 feet or higher, it can be made of chain link or wood. Build it with the posts and rails on the in side. Gates must close and latch themselves and have the latch mounted inside the gate.

Doors and windows. Install self-closing and , self-latching mechanisms on a regular door. For sliding glass doors, have a counter weight door closer and latch in stalled. A door alarm alerts you when the door is opened. Lock windows leading to the pool and install alarms.

Safety cover. A pool cover should be able to support the weight of at least two adults and one child should anyone accidentally fall on it. Buy a model that lets rainwater pass through to avoid stagnant puddles and sagging in the cover. Because a cover for a spa or whirlpool is easily removed, it must be lockable.

Pool alarm. Place this device at the shallow end of the pool. Edge-mounted alarms (photo inset) sound an alert both indoors and out at the slightest disturbance of the water. Floating models are less expensive but also less sensitive, and most blare a warning only outdoors.

Emergency information. Post warnings, instructions for performing cardiopulmonary resuscitation (CPR), and emergency phone numbers in a prominent location. Consult organizations such as the Red Cross, YMCA, or a local recreation department for information on pool safety and CPR lessons.

Rescue equipment. Hang a life ring with a rope at least as long as the pool's width and a shepherd's crook close to the pool. Keep them in good condition, and don't let children use them as toys.

Outdoor Telephone. A cell/mobile, or landline cordless or poolside telephone is essential in an emergency. It also lets adults speak on the phone without leaving children unattended in the pool. When the phone is not in use, keep it in a weatherproof container such as a plastic mailbox.

Previous: Adapting a Home for the Handicapped