After you've reassessed your costs, incorporated any changes you want to make in your plans, and selected your materials, prepare a final drawing that includes the actual alterations and elements you have decided upon. Your working drawing should be entirely accurate but it does not have to be professional. Most building departments want to see a clear floor plan of the existing area and another of the proposed changes. Elevations and "sections" (details of interior structural elements) may be required in special cases but probably not for a project like the one illustrated here. It's a good idea to include the areas immediately surrounding the bathroom to show how the changes affect the use of the house. In most cases construction details are not necessary, but for alterations that may require substantial structural changes, a detail of the change should be included. Changes in interior wall structures and in window sizes can usually be covered with notations on the plan.
To obtain a plumbing permit, you should show the locations of the fixtures. Some building departments may want to see more, but you should start with the locations. The field inspector is the one who makes sure code requirements are met in the actual installation. The requirements for electrical permits vary, but you should show all light fixtures, switches, and outlets on your plan. Note any special circuits you need—a whirlpool bath might need a separate circuit, for example. GFI (Ground Fault Interrupter) receptacles are required near washbasins. For your own purposes, you may want to sketch out your final plans in elevation and call out the actual materials you've decided to use. These will help you make sure you order everything you need.
Your Materials List:
Using your cost estimate list and elevation sketches as a starting point, you can make up a final materials list that will include all the information you need to order the specific items you have chosen. "White counter top" is no longer sufficient—is it plastic laminate, synthetic marble, or tile? For each item, you'll find it helpful to have the following information:
• Manufacturer
• Name and Model Number
• Color (be very specific)
• Material
• Size or Measurements
• Quantity
• Unit Price
• Total Price (plus tax and delivery charges)
• Date of Order
• Name of Individual through whom you ordered
• Projected Date of Delivery
• Second Choice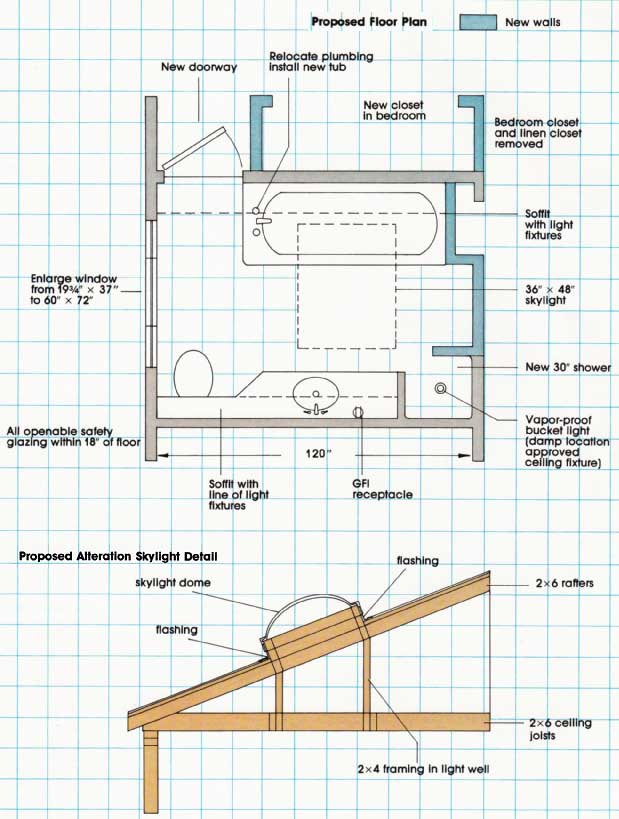 Proposed Floor Plan: Vapor-proof bucket light (damp location approved ceiling fixture); New walls; Bedroom closet and linen closet removed; Soffit with light fixtures; New doorway; Relocate plumbing install new tub; 36" x 48" skylight; New 30" shower.
Proposed alteration skylight detail: 2x6 rafters, skylight dome, 2x6 ceiling joists.
Next: Schedules & Contracts
Prev.: Estimating Costs