How to read your water meter
Reading a water meter isn't nearly as complicated as all those dials make it seem, and it can help you detect leaks as well as keep track of water usage.
Three types of meters. Your home's water usage is probably measured by one of the three common meters.
The six-dial meter is by far the most prevalent for residential use (see Ill. A). Five of its six dials (labeled 10, 100, 1,000, 10,000, and 100,000 for the number of cubic feet of water they record per revolution) are divided into tenths. The needles of the 10,000 and 100 meters move clock wise, and those of the other three move counterclockwise. The remaining dial, which is usually undivided, measures a single cubic foot per revolution.
To read the six-dial meter, begin with the dial labeled 100,000, noting the smaller of the two numbers nearest the needle. Then read the dial labeled 10,000 and so on.
The five-dial meter is read in exactly the same way as the six-dial meter, except that single cubic feet are measured by a large needle that sweeps over the entire face of the meter (see Ill. B).
The digital read-out meter looks like an odometer, giving you the total number of cubic feet at a glance (see Ill. C). This meter may also have a small dial that measures a single cubic foot per revolution.
Measuring usage and detecting leaks. Keeping track of the water used for a specific task or by a specific appliance is as simple as reading your meter. Just subtract the "before" reading from the "after" reading.
To track down a possible leak, turn off all the water outlets in the house and note the position of the one-foot dial on your meter. After 30 minutes, take another look at the dial. If the needle has moved, you have a leak.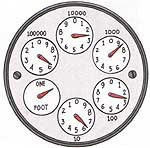 Ill. A. Six-dial meter reads 628,260.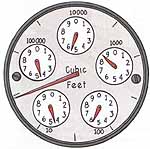 Ill. B. Five-dial meter reads 458,540.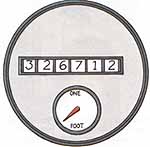 Ill. C. Digital read-out meter reads 326,712.