---
---
From wall hooks to wall systems, ready-made products are quick answers to storage problems. Use this colorful photographic guide to sample some options.
Now you're ready to get specific about adding new storage capacity. Section 1 helped you seek out "found" space—places that are either unused or underused. Section 2 showed you how to develop a well-thought-out plan for your space, and helped you determine where, how much, and what type of added storage facilities you might need. This section helps you consider the options available in ready-made products you can buy.
The basic need in storage is a way to gather up, organize, and keep track of things: a container. That container might be a small-scale component—even a shelf—or a large- scale item like a freestanding piece of furniture. In this section you'll see some options—counter, cabinet, and drawer accessories; boxes arid bins; hangers, hooks, and wall-mounted storage; door-back and closet interior products; free-standing furniture that stores. Ready-made products are designed to satisfy a wide range of storage needs. The applications shown in these photographs are not the only possibilities; you can put the products to the use that works best for you.
Before purchasing a storage component, think about the characteristics of the items you plan to store in it. What are their sizes and shapes? Are they fragile, heavy, rigid, soft? Do they need to be separated from other things, or enclosed? Should they have good air circulation? Each item's particular characteristics will describe a set of storage requirements that will help you make your selection.
In addition to these specific needs, keep the following criteria in mind as you make your selection:
— the component's functional design: Does it meet your needs in terms of its structure? Is it flat or enclosed space, solid or open-work, stationary or movable, heavy-duty or light-duty? Is it made of materials appropriate for the application you plan?
— its performance design: How will it perform in use? Will shelves, baskets, and frames remain stable, will surfaces and materials hold up under stress?
— its versatility: Can the same piece be used for a different purpose later if your storage needs change?
— its durability: Is it easy to maintain? Or will you have to replace it if it gets dirty?
— its line, style, and color: Will it complement and harmonize with your environment?
— its cost: Is it either reasonably priced, or of sufficient quality and value to merit the investment?
Many of these criteria, of course, will also apply if you build the components that solve your storage problems. Whether you build or buy, the goal is to make sure that your storage improvement truly meets your needs.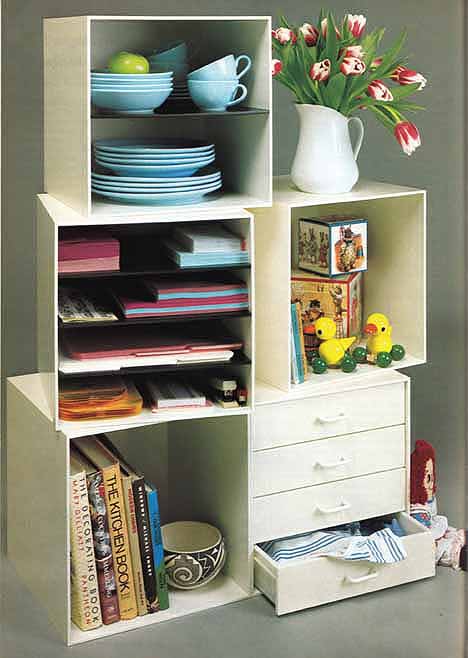 Modular plastic cubes line up, stack up, stand alone or in pairs, support counters, fit into closets, stand by the reading chair, or slip under your feet as you relax there—all with clean-lined good style. Because they're free-standing and finished on all sides, you can change the arrangement as you wish. Shelves fit on small clips and can be set at a number of different levels.
Boxes and Bins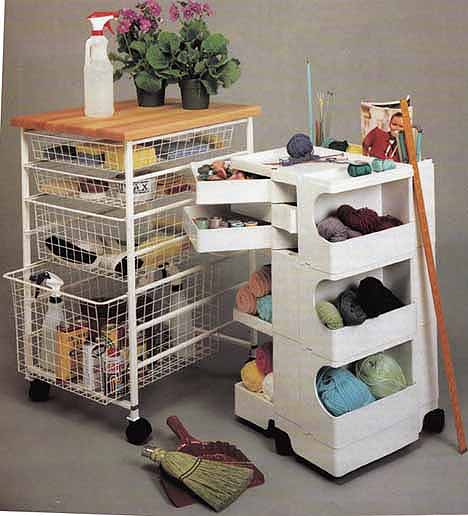 Wheeled drawer and bin units glide smoothly around with you as you travel from room to room. The unit at left below is part of an extensive system of modular frames and vinyl wire-mesh baskets of various sizes. The frames can be fitted with wheels, as shown here, or can stand alone, as in the unit shown in the closet on the front cover. That means that you can design a configuration tailored to your particular needs- The baskets are ideal for holding bulky objects or flat ones; kitchen, cleaning, and plant equipment, fabrics, papers and clothing are among the possibilities. Drawer liners, racks, and top surfaces can be added to the basic unit.
The white-plastic taboret (above) gives you open compartments, swivel-out shelves, and bins. Available from artists' supply stores, taborets come in both plastic and metal, in a number of styles, sizes, and colors. Although they are intended to hold brushes, paints, and other art equipment, they are equally good at housing many other things. Needlework supplies are shown in the photograph; a taboret could also be helpful at the side of a desk or in a workshop. This type of component might work well as a child's toy chest; putting away play things is easy and fun when the storage chest follows you around and then goes easily back to its home base.
Stackable plastic baskets can be a good alternative to drawers. They come in many different con figurations; some even slide into roll- around frames. Wide fronts make it easy to get things out, and because they're plastic, they are simple to clean. Baskets like the ones shown in the photograph at left below can be stacked four or five high and still maintain their stability. The slatted ones have the advantage of allowing air to circulate, which makes them good for bathroom supplies, as shown here, or for such food staples as potatoes, onions, and fruits. They come in several colors and two basket heights. The closed-side baskets have sufficient ventilation for storing fresh fruits and vegetables and are also handy for items such as cleaning supplies, toys, and even spare light-bulbs. Another variation on the stacking-basket theme is shown in the girl's closet earlier, where plastic crates hold stuffed animals.
Cardboard file boxes are purchased in a flat format; a few minutes of assembly give you very sturdy, ready-to-put-to-work, inexpensive storage. The file system comes in several bright colors and includes a set of hanging file folders that move smoothly along plastic edge pieces. Hand holds in the sides make the boxes easy to move from place to place. They're attractive enough to sit under a table or desktop as a substitute for a filing cabinet, and sturdy enough to stack in a closet, out of the way, filled with tax and other personal records. They're also the perfect size for record albums. Files of any sort, such as the travel clippings shown here, disappear from view under the colorful tops.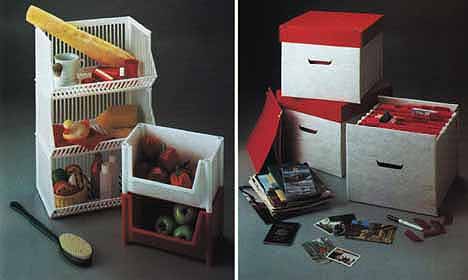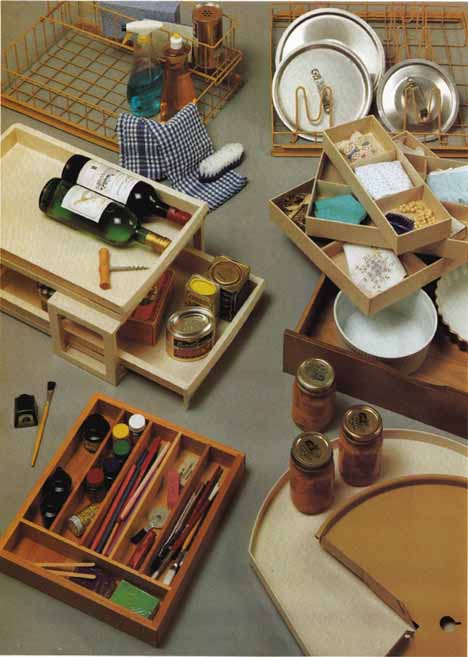 Cabinet and Counter Organizers
Cabinet and drawer interiors often invite improvement. And there are many possibilities. For example, the divided wooden tray, at the bottom of the photograph below, is made for cutlery. But clearly it can help organize art or desk supplies, and it's also just the right size to hold 35mm photo graphic slides. To its right, a pair of lazy Susans—one free-standing, one to be installed on a corner door— are good ways to better utilize the inside corner space in base cabinetry, or deep pantry or closet space. The drawer system in the middle of the photograph is both free-standing and stackable. You can also purchase ready-made rollouts like the wooden one shown. Rollout vinyl-covered wire-mesh shelves such as the two-tier unit and the lid rack shown at the top of the photograph are other options. Stacked on the wooden drawer are divided jewelry and lingerie trays that help organize delicate things without snagging or scratching them.
An under-shelf basket like the one at right above fits neatly under any 3/4-inch shelf or tabletop on springy brackets. This one is vinyl- covered wire mesh with a little lip; there are a number of other types. Put one anywhere to use wasted headspace or to create a drawer. Shown above it is a two-tier free standing lazy Susan, which increases access to the shelf space.
Wall-hung organizers can also be mounted on a cabinet door back or inside a closet. A bag-and-wrap holder, a sink-equipment caddy, and a cleaning-equipment hanger are representative of products manufactured for specialized storage but adaptable to other uses. The bag holder, for example, might hold rolls and sheet packages of gift-wrap.
Clear plastic makes good storage pieces because you can see the contents easily. In the photograph below, food-processor blades are cached in a tote-able container made expressly for them. On the left are two hair-dryer stows. One holds the expected hair-care equipment. The other could sit on a kitchen counter, keeping utensils close at hand. The cosmetic organizer at right has plenty of compartments to keep the various items separated; in front, an identical unit becomes a mending box.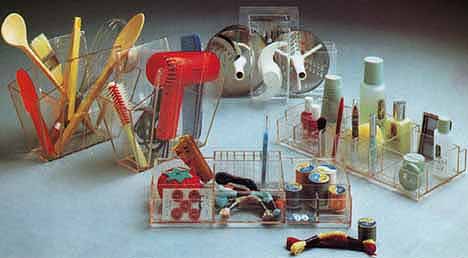 Wall Space Storage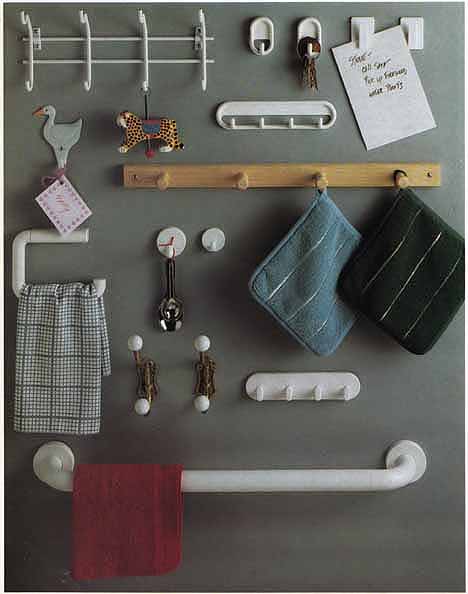 Hooks and hangers mount on many surfaces to improve the smooth functioning of your storage systems. These small accessories can play a major role in establishing style. You can choose from clean- lined plastic, practical vinyl-covered wire, warm-toned wood, old- fashioned ceramic, or whimsical animal designs. Most come in a number of colors as well. Select the type that harmonizes with and supports the style of your room. In closets, cupboards, and corners, on door backs and walls, hooks and hangers can quickly and inexpensively expand your storage capacity. But be wary of installing too many—they can add up to visual chaos. A few carefully selected wall mountings go a long way.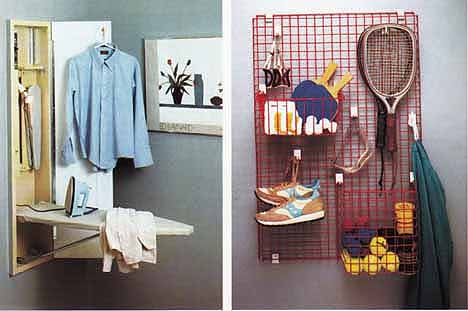 Iron, ironing board, sleeve board, light, and door-mounted hook make up a compact ironing center that's perfect for a small- space situation. Or this could be the way to put the ironing board where you use it—ready in an instant, easy to put away, and with all the necessary equipment right at hand. Sized to fit in standard wood-frame wall construction, the cabinet comes with all fittings installed. Its exterior and interior can be given a natural wood finish or painted; when closed, it looks like a wall cupboard. The wall-mounted grid comes in a number of sizes and colors and can be used singly or in combination. Baskets of several pro portions mount on movable hooks for a storage system that easily accommodates different sizes and shapes. The hooks themselves hold items anywhere on the grid. The system works well in almost any part of the house where visible storage is appropriate. In the kitchen, a grid will hang pots, pans, and utensils; mounted on a door back, it will improve a closet's storage capacity. The grids are particularly useful for basement, garage, or bathroom storage because their vinyl covering makes them rustproof.
Door Backs and Closet Interiors
Vinyl-covered wire shelving (below) is sturdy, lightweight, easy to keep clean, and easy to install. The open-work construction means good ventilation for the contents, and, in addition to its practical virtues, the shelving has simple, clean-lined looks. This system consists of open-ended shelves, available in several lengths, and mounting brackets. You decide the intervals between shelves and the length your shelving will run.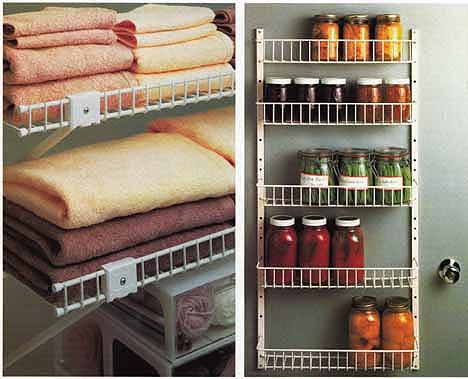 The brackets can be quickly removed, so you can reposition the shelves as needed. Beneath the shelves in the photograph below are drawers made of clear plastic, so you can see what they contain. Interlocking frames let you stack them safely. Available in several sizes, they're useful storage components in many places, particularly on shelves with a lot of unused headspace.
Door backs ( below left) contribute a significant amount of storage potential in any space. Systems of the type shown in the photograph below right help you use them to full advantage. It's simple to screw the verticals to the door back; adjustable vinyl-covered wire baskets, available in two widths sized to standard doors, fit easily into the verticals. A similar, lighter-duty unit with fixed shelves is shown on the door back of the closet on the front cover.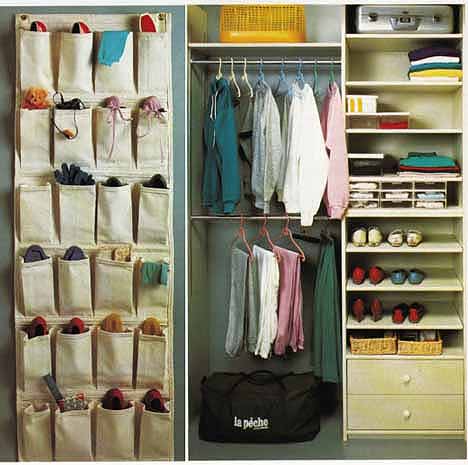 Canvas pouches (above right) make up a king- size shoe bag. It will hold 12 pairs of shoes, a big help to many an overcrowded closet. But perhaps you'd rather mix its functions, as suggested by the photograph: think of your stereo headset; ballet slippers; hammer, screwdriver, pliers, and folding rule; mittens and caps; stockings, socks, and lingerie; scarves, belts, and clutch bags; maps. What about stuffed animals or toy trucks? The pouch unit can be hung on a door back or wall any where in the house that you need a storage helper.
A new closet interior can be purchased from a closet specialty shop. You'll be able to select from a variety of standard options, and the structure will be built to fit your particular closet space. This one features wall-mounted pole and shelf track, which makes the major horizontal elements fully adjustable. The vertical module contains shelves and drawers in a case. You can choose enough drawers to replace your dresser, if you wish, or fill the module with adjustable shelves instead. Or use the module to divide a wider closet, and hang a full-height clothes rod on the other side. Shown inside this closet: more stackable plastic drawers and baskets to hold socks and other small items of clothing. Don't forget the many kinds of hangers—individual or six at-a-time skirt hangers, blouse or shirt hangers, special belt and tie holders—that can help you use closet space to best advantage.
Furniture That Stores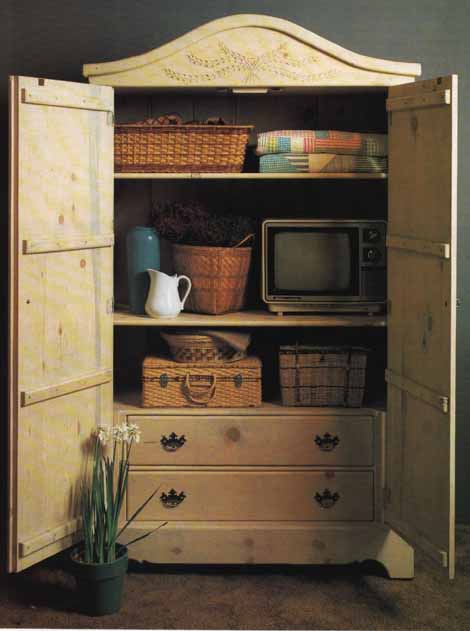 A reproduction armoire such as the one shown below can be ordered with the inside configuration of shelves and drawers that best suits your needs. This one is intended for a bedroom, where it will add warmth and charm while storing clothing in its drawers and spare bedding and other items on its shelves. You can use baskets, as shown here, to hold small things— socks, perhaps. The piece is sized to accommodate the television as well—you can watch from bed, then close the doors when the TV is not in use. A piece such as this would also be at home in a living room or family room.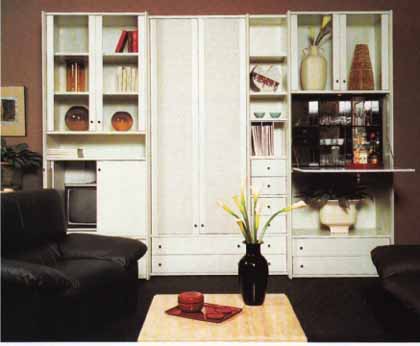 Ready-made wall systems, like the one shown above, are a simple, attractive way to organize your living space. Components include a bar unit; a desk; a sliding television platform; and drawers, shelves, and vertical compartments in a number of sizes. You specify the arrangement that will work best for you. In small living spaces, this kind of concentrated storage can give you the efficient, well-ordered look you want. Even where space is less of a problem, a wall system can bring order to a jumble of worldly goods, turning a liability into a room- enhancing asset.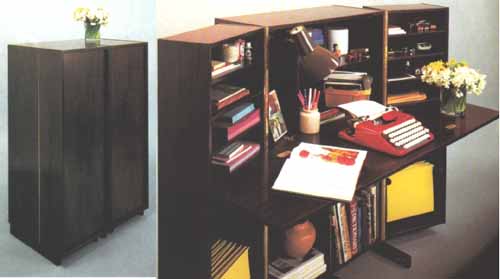 This rosewood home office (above) hides its secret well. Closed, it's simply an attractive wood cabinet that could hold a row of books along the back half of its top. But open, it reveals a compact, well-organized work space that contains just about everything a home office might require. On the wings, shelves hold paper and other supplies above compartments fitted to hold file folders. The fold-down work surface is securely supported on the wings; in the back are more compartments and an extendable lamp that's part of the unit. Below, large books and even a decorative pot find room. Full-depth feet stabilize the piece and continuous piano hinge ensures its strength.