---
---
Don't overlook your yard's potential for storage space. Yard structures can take the pressure off your garage and basement by offering space to store lawn and garden equipment, barbecue grills and accessories, and sports gear. Another benefit of storing such items outside is that you can locate the structures near where the items are used, so you don't have to run to the house or garage when you need something.
BUILD A LEAN-TO SHED: Whether you make it sophisticated or purely utilitarian, a lean-to shed can store many items—firewood, bicycles, barbecues, garbage cans, or compost bins. You can attach one to the back or side of your garage or house.
It can be as simple as a ledger strip attached to the garage to support the back of a roof with end rafters connected to 4x4 corner posts. Or it can be as complex as an enclosed structure with doors. Use pressure-treated lumber for any outdoor project. Protect the roof of a shed with shingles or use weather- resistant metal or fiberglass roofing panels. Set it on a bed of gravel or a concrete pad.
DEVELOP A GARDENING CENTER:
Expand on the lean-to concept to create a gardening or lawn center. To make a useful work space you should do three things: Expand its dimensions, make it weather-tight, and provide a stable foundation.
It's best to set a structure like this on a concrete pad. But you could use a gravel base by setting the outer uprights on concrete footings. For plenty of work room and light, add full-swinging doors. (You could use translucent fiberglass roofing panels, too), Adapt the workbench plans by using a slatted top and shelf, and you'll have a great work center that you can locate close to your garden.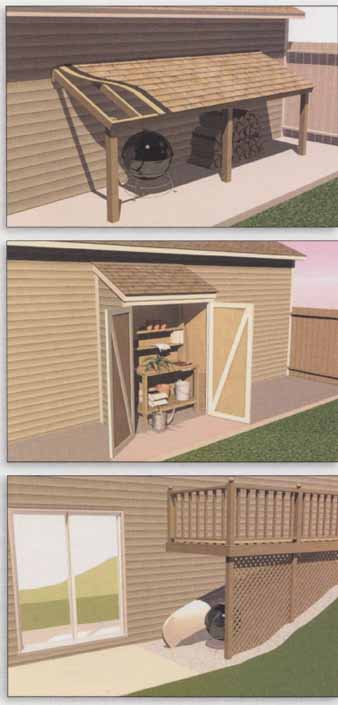 MAKE USE OF SPACE UNDER DECKS:
If you have a deck more than 4 feet off the ground, take advantage of the space beneath it. This is a good place to store items that can be exposed to weather, such as a barbecue grill or the children's outdoor play items. You can enclose the area beneath the deck by installing lattice or solid paneling around the deck's perimeter if you want to further protect items from the elements. Such covering also helps screen items from view. Remember, you won't have complete protection for items because water will run through the spaces in the decking boards. In cold climates, spaces under decks are ideal for winter storage of your fishing boat or other coverable items.